Five Michigan manufacturing CEOs featured in Chief Executive "Meet America's Makers" • Forbes points to manufacturing facilities in Detroit, Ironwood as a continuation of state's diversification into emerging markets within the transportation sector
Michigan's leadership position as a manufacturing powerhouse was on display over the past week, with two national publications highlighting the strength of the industry in the state.
Chief Executive magazine recognized leaders from six manufacturing companies with a presence in Michigan highlighted in a recent article, "Meet America's Makers: 25 Manufacturing CEOs Thriving in the U.S."
Chief Executive looked at a select group of manufacturing leaders whose companies are demonstrating that manufacturing is alive and well in the U.S. "For the second consecutive year, Chief Executive has selected a handful of people who are really successful, whose companies represent robust trends in the U.S. manufacturing economy, or who are reshaping their industries or manufacturing as a whole," writes author Dale Buss.
Five Michigan leaders – John Krafcik, CEO of Waymo (headquartered in California with vehicle manufacturing operations in Michigan); Michael Manley, CEO Of Fiat Chrysler; R.J. Scaringe, CEO of Rivian Automotive; and Tom Broad, President of Midwest Steel, were singled out for their pioneering work in the automotive industry's evolution to mobility.
"Each leader is making a huge statement about the future of automotive manufacturing in Motown amid the industry's evolution to 'mobility,'" Chief Executive says.
From building the first new assembly plant in Detroit in nearly 30 years, to partnering with Ford and Amazon to produce electric trucks and SUVs in the state, to tapping into the area's "tribal knowledge" to build an autonomous weeding vehicle for farmers, these CEOs are all helping to underscore Michigan's leadership position as the epicenter of 21st century mobility.
Chief Executive also recognizes Herman Miller CEO Andi Owen, not only as the first woman to lead a global furniture maker but also her shift from the fashion industry into manufacturing. The longstanding Zeeland-based company's board chose Owen for her vision and leadership at Gap Inc., where her career spanned many verticals and brands within the business, and expects that her understanding of the potential of a brand will lead the company into growth in new markets.
"Whatever the big picture, expect our 25 'Makers for American Manufacturing' to fare well," Chief Executive says.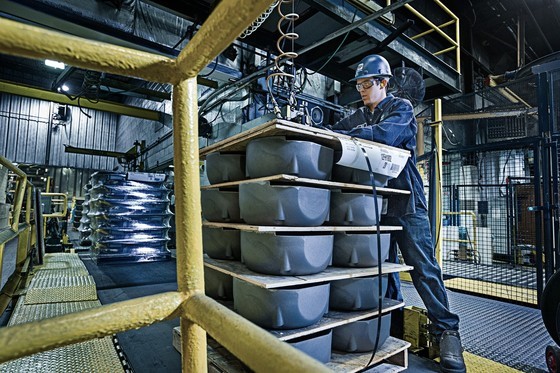 Michigan's long and rich history and continued leadership in manufacturing was also underscored in a recent Forbes article, "A Tale of Two Cities: Great Michigan Manufacturing News from Opposite Corners of the State."
German battery maker AKASOL chose the Detroit area for a new battery system manufacturing facility, a project that is expected to generate a total private investment of $40 million and create 224 jobs. The company was experiencing significant growth and chose the Detroit region because it "has a long-standing reputation in the automotive industry and will be an important strategic partner for our dynamic growth," according to AKASOL's founder and CEO Sven Schulz, who is quoted in the article.
Producer of gray and ductile iron components, Waupaca Foundry, chose the city of Ironwood to expand due to the available buildings and more importantly, the strong pool of motivated, highly talented workforce. As quoted in the article, Waupaca's President, COO and CEO Mike Nikolai said, "there simply are not enough workers to fill the open positions we have so we explored expansion in regions that had a solid base of talented workers."
Waupaca Foundry makes up about $2 billion of the total sales of $9 billion in worldwide sales at Hitachi Metals. The expansion into Michigan is expected to generate a total private investment of $4.3 million and create 61 jobs.
Michigan's workforce continues to help drive the future of manufacturing. "Manufacturing is in our DNA," MEDC CEO Jeff Mason told Forbes. "It goes to the long manufacturing history of our state, but also to our workers – we know how to make things."
Business Facilities recently ranked Michigan the top state in the nation for automotive manufacturing and in the top ten for manufacturing workforce.
To see why companies are choosing Michigan, visit here.
For more Michigan economic development news, visit here.
Photo Courtesy of Waupaca Foundry
About Michigan Economic Development Corporation (MEDC)