Michigan Wins $3 Billion Investment Powering New EV Production by LGES, Toyota
Courtney Overbey-Martinez
Team Michigan is celebrating yet another win in the global race to secure the future of the electric vehicle (EV) and mobility industry, as LG Energy Solution (LGES) and Toyota Motor North America announce their plans to partner in powering new EV battery modules out of Holland, Michigan.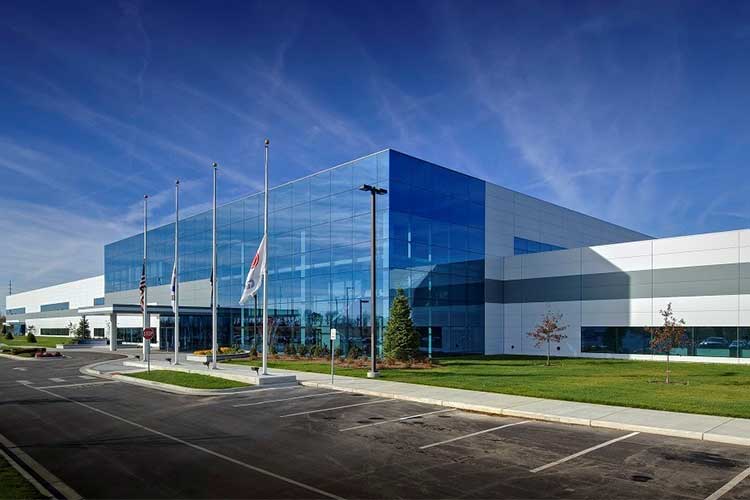 Through a newly signed contract, LGES will supply lithium-ion battery modules to be used in Toyota's battery EVs, which will be manufactured in LGES' West Michigan facility. LGES will invest $3 billion in its facility to establish new production lines for battery cells and modules exclusively for Toyota, with completion slated for 2025.
"Today's announcement that LG Energy Solution and Toyota are partnering up to power electric vehicles in America right here in Michigan reaffirms our strategy to Make It in Michigan by building a landscape that encourages global investment while creating opportunities for people and communities across our state. Together, we can continue growing our economy, creating good-paying jobs, and further cement Michigan as the global epicenter of the next revolution of the automotive industry."
Today's expansion is made possible in many ways due to Michigan securing a $1.7 billion investment into LGES' battery manufacturing facility in Holland in March 2022. Expected to create 1,200 jobs for Michigan workers, that expansion is quintupling the plant's capacity to help produce battery components into the future as Michigan's electric vehicle industry grows. Michigan was the ideal site for this investment – winning out over competing sites in the Southeast U.S. and overseas – based on the strength of Michigan's existing industry, its workforce and its ability to deliver impact for LGES' customer base.
"Today's announcement highlights how our investments in EV and battery production will continue to generate prosperity here in our state. We are putting Michigan on the map for global companies as the leader in mobility, electric vehicles and energy storage systems. We appreciate the continued partnership and investment in Michigan by both LG Energy Solution and Toyota as we continue to move the automotive industry towards an electrified future."
Michigan is Powering the EV Revolution
Michigan is leading the charge to position the U.S. – and particularly, the Midwest – as the center of global electric vehicle production through this increased manufacturing capacity. With an aggressive strategy driving Michigan's efforts to secure highly competitive EV projects in particular, the state is being recognized as a force to reckon with by its direct competitors.
"Michigan is a great competitor. They have a deep pocketbook and a large auto workforce," said Dan Seals, CEO of Intersect Illinois, the state's public-private business attraction arm. "There is absolutely a bidding war component to this. The state does engage in that competition, but not to the extent Michigan does. I don't know anybody that goes as far as Michigan does in that regard."
Last year alone, the state attracted thousands of jobs and $14 billion in electric vehicle and battery investments while developing programs to train and employ the next generation of talent in the electric vehicle and mobility sector.  
In a report from CNBC, Michigan was named one of three states that are poised to "dominate" electric vehicle battery manufacturing in the United States by 2030. Earlier this summer, Business Facilities also named Michigan the No. 1 State in the Nation for both EV Industry Investment and Automotive Manufacturing, and the state was also recognized by Newsweek as the next Silicon Valley for automotive technologies in February 2023. Taken together, it couldn't be clearer that Michigan continues to be at the vanguard of the new mobility and EV revolution.
Building on an Impactful Track Record
Today's announcement highlights the ecosystem and long-term relationship building Michigan is fostering, allowing companies like LGES and Toyota to continue looking to the state to grow and bringing economic opportunity and prosperity to communities like Holland.
In addition to LGES' transformational investment last year, the company has a deep relationship with the Holland community, where it built its first-ever EV battery plant in the U.S. Today, LGES is one of the largest employers in the region, where it continues to deliver strong wages, full benefits and training opportunities to its employees.
Meanwhile, Toyota celebrated 50 years of doing business in Michigan in 2022; as of 2023 it has 2,020 direct employees in Michigan and has invested approximately $1.5 billion in the state.
This includes its most recent investment earlier this summer, announcing a $47.7 million investment earlier this summer to add a battery testing facility for battery cell, module and pack testing capability at its R&D headquarters campus in Saline/York Township. At the time, Toyota also announced it was choosing Michigan as the first state to launch its new STEM initiative, dubbed "Driving Possibilities," which serves as a community engagement program focused on preparing youth for the careers of tomorrow.
Both Toyota and LGES are also active members of the state's Talent Action Team, which works in coordination with Michigan employers, education leaders and training providers to deliver concierge support in connecting global businesses with Michigan's EV and mobility talent. Since launching earlier this year, the effort has already filled more than 500 new jobs with major EV/mobility companies, inspired more than 300 local college students to pursue careers in EV/mobility and awarded scholarships to keep engineering talent in Michigan.
To see why companies are choosing to Make It in Michigan, visit https://www.michiganbusiness.org/pure-opportunity/.
To learn about Michigan's mobility leadership, visit https://www.michiganbusiness.org/industries/mobility-and-automotive-manufacturing/.
To learn about Michigan's workforce and talent development, visit https://www.michiganbusiness.org/talent-action-team/.
Contact Us