Latest Ford announcement builds on the company's longstanding relationship with Michigan and continued commitment to leading the future of mobility
This article was updated in February 2023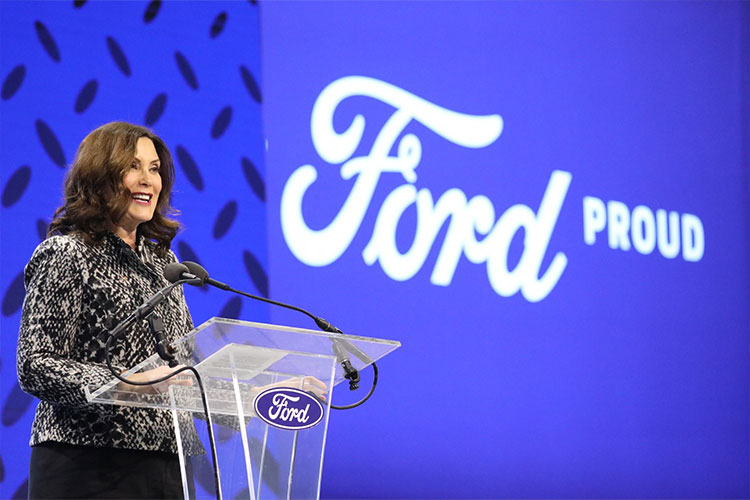 Just three days after Newsweek recognized Detroit as the "next Silicon Valley" thanks to U.S. automakers investing their futures in Michigan, a new generational investment from Ford Motor Co. has strengthened the state's position as a leader in transportation technology.
On Feb. 13, Gov. Gretchen Whitmer joined Ford Executive Chair Bill Ford and CEO Jim Farley at Ford Ion Park as the automaker announced an investment of more than $3.5 billion to construct a 2.5 million-square-foot electric vehicle (EV) battery manufacturing facility in Marshall.
BlueOval Battery Park Michigan will manufacture batteries used in several of the company's key electric vehicles. Ford conducted a highly competitive, multi-country site selection process before choosing Michigan for the new facility.
"We are committed to leading the electric vehicle revolution in America, and that means investing in the technology and jobs that will keep us on the cutting edge of this global transformation in our industry," said Bill Ford. "I am also proud that we chose our home state of Michigan for this critical battery production hub."
Building on 2022's Momentum
Ford's latest announcement builds on a transformational year for EV and battery investments across the state, with Michigan once again demonstrating its laser focus on maintaining a spirit of collaboration to keep growing our economy, creating jobs and advancing the future of mobility and electrification.
On June 2, 2022, Governor Gretchen Whitmer joined Ford Chief Policy Officer and General Counsel Steve Croley to announce an investment of $2 billion by Ford to create more than 3,200 manufacturing jobs in the state. With this investment, Ford is ensuring future opportunity for EV manufacturing growth in the state, while securing the company's existing internal combustion engine vehicle operations in Michigan.
Ford's decision underscores the strength of the workforce within our state's automotive sector and the bipartisan, Team Michigan commitment to winning the future of mobility and EV manufacturing here in Michigan. Michigan is competing aggressively to win every EV and mobility investment. We appreciate Ford's continued vote of confidence in Michigan and their partnership on this economic win for our friends and neighbors, and the economic opportunity impact it will have across our state for decades to come.

Ford's June 2022 investment was supported in part by the Critical Industry Program (CIP) through the Strategic Outreach and Attraction Reserve (SOAR) Fund, passed with bipartisan support and signed into law by Governor Whitmer in December 2021 to ensure Michigan could effectively compete for billions of dollars in investment and attract tens of thousands of jobs to bolster the state's economy.
Since 2016, Ford has announced investments in Michigan totaling almost $13.5 billion, mostly around electric and autonomous vehicle manufacturing, supporting nearly 12,500 new and retained jobs for Michigan's manufacturing workforce.
Ford's Focus on Michigan
Ford's investment in Michigan and the future of mobility builds on the tradition of innovation that started over a century ago with mass manufacturing enabled through the development of the legendary assembly line. Now, the state continues to build on its automotive legacy to drive next generation transportation, evolving with developments in electric power generation and storage, autonomous vehicles, vehicle sensing and vehicle-to-vehicle/vehicle-to-infrastructure communications, which are shaping the future and economics of mobility.
Together with Ford, Michigan is developing new partnerships to keep the state at the forefront of automotive innovation and technological discoveries for generations to come.
When Ford Motor Co. acquired Corktown's historic Michigan Central Station in 2018 and announced its intention to transform the complex into a vibrant campus and innovation hub for the future of transportation, that investment in Detroit's future laid the foundation for the dividends to come across the state. As a destination for large tech companies looking to make an impact on the future, Michigan is a go-to partner, thanks to its talent pipeline, manufacturing DNA and history of innovative thinking.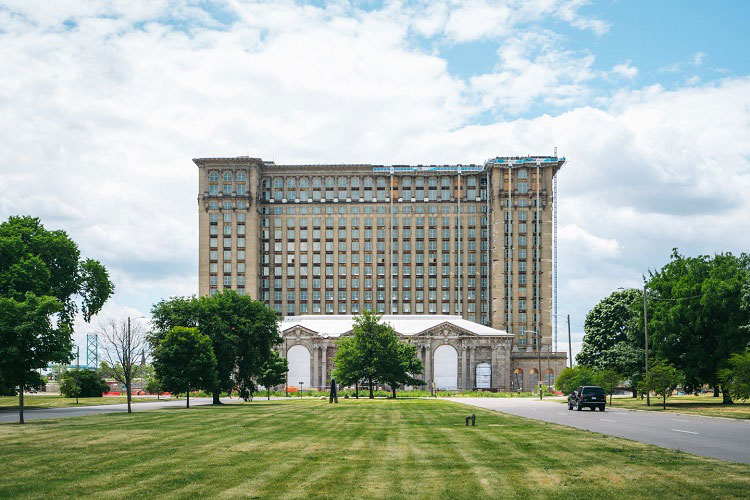 In the nearly four years since the birth of the Michigan Central Station District, a growing number of partnerships born in Detroit and its surrounding communities makes it clear that global high-tech companies are setting their sights on Michigan.
In February 2022, Ford announced that Google would be a founding member of the Michigan Central mobility innovation district, providing cloud technology for Michigan Central's mobility projects and offering workforce development training to local high school students and job seekers – all while planted firmly in the heart of Detroit's Corktown neighborhood.
As part of a Memorandum of Understanding (MOU) between Ford, the state of Michigan and the city of Detroit, the state is aligning more than $126 million in new and existing investments, programming and resources to support the goals of the district. The district is supported by a comprehensive cross-departmental collaboration that includes millions in state support, including from the Michigan Economic Development Corporation, the Office of Future Mobility and Electrification (OFME) and others across the Whitmer-Gilchrist Administration.
Among the four pillars identified within the MOU is a focus on workforce development within the district. To support these efforts, the Michigan Department of Labor and Economic Opportunity (LEO) will provide world-class training, post-secondary adult education and career readiness resources in the district – including a potential physical space to host apprentice programs, employer-led collaboratives, the Going Pro Talent Fund and more – to prepare local workers for high-tech jobs in mobility and other emerging fields.
Enhancing Michigan's Mobility Ecosystem
Through sustained relationships such as the one with Ford, Michigan is building a stronger state economy through safer, more equitable and environmentally conscious transportation for all Michigan residents.
To maintain the state's pre-eminence and seize this once-in-a-generation economic opportunity, Governor Whitmer formally launched OFME in July 2020. OFME is a public private partnership integrating state government, academia and private industry efforts to develop and support Michigan's mobility ecosystem. It recommends public policies regarding mobility and electrification, charging infrastructure and related mobility issues such as shared transportation and public transit. It also supports the startup and scale-up of emerging technologies and businesses, creating opportunities for electrification and charging initiatives to thrive.
Looking toward the electrification of the automotive industry and future of mobility, Michigan will continue to be a leader in innovation thanks to these partnerships.
Learn more about the electrified road ahead for Michigan at www.michiganbusiness.org/mobility/.
Contact Us