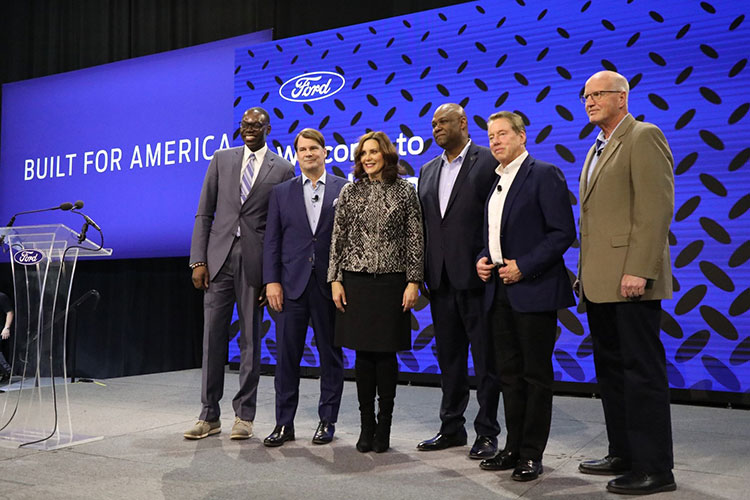 Governor Gretchen Whitmer today joined Ford Motor Co. Executive Chair Bill Ford and CEO Jim Farley at Ford Ion Park as the automaker announced an investment of more than $3.5 billion to construct a 2.5 million square foot electric vehicle (EV) battery manufacturing facility in Marshall, named BlueOval Battery Park Michigan.
The new facility in Marshall will be used to manufacture batteries that will go into several of the company's key electric vehicles. Ford conducted a highly competitive, multi-country site selection process before choosing Michigan for the new facility.
"We are committed to leading the electric vehicle revolution in America, and that means investing in the technology and jobs that will keep us on the cutting edge of this global transformation in our industry," said Bill Ford. "I am also proud that we chose our home state of Michigan for this critical battery production hub."
The project is expected to create 2,500 new jobs, including assemblers and fabricators, electricians, engineers, first-line supervisors of production and operating works, and general and operations managers.
"Today's generational investment by an American icon will uplift local families, small businesses, and the entire community and help our state continue leading the future of mobility and electrification," said Governor Whitmer. "Let's continue bringing the supply chain of electric vehicles, chips, and batteries home while creating thousands of good-paying jobs and revitalizing every region of our state."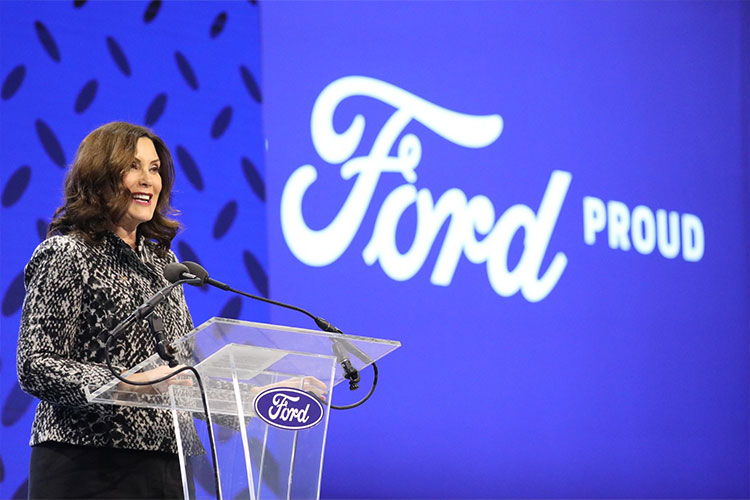 The BlueOval Battery Park Michigan facility has an employment multiplier of 4.38, meaning that an additional 3.38 jobs in Michigan's economy are anticipated for every new job at the site. These new jobs are expected to generate more than $29.7 billion in personal income over 20 years. In turn, this increase will support small businesses and create opportunities for families in the community for generations to come.
"This project creates new opportunities for businesses of all sizes across the state to ensure that Michigan retains its strong supplier network and provides a platform for further investment throughout Michigan," said Michigan Economic Development Corporation CEO and Michigan Strategic Fund President and Chair Quentin Messer Jr. "We appreciate Ford's continued vote of confidence and their partnership on this economic win for our friends and neighbors, and are encouraged by the positive economic impact it will have statewide for decades to come."
Since 2016, Ford has announced investments in Michigan totaling almost $13.5 billion, mostly around electric and autonomous vehicle manufacturing, supporting nearly 12,500 new and retained jobs for Michigan's manufacturing workforce.
In June 2022, Ford announced it would invest more than $2 billion across five of the company's plants in Southeast Michigan, including a new packaging facility in Monroe Charter Township. The project is expected to create more than 3,200 good-paying UAW jobs and help further the company's electric vehicle future in the state while also securing the company's existing internal combustion engine vehicle operations in Michigan.
Ford's commitments to the state of Michigan also contributed to Newsweek dubbing Michigan the "next Silicon Valley." The publication specifically mentioned the automaker's intent to make the Michigan Central Innovation District a globally recognized hub for talent, mobility innovation, entrepreneurship, sustainability, affordable housing, small business opportunities and community engagement.
The momentum built by the state in 2022 has continued full-force into 2023, with today's announcement also further validating Michigan's trajectory to dominate the EV and battery manufacturing landscape in the U.S. by 2030.
Read more about why the future of mobility lives in Michigan.
About Michigan Economic Development Corporation (MEDC)