Global tech company investments in Michigan are paving the way for the future of the state's workforce
At a time when companies of all sizes around the world share the same challenge for finding and growing highly skilled talent, Michigan is effectively positioning itself as home to a diverse labor pool and robust talent pipeline.
As evidence of this fact, consider the significant investment Michigan has attracted from one of the world's most prominent mobility leaders over recent years.
When Ford Motor Co. acquired Corktown's historic Michigan Central Station in 2018 and announced its intention to transform the complex into a vibrant campus and innovation hub for the future of transportation, that investment in Detroit's future laid the foundation for the dividends to come across the state. As a destination for large tech companies looking to make an impact on the future, Michigan is a go-to partner, thanks to its talent pipeline, manufacturing DNA and history of innovative thinking.
In the nearly four years since the birth of the Michigan Central Station District, a growing number of partnerships born in Detroit and its surrounding communities makes it clear that global high-tech companies are setting their sights on Michigan.
In February 2022, Ford announced that Google would be a founding member of the Michigan Central mobility innovation district, providing cloud technology for Michigan Central's mobility projects and offering workforce development training to local high school students and job seekers – all while planted firmly in the heart of Detroit's Corktown neighborhood.
"We're proud to join Ford as a Founding Member at Michigan Central," said Ruth Porat, Chief Financial Officer, Google. "This partnership will expand our work in Michigan and help a substantial number of people gain the skills and tools they need to succeed. By offering digital skills training, mentoring to high schoolers learning to code, and Google Cloud technology for Michigan Central projects and research on the future of mobility, we look forward to contributing to Michigan Central's mission and all it will accomplish."
As part of a Memorandum of Understanding (MOU) between Ford, the state of Michigan and the city of Detroit, the state is aligning more than $126 million in new and existing investments, programming and resources to support the goals of the district. The district is supported by a comprehensive cross-departmental collaboration that includes millions in state support, including from the Michigan Economic Development Corporation, the Office of Future Mobility and Electrification and others across the Whitmer-Gilchrist Administration.
Among the four pillars identified within the MOU is a focus on workforce development within the district. To support these efforts, the Michigan Department of Labor and Economic Opportunity (LEO) will provide world-class training, post-secondary adult education and career readiness resources in the district -- including a potential physical space to host apprentice programs, employer-led collaboratives, the Going Pro Talent Fund and more -- to prepare local workers for high-tech jobs in mobility and other emerging fields.
The Google announcement is the latest example of a large tech company committing to the state of Michigan and the development of its workforce. In January 2021, technology giant Apple Inc. announced plans to open a school to train developers in Detroit, marking its first Apple Developer Academy in the U.S. Supporting the company's $100 million Racial Equity and Justice Initiative, the program in Detroit is a collaboration with Michigan State University aimed at supporting Black entrepreneurs and coders and is free for students. The programming covers coding, design, marketing and professional skills for an anticipated 1,000 students per year.
"Detroit has 50,000 small businesses that are owned by Black and brown owners, and we thought this would match very well with that entrepreneurial spirit and the kind of folks who are rebuilding and building in Detroit," said Lisa Jackson, Apple's vice president of Environment, Policy and Social Initiatives.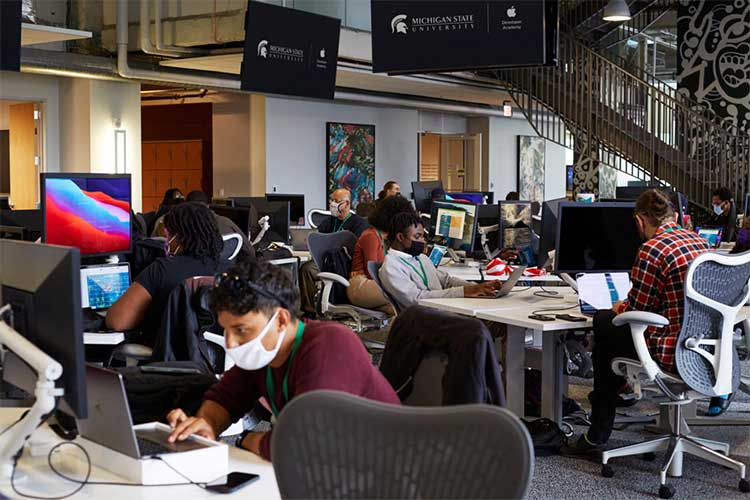 Apple welcomed its inaugural class of developers and entrepreneurs – a group of 100 learners ranging from ages 18 to 60 – in October 2021; the students will complete 10 months of comprehensive app development and entrepreneurial training, creating new opportunities for them to develop skills and excel in their professions.
The tech talent pipeline in Michigan is also being built by programs such as the Michigan STEM Forward internship program, a statewide initiative launched by Ann Arbor SPARK and MEDC in 2021 that has already become a critical part of the entrepreneurial fabric of our state. Students attending Michigan colleges and universities are matched with STEM-focused internship opportunities at the state's leading innovative companies. Despite operating for less than 12 months, the program has received 1,227 applications from students, leading to 159 intern placements.
Reskilling and Training Michigan's Workforce
Over the years, the single-most pressing concern among companies of all sizes continues to be their ability to access and grow highly skilled talent. In recognizing that this nation-wide problem will only continue to grow, Michigan is proactively addressing the impending talent shortage by investing in our workers and young people now, to prepare them for the changing demand.
In February 2021, Governor Whitmer announced a $30 million scholarship initiative, Michigan Reconnect, for Michiganders 25 and older looking to complete an associate degree or a skill certificate program. The Michigan Reconnect scholarship offers tuition for in-district community college, discounted tuition for out-of-district community college or a $1,500 Skills Scholarship for Michiganders enrolled in an approved training program. A year later, Governor Whitmer announced that 91,000 people have enrolled in the program.
The Michigan Reconnect program is a part of Governor Whitmer's Sixty by 30 goal which seeks to build a better Michigan by closing the skills gap, increasing opportunities and making Michigan more competitive for inclusive economic growth. The goal to increase the number of working-age adults with a skill certificate or college degree from 49 percent to 60 percent by 2030 is aimed at creating opportunities for better jobs and bigger paychecks. As jobs continue to require more than a high school diploma, programs such as Michigan Reconnect are helping fuel the future.
Futures for Frontliners is another program to support the Sixty by 30 initiative. In response to the pandemic, the Futures for Frontliners state scholarship program was introduced for Michiganders without college degrees who worked in essential industries in spring 2020. This scholarship provides frontline workers with tuition-free access to local community college to pursue an associate degree or a skills certificate, either full-time or part-time.
Community colleges such as Grand Rapids Community College are reporting a substantial uptick in enrollments for students over the age of 30, thanks in large part to these state programs covering the majority of tuition costs for older students. Meanwhile, Lansing Community College saw more than 1,200 students enroll when Futures for Frontliners was introduced.

A Workforce to Build On
Employers find that Michigan has one of the most talented, diverse and abundant workforces in the U.S. From manufacturers being prepared to adopt Industry 4.0 technologies through the state's innovative programming, to educational opportunities through Michigan Reconnect, Michigan is working around-the-clock to ensure new talent is always being developed.
Michigan offers a broad range of high-tech talent with an affordable cost of doing business, ranking in the top ten nationally for STEM degree completions at its higher education institutions and ranking first in the country for our concentration of engineering talent. As home to over a fifth of the nation's manufacturing workforce, Michigan has a density and diversity of highly skilled talent. In fact, Michigan has roughly 80,000 workers employed in technology cluster industries, with most talent concentrated in computer systems design services and customer computer programming.
In particular, the Detroit region is home to a vast community of talent. As one of the best academic research clusters in the country, the Detroit region has the fifth-largest talent pool working in research in the U.S. and nearly 80,000 people employed in computer and math occupations. More than 700 post-secondary institutions are within a five-hour radius, including many of the leading colleges and universities; the metro area's network of community colleges, which partner with local companies, adds to the region's robust talent pipeline. As the second-largest concentration of engineering talent in the U.S. and boasting nearly 400,000 STEM workers and 550,000 skilled trade workers currently employed in the area, the Detroit region is poised and ready for future high-profile partnerships.
With major high-tech players like Apple and Google setting their sights on Michigan and its talent, Michigan's workforce will be hardwired for success today, tomorrow and into the future.
Visit michiganbusiness.org/workforce to learn about Michigan's robust workforce, and discover why companies from around the world are finding pure opportunity in MI at michiganbusiness.org/tech.
Contact Us