Setting the Stage for Community Development in 2022 and Beyond
Thursday, January 27, 2022
MEDC spoke with its Senior Vice President of Community Development Michele Wildman to discuss how place-based economic development has changed with the pandemic, which 2021 accomplishments she is most proud of, and her vision and goals for MEDC's community development efforts in 2022.
MEDC's community development work is pivotal in Michigan's efforts around developing attractive places where talent want to live, businesses want to grow and thrive, and people want to visit. This commitment is underscored by a first-of-its-kind report released last year finding that MEDC's focus on placemaking investments in Michigan communities make it a leader in place-based economic development, providing quantitative data demonstrating the significant impact these investments have on local communities as both property values and occupancy rates near MEDC investment sites are proven to grow.
Challenges Bring Possibilities
Michigan communities have faced many challenges during the pandemic. Higher costs and supply chain issues have impacted place-based economic development across the state affecting project timelines, staffing and capital stacks. Despite these challenges, MEDC is inspired by the resilience and flexibility on display within communities across the state and continues to work with stakeholders from every prosperity region to find financial solutions, forge partnerships that result in new capital, attract tenants and engage the community.
"Challenges open up new possibilities," said Wildman. "There are so many great examples of communities across the state that have faced the adversity of COVID-19 and taken the opportunity to adapt their public spaces, development processes, and community engagement. In these cases, MEDC has been proud to provide additional technical assistance or funding support to help stakeholders meet challenges head-on."
With the winter months now upon us, communities are utilizing Michigan's Winter Strategies Guide to come up with creative ways to address the challenges of snow and cold while enhancing opportunities for safe outdoor winter activity. Businesses are partnering with their communities to adapt local ordinances to capitalize on customer desires to dine safely outside. Restaurants in communities like Bay City have created outdoor beer gardens, additional seating spaces along the right of way and added fire pits for customers to enjoy a comfortable dining experience. Grand Rapids' World of Winter Festival invites visitors to experience the cold-weather season in new and creative ways through interactive art scattered around the city.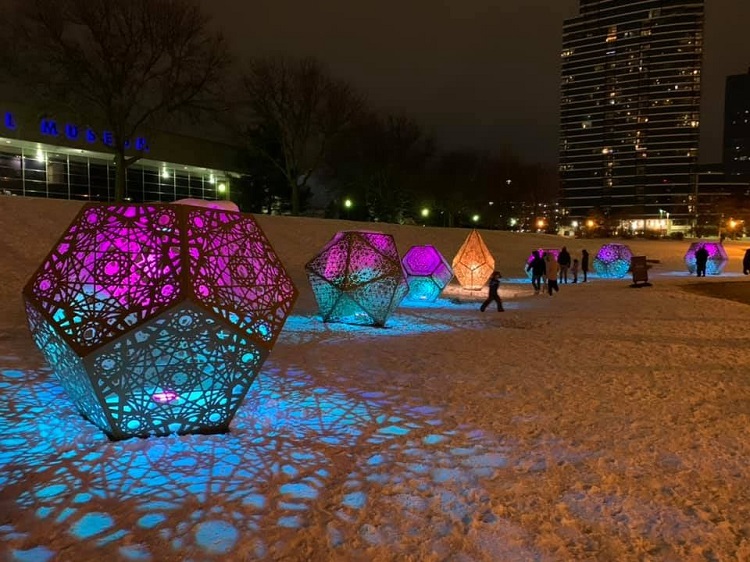 Remote work continues to be a trend today. The commute-free lifestyle of remote work coupled with Michigan's affordable cost of living frees up remote workers to enjoy more of what makes them happy. MEDC helps communities look at how to capture remote workers, while also focusing on how to revitalize and repurpose those areas that have traditionally relied heavily on office spaces. Vacant land and buildings have allowed cities and towns to reimagine what could be possible based on market demand.
Looking Ahead to 2022
As we head into the new year, MEDC is excited to add two new placemaking programs to its toolbelt of available resources to strengthen Michigan communities across the state by utilizing federal funding, including American Rescue Plan dollars.
"The Revitalization and Placemaking (RAP) program will give communities financial resources at an expanded level that go beyond what our tools can do, to help them revitalize and repurpose underutilized buildings and reimagine public spaces, and in turn drive population and revenue growth," explained Wildman.
In 2022, MEDC's Community Development team remains laser-focused on working to deploy funding for the RAP program and the new Public Gathering Spaces Initiative, while also rolling out the new State Historic Tax Credit Program, which will help support place-based projects while promoting the preservation of Michigan's historic resources. Workforce and attainable housing are proving to be a high priority across the state, as communities look to insert units that are between 80-120 percent of the area median income into their downtowns and neighborhoods.
"Beyond projects, 2022 will be focused on telling Michigan's community development story. MEDC is working on creating broad awareness of the work we're doing at the local and state level by reaching out to business leaders and residents alike through marquee programs like Redevelopment Ready Communities and Michigan Main Street," stated Wildman. "We want to make sure that everyone in Michigan – regardless of where they are in the state – can see and feel the impact of our work in their community every day."
MEDC will continue to embrace its role as a national leader in placemaking in 2022, developing the tools and resources to support communities as they revitalize their downtowns, attract and retain young professionals, increase tourism and support small businesses.
For more information about the programs, resources and tools available to communities throughout the state, visit miplace.org.
Contact Us