Michigan Communities and Companies Commit to a Sustainable Future
As the business world continues to evolve and grow, sustainability factors have become a larger part of the site selection decision process – and Michigan is leading the way in green practices.

(This article was most recently updated on July 11, 2022)
A U.S. Department of Energy report released in June 2022 found that energy jobs grew faster than overall U.S. employment in 2021, with Michigan leading the charge. The annual U.S. Energy and Employment Report (USEER) is a comprehensive study designed to track employment trends across the energy sector and within key energy technologies.
According to the 2022 USEER, Michigan was among the top three states with the highest energy job growth numbers overall, edging out California and Texas. Michigan gained 35,463 net jobs, including 5,136 new jobs in low or zero-carbon motor vehicles.
"Michigan's economy is on the move and thanks to our hardworking people and innovative businesses, we are now a top three state for clean energy vehicle job growth. We will continue fostering clean energy vehicle job growth and finding ways to pursue our long-term carbon neutrality goals too by expanding clean energy production and making energy efficient home repairs, lowering costs for families and communities. The clean energy future is bright, and Michigan is proud to be leading the way."

Research released by the Site Selectors Guild in June 2021 shows that green energy and sustainability are among five of the current trends in corporate location decisions, particularly among consumer-facing and public companies. Michigan-based companies and the larger statewide community are responding with programs and investments to support sustainability impact and goals.
The state's commitment to green energy practices and social responsibility has been affirmed by Site Selection's 2021 Sustainability Rankings. Michigan was ranked by the magazine as the No. 3 state for sustainable development, and Grand Rapids and Lansing were ranked the nation's No. 2 and No. 6 metros, respectively, on the list.
Utilities Set Aggressive Goals for Sustainability
Jackson-based Consumers Energy is leading by example with impressively ambitious sustainability goals. Their nation-leading plans call for zero-methane emissions from its natural gas delivery system by 2030. Their electricity business has also committed to achieve net zero carbon emissions, end coal usage, and increase clean energy resources by 2040.
In September 2021, Site Selection named Consumers Energy one of the Top Utilities in Economic Development, citing the utility's sustainability goals as well as the Consumers Energy Foundation's outreach and philanthropic actions during the pandemic.

In June 2022, a key regulatory decision cleared the way for Consumers Energy to stop burning coal to generate electricity by 2025 – 15 years faster than previously planned. The Michigan Public Service Commission (MPSC) approved Consumers Energy's agreement with a diverse group of stakeholders on updates to its Clean Energy Plan, a 20-year blueprint to meet Michigan's energy needs while protecting the environment for future generations. Consumers Energy is one of the first utilities in the nation to go coal-free.
DTE Energy, headquartered in Detroit, plans to achieve net zero greenhouse gas emissions through an innovative plan that includes both its suppliers and customers. By 2050, the DTE Gas Net Zero Plan will reduce carbon emissions by 6 million metric tons per year ― the equivalent of taking 1.3 million cars off the road.
Private Industry Invests in a Clean Future
Global automakers like Ford are creating the blueprint for a future fueled by renewable energy. Ford is aiming to use 100% renewable energy for all its manufacturing plants across the globe by 2035. The automotive leader has identified naturally reproducing sources such as hydropower, geothermal or wind and solar power as their focus. Ford has also vowed to eliminate single-use plastics from all operations by 2030 and reach their goal of true zero-waste-to-landfill across operations.
Also committing to sustainable car manufacturing is Detroit-based General Motors. Since 2010, General Motors has achieved 22% reduction in absolute energy use, 13% reduction in water intensity, and 45% reduction in VOC emissions, with those rates only growing. They have also seen a 95% increase in renewable energy usage over the last decade.
Stellantis is also working toward carbon neutrality across all products, assembly plants, and other facilities with its Mack assembly plant in Detroit both the future home of two electrified Jeep® vehicles and one of the company's most efficient and sustainable manufacturing operations.
Midland-based science giant Dow is driven by their company purpose to deliver a sustainable future for the world through materials science expertise and collaboration with partners. Working with those partners, Dow has reduced overall emissions 15% in the past 15 years.
Grand Rapids-based Cascade Engineering is making a name for itself by constructing the first commercial building in Michigan to achieve LEED EB Platinum Certified status. Cascade is using recycled materials whenever and however possible, aiming to never touch a landfill in their operations, and is utilizing a closed loop water system.
As a leader in mobility and electrification, Detroit was chosen as the new headquarters and Operation Center for ADASTEC, a San Fransisco-based company delivering advanced automated transportation platforms for full-size commercial vehicles. In November 2021, MSU introduced the Karsan Autonomous e-ATAK bus, which represents one of the largest electric autonomous transit vehicles to be deployed on U.S. roadways to date.
With the support of a $100,000 grant from the MEDC's Michigan Mobility Platform in spring 2020, ADASTEC partnered with Michigan State University to roll out a full-size, electric Level 4 automated bus on MSU's campus in East Lansing, Mich. The AV Pilot program was accomplished through the collaboration between ADASTEC, MSU, the Michigan Office of Future Mobility and Electrification (OFME) and bus manufacturer Karsan.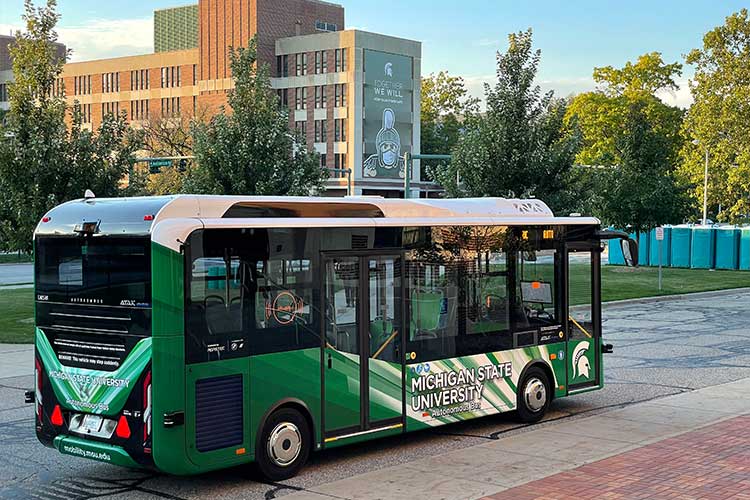 Small Businesses Making a Big Impact
Businesses and organizations across the state of Michigan are making an impact on the economy and the planet through their sustainability initiatives, particularly in Detroit.
The Industrial Sewing and Innovation Center (ISAIC) was formed as a nonprofit in 2018 with an approach rooted in the manufacturing history of the city and a commitment to social and environmental responsibility. Acknowledging the fashion industry's impact on the environment, such as being responsible for 10 percent of global carbon emissions, ISAIC follows sustainability principles that focus on progress and leading solutions.
Detroit Denim is also aiming at breaking the fashion mold by educating consumers on the global apparel industry and embracing sustainable practices. By creating jeans to order, the company does not contribute to over-production of garments; producing higher quality heirloom garments reduces customer consumption as well, allowing Detroit Denim to approach sustainability from all angles.

Also based in Detroit, Andonix aims to increase productivity while eliminating paper-based systems with its products, including its Smart Work Station. The mobile and web-based solution boasts a deployment that is 10 times faster than traditional paper workflows, while also eliminating scrap waste.
Pivot Materials is also working to reduce waste, making sustainable materials by incorporating natural fibers, like bamboo and rice hulls, into traditional plastics. The advanced materials manufacturer's products are currently being used in the packaging, consumer products, and automotive industries. CEO Kylee Guenther began her journey as a Sephora Accelerate Cohort member, where she looked to create an eco-friendly plastic alternative for beauty/retail rigid packaging. Guenther was recently featured on Forbes' The Next 1000 list in 2021; The Next 1000 is a year-round initiative showcasing the country's small business owners and new faces who are redefining what it means to build and run a business today. Pivot currently works with 35 different businesses, providing eco-friendly materials that are then made into sustainable, environmentally friendly products such as bamboo-based shipping pallets and the world's first bamboo-based bottles to a range of companies around the world, from small startups to multinational corporations.
Supporting Sustainability from the Top
Through Governor Gretchen Whitmer's MI Healthy Climate Plan the state of Michigan is working to protect the health of Michiganders and put the state on a path toward becoming fully carbon-neutral by 2050. Governor Whitmer announced in 2020 that state-owned facilities would utilize 100% renewable energy by 2025 through partnerships with DTE, Consumers Energy, and Lansing Board of Water and Light. The energy purchased will expand the utility's renewable portfolio in Michigan, rather than simply rerouting existing renewable energy that is already being generated. Additionally, the state's Council on Climate Solutions is already helping to guide the development and effective implementation of emissions-reduction strategies, working closely with EGLE's Office of Environmental Justice Public Advocate to ensure fairness and representation from underserved communities throughout that process.
This commitment to sustainability and protection of the state's Pure Michigan quality of life, combined with an affordable cost of living and competitive business climate position Michigan as the ideal choice for businesses looking to infuse sustainability into their business growth and expansion efforts.
Contact Us