Fashion and apparel manufacturing nonprofit propels industry forward in Detroit – and combats COVID-19 – with support from MEDC programs
Detroit is famous for its manufacturing heritage and innovative spirit, but in the last few years, the Motor City is steering the way towards a more sustainable future beyond the automotive industry. Thanks to strategic partnerships with the Michigan Economic Development Corporation (MEDC)'s Pure Michigan Business Connect (PMBC) program, the city has grown into a booming hub for fashion.
One of the trendsetters in this space is the Industrial Sewing and Innovation Center (ISAIC). Formed as a nonprofit in 2018, ISAIC is "fashioning the future" right in the heart of Detroit. With an approach rooted in the manufacturing history of the city and a commitment to social and environmental responsibility, ISAIC is moving the fashion and apparel industry forward.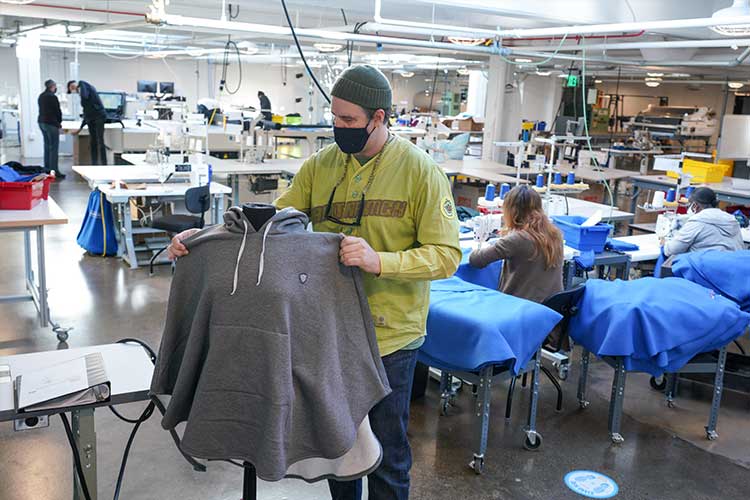 In 2019, ISAIC began working with the PMBC program to help create a sustainable, community empowered ecosystem for apparel manufacturing with an innovative approach to facility design, application of technology and advanced career path development. Jen Guarino, ISAIC President, and at the time, VP of Manufacturing at Shinola, sought PMBC's help in bringing more awareness and support to eventually build an apparel manufacturing facility in the city of Detroit. Momentum was building, with Guarino and her team having several positive conversations with Detroit Economic Growth Corporation (DEGC), PMBC, and the city of Detroit about a facility and partnership.
Then, the pandemic hit, disrupting every industry in the state and across the world. True to its mission to be a model for change and social responsibility, ISAIC shifted its focus.
The organization played a big role in Michigan's "Arsenal of Innovation" to combat the spread of COVID-19 during the early months of the pandemic. In April 2020, PMBC launched the PMBC COVID-19 Emergency Access and Retooling Grant to help in-state manufacturers retool production lines to produce needed PPE for hospitals and front-line workers to combat the pandemic. Already working with local and state leaders to attract and train apparel businesses and workers, ISAIC pivoted its training and manufacturing efforts from apparel to isolation gowns and masks to address the shortage of PPE. Thanks to $150,000 from the Emergency Access and Retooling Grant, over 550,000 disposable face masks and 500,000 isolation gowns were manufactured.
"ISAIC's reason for being is to continuously lead in workforce development by piloting and training on the technologies that serve the industry now and in the future. ISAIC will do so in a way that defies outdated models by providing people-centric environments, ongoing learning, equity in growth and a commitment to ethical practices. We plan to serve as a leading model for change."
The PMBC grant gave the organization the opportunity to hire and train more employees, with its apprentices earning experience that would allow them to attract U.S. brands to Detroit beyond the pandemic. From early 2020 to the beginning of 2021, ISAIC hired employees to increase the talent force for domestic apparel manufacturing, while providing PPE to healthcare and essential front-line workers.
Guarino and her team, now armed with a workforce possessing needed experience in the apparel manufacturing industry, are poised for even more growth. The latest feather in the cap for ISAIC's partnership with MEDC came in January 2022, when Guarino and her team were offered an incentive package from the Jobs Ready Michigan Program, a program created by the Michigan Strategic Fund to meet the talent needs of companies expanding or relocating to Michigan. The package included $259,000 to support 47 new jobs in three years, with a capital investment of $550,000.
"ISAIC's success is only possible with visionary partners like PMBC and MEDC," added Guarino. "With their support, we are building a sustainably advanced manufacturing hub right here in Michigan and pioneering how the industry can look in the future."
"PMBC and the MEDC understand the importance of supporting our state's industries and finding collaborative approaches to serve those creating, manufacturing, and innovating in new industries," said Natalie Chmiko, Vice President of Pure Michigan Business Connect and International Trade. "PMBC has been working hard to expand partnerships within the design, textiles and fashion space due to the high level of manufacturing skill it requires. This sector has the potential to harness creative minds and has a broad applicability for makers in the space to impact Michigan's many industries for decades to come. We look forward to continuing to support groups like ISAIC and others looking to establish a strong foundation for broad economic, job creating growth."
In August 2022, Governor Gretchen Whitmer joined the MEDC to announce ISAIC is expanding its operations in Detroit to accommodate increased demand from an existing client. The project is expected to generate a total capital investment of $550,000 and create up to 74 jobs, supported by a $259,000 Jobs Ready Michigan grant from the Michigan Strategic Fund. Michigan was chosen for the project over competing sites in New York and Missouri.
ISAIC plans to expand at its facility in Detroit, where it will add machinery and equipment. The R&D aspect of the project will involve the creation of technology that can respond to on-demand cut and sew needs from clients. This technology can help reduce overall costs of production while responding to the changing needs of clients within 24 hours.
"The MEDC has been on the forefront of fostering not only our state's existing industries such as auto and mobility but also supporting emerging sectors in the advanced manufacturing of product including apparel. In addition, it will help to support our continued collaboration with the Advanced Robotic Manufacturing Institute," said Jen Guarino, ISAIC CEO. "We are grateful for the MEDC support of ISAIC and our impact on our community."
MEDC and Pure Michigan Business Connect's ongoing support of ISAIC is the ultimate fashion collab. Find inspiration and design the future of your business by visiting michiganbusiness.org/pure-partnership/.