Strategic Partnerships Seamlessly Transform Detroit Into a Fashion Hub
The Motor City is expanding its reach into the fashion industry thanks to connections made through the Pure Michigan Business Connect program.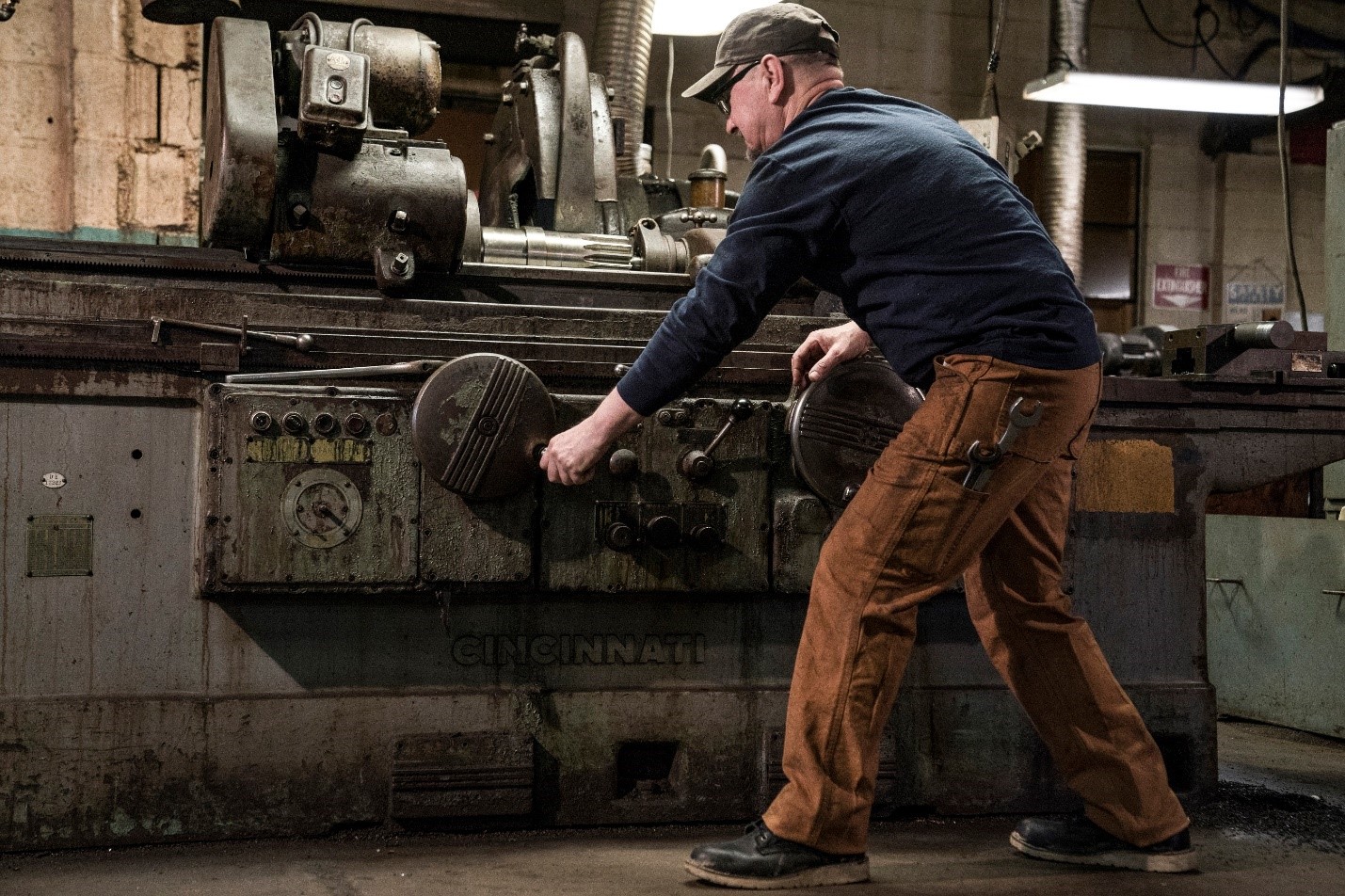 Internationally, Detroit is recognized as The Motor City – a community known as the epicenter of the automotive industry. From General Motors to Ford Motor Company to Fiat Chrysler, longstanding auto brands jump into consumers' minds when they envision Detroit. But today, the city is taking that entrepreneurial spirit and growing into a booming hub for fashion.
For years, Detroit-made companies including the well-known Carhartt have established themselves as staples in the world of Detroit apparel. Carhartt has a historic appeal, founded by Hamilton Carhartt in 1889, with the niche focus of honoring its dedicated, diligent Detroit citizens by crafting durable, robust apparel. The popular brand, which achieved heightened consumer popularity outside of blue-collar trades during the '70s and '80s, has been a leader in shaping the industry since its humble beginnings with only two sewing machines in a Detroit loft.
Since then, countless brands have emerged with shared visions for Detroit fashion, putting the city on the map for creating the latest trends and designs in the city's growing fashion sector.
In 2017, industry leaders unified through the conception of the Industrial Sewing and Innovation Center (ISAIC), led by Jennifer Guarino, now-president of ISAIC and vice president of manufacturing at Shinola, and Brenda Lane, co-owner of Detroit Denim Co. The organization was born to propel the fashion industry forward in a more diverse, inclusive, sustainable way – just as Detroit itself was shifting toward an age of restoration.
To capitalize on the opportunities growing within the city as a result of ISAIC's success, Pure Michigan Business Connect (PMBC), an initiative under the Michigan Economic Development Corporation, has partnered with Detroit is the New Black to launch a year-long brand accelerator program. Each quarter, new brands are chosen to participate in the program. The program is ideal for up-and-coming brands to test their products in a brick-and-mortar space in the heart of downtown Detroit's retail market. At the end of each series, brands will walk away with valuable mentorship for sales training, merchandising and product marketing, actual revenue from their product and facilitated connections to experts in the industry.
In May, PMBC hosted the "Made in Detroit: Moving the Apparel Industry Forward" event at the Shinola Hotel, further showcasing the city's thriving apparel industry and highlighting the talented and inventive Detroit-based industry moguls as they establish the city as a home for fashion. Guarino and other apparel industry leaders – Lane, Tony Ambroza of Carhartt, Roslyn Karamoko of Detroit is the New Black and more – had the opportunity to strengthen relationships and grow connections with other trailblazers in the city's fashion industry.
"PMBC and the MEDC understand the importance of supporting our state's industries and finding collaborative approaches to serve those creating, manufacturing, and innovating in new industries," said Natalie Chmiko, Vice President of Pure Michigan Business Connect and International Trade. "PMBC has been working hard to expand partnerships within the design, textiles and fashion space due to the high level of manufacturing skill it requires. This sector has the potential to harness creative minds and has a broad applicability for makers in the space to impact Michigan's many industries for decades to come. We look forward to continuing to support groups like ISAIC and others looking to establish a strong foundation for broad economic, job creating growth."
"The saying 'Detroit hustles harder' is very true. We want to add 'smarter' to that. 'Detroit hustles harder and smarter,'" said Guarino. "There are plenty of very good people that have been tirelessly growing [the fashion] sector in Detroit, but with limited support, resources, collaboration and industry access. In short – we've been doing it the hard way. This event marks the beginning of changing that."
Capitalizing on the opportunity to address key industry leaders gathered together in the same space, Carhartt announced that it will be dedicating the third floor of its Cass Avenue retail location to ISAIC. The organization will be transforming this retail space into a national center of excellence for sewn trades, offering training in both traditional skills and emerging apparel technologies. Carhartt is also supporting the organization's launch plans via an in-kind donation of apparel manufacturing equipment.
"At Carhartt, we believe Detroiters are some of the hardest-working, resilient, resourceful people on the planet," said Ambroza, chief brand officer at Carhartt, in a press release. "We couldn't agree more with ISAIC – this is the right time and place to build and grow the apparel industry."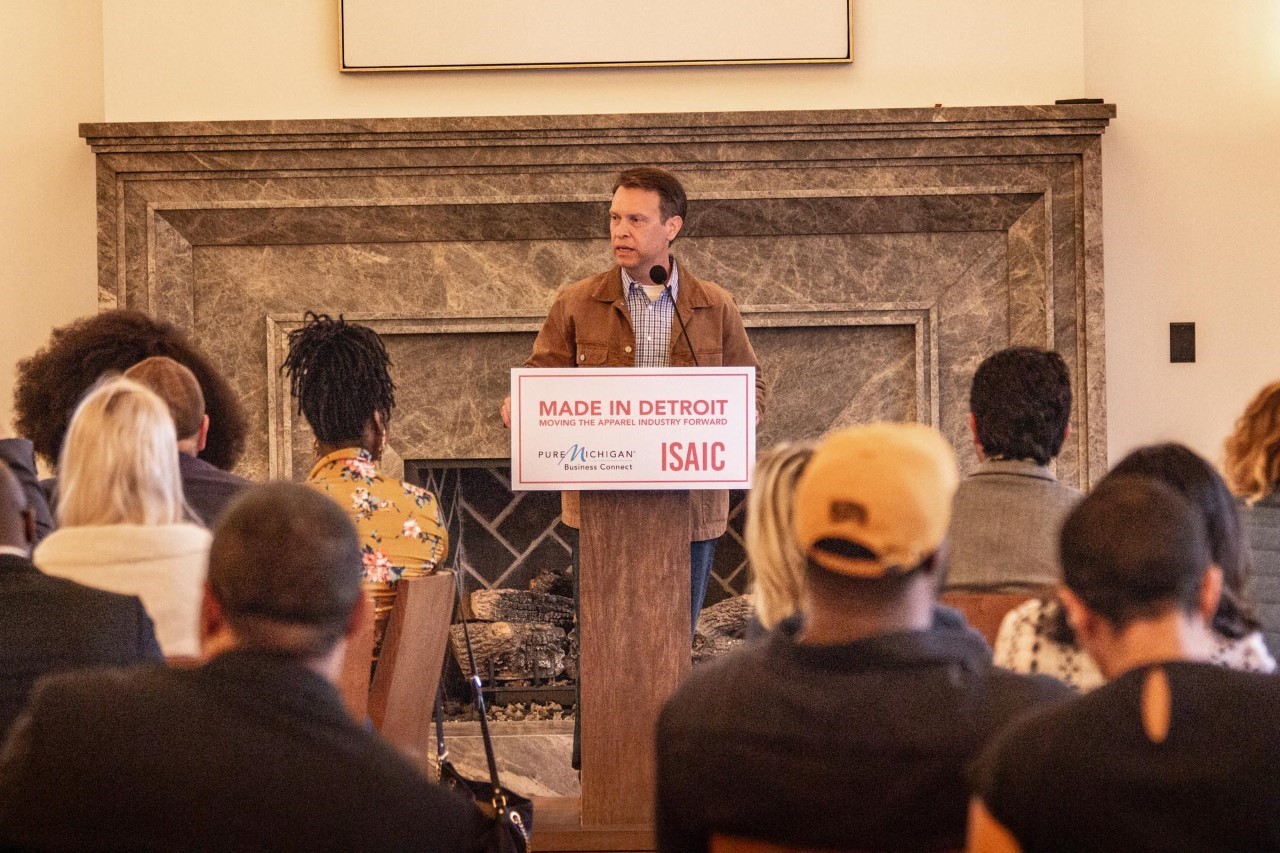 Guarino says that Detroit is poised for continued success in this industry – it's starting from scratch. In comparison to recognized fashion hubs like New York City, Detroit can construct a reimagined system that is viable from the start, whereas more established cities and brands must deconstruct and modify current models of production to appeal to the transformed consumer mindset. ISAIC plays an integral role as the industry finds its place in Detroit, ensuring that it is born around proper ideals so as not to stray from its mission.
"ISAIC's reason for being is to continuously lead in workforce development by piloting and training on the technologies that serve the industry now and in the future. ISAIC will do so in a way that defies outdated models by providing people-centric environments, ongoing learning, equity in growth and a commitment to ethical practices," said Guarino. "We plan to serve as a leading model for change."
The partnership between Carhartt and ISAIC is offering the organization the power and freedom to further pursue its goal of building a talented Detroit workforce, well-versed in both traditional and modern facets of industry manufacturing. In tandem, these Detroit brands are shifting the future of fashion in the city.
There is no denying that a global revolution is engulfing today's apparel industry – but it is one that Detroit is ready for.
PMBC provides small to medium-sized businesses with assistance in pursuing local, national and global market opportunities to generate supply chain opportunities. This service provides Michigan businesses with connections to all levels of corporate purchasers at no cost to them. Since 2011, the PMBC has spearheaded these connections, facilitating more than $13.5 billion in new contracts to qualified Michigan companies. The initiative has created and retained more than 66,000 jobs and provided business connections across 76 industries. To learn more about how PMBC can help businesses build connections and grow, go to michiganbusiness.org/pmbc.
This article was updated on 09/07/2021
Contact Us