Automation solutions company partners with Michigan State University to introduce electric Level-4 autonomous bus to campus with support from the state of Michigan's mobility grant program
With a storied history in the automotive industry, Michigan continues to define the future of transportation as it moves toward the future. As a leader in transportation mobility and electrification, it's no wonder why Detroit, Mich. was chosen as the new headquarters and Operation Center for ADASTEC, a San Francisco-based company delivering advanced automated transportation platforms for full-size commercial vehicles.
With the support of a $100,000 grant from the MEDC's Michigan Mobility Platform in spring 2020, ADASTEC partnered with Michigan State University to roll out a full-size, electric Level 4 automated bus on MSU's campus in East Lansing, Mich.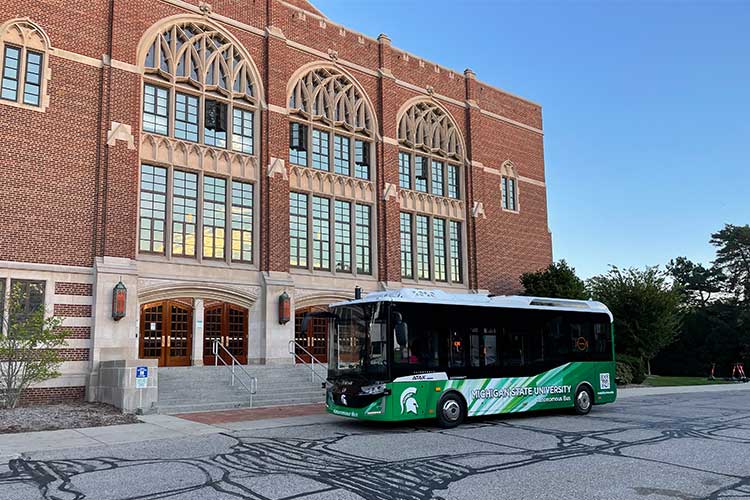 "ADASTEC is proud to be part of the state of Michigan's mobility grant program initiative," said Dr. Ali Peker, CEO of ADASTEC. "When the history of autonomous vehicles is charted, we will see the major role played by Michigan, its companies and its people. We believe, together, we can build a safer, more sustainable future that starts with Michigan and brings value to communities across the United States and the world."
In November 2021, MSU introduced the Karsan Autonomous e-ATAK bus, which represents one of the largest electric autonomous transit vehicles to be deployed on U.S. roadways to date. The AV Pilot program was accomplished through the collaboration between ADASTEC, MSU, the Michigan Office of Future Mobility and Electrification (OFME) and bus manufacturer Karsan. The bus, which features 22 seats and can operate without human interaction on its non-stop roundtrip route, will be deployed by MSU after the completion of on-campus testing and validation of the bus, route and infrastructure by the National Highway Traffic Safety Administration. That full deployment is expected to happen in early 2022.
Designed for large-scale public transport and integrated with a breadth of cutting-edge sensor, safety and mapping equipment, the ADASTEC SAE Level-4 Automated Driving Software Platform, named flowride.ai, offers bus manufacturers opportunities to best meet the needs of next-generation automated public transportation. Additionally, the cloud-based platform supports data sharing, mission control and fleet management operations.
"We are excited to expand our reach into Michigan and partner on this pilot project with one of the leading universities in the mobility space to assist in its pursuit of an autonomous, sustainable future," said Dr. Peker. "The MSU campus offers the ideal environment for proving the capabilities of autonomous transportation in a connected, diverse and real-world setting."
According to Atalay Taskoparan, co-founder and Chief Mobility Officer for ADASTEC, an AV Pilot is the crucial preliminary stage before the disruptive transformation to the AV operation in a city, university campus or commercial zone, and helps a city become a pioneer in the AV space instead of a follower. As ADASTEC waits for AV regulations, the company is focusing on pilot programs, which it believes are crucial for adopting the AV technology to public roads. "With our AV Pilot, we offer a bucket 'read to go' for being a pioneer," Taskoparan said.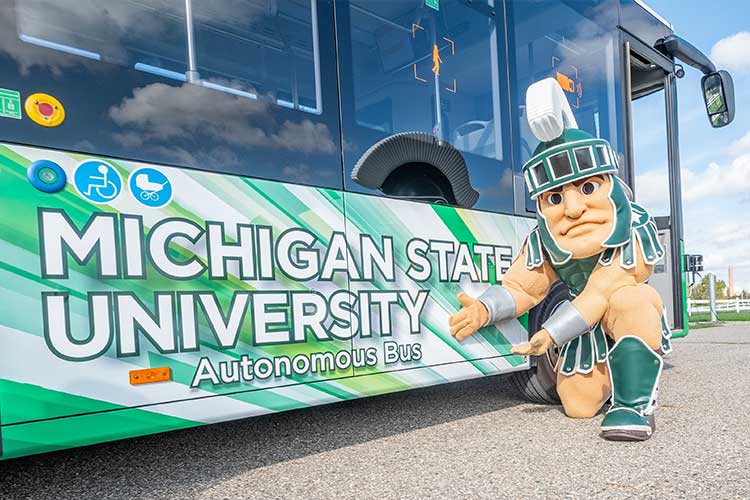 "We are incredibly pleased to partner with Karsan and ADASTEC to bring another level of mobility to campus," said Satish Udpa, Interim Director of MSU Mobility and University Distinguished Professor of electrical and computer engineering and member of the State of Michigan's Council on Future Mobility and Electrification. "This will offer our students a firsthand look at the future of mobility and give us the tremendous opportunity to analyze real world autonomous driving data, supporting a host of R&D initiatives on campus."
When deployed, the Karsan Autonomous e-ATAK bus will drive a 2.5-mile nonstop route along Farm Lane, from the Commuter Lot to the MSU Auditorium. Data will be collected and analyzed from the bus, including V2I (vehicle to infrastructure) communication technologies as well as experiential learning from persons with disabilities to inform future design considerations. A trained operator will always be behind the wheel to ensure safety.
To learn more about the future of mobility in Michigan and how MEDC supports visionary companies like ADASTEC, visit michiganbusiness.org/mobility.