Northern Michigan's Community Helps Businesses Change and Evolve through the Highs and Lows of the Pandemic
In 2020, Northern Michigan saw a record-setting influx of visitors in search of respite from the pandemic. Many Michiganders stayed closer to home, trading trips on planes for in-state destinations like state parks and lakeside towns. Even as the seasons shifted to colder months, an increase in outdoor activities still brought many up north.
In this era of remote work, families that previously spent a few days vacationing in Northern Michigan opted to stay for an entire month — or sometimes longer. As more families took advantage of the flexibility of virtual school and remote work, a steady stream of visitors to resort areas in Michigan exceeded national tourism averages. With lowered interest rates and many realizing they're no longer tied geographically to work places, the dream of moving to Northern Michigan became a reality.
This influx in visitors, both temporary and permanent, impacted local businesses, many of whom closed when COVID-19 arrived in Michigan to protect their employees and customers. As a result, some business owners began working to supply for a heightened demand of their goods and services, while also adapting to include an online business model. In other instances, businesses even re-imagined their models entirely, all while implementing new policies and protocols to keep employees, patrons and the surrounding community safe.
When the pandemic began, Stormy Kromer, an apparel and lifestyle brand in Ironwood, closed their non-essential production facility but pivoted and reopened in May to manufacture PPE masks and gowns for essential automotive companies, in partnership with four other factories. In addition to the new products, they still needed to keep up with their base product demand in preparation for the fall and holiday seasons, while implementing additional factory protocols to ensure proper distancing and mask wearing to keep their staff safe.
With the shift in production to PPE, it only made sense for Stormy Kromer to make their own branded mask once allotments were filled, which helped introduce their brand to new customers all across the state. This strategy paid off as large waves of campers ventured north, looking for interesting places to visit and small businesses to support while they tried different outdoor activities and visited waterfalls and Lake Superior.
"We have about 600 retailers across the country that we sell our products to, and 200 of those are located in Michigan," said Gina Jacquart Thorsen, President of Stormy Kromer. "We've heard from all of our retailers, which are independent and locally owned ski and outdoor shops that they've had a really great year as well. There's been a lot of community support, and we've received a lot of notes with orders, saying they were thrilled at the opportunity to support a local organization in the UP."
According to the Michigan Department of Natural Resources, there's been a surge in the number of deer hunting licenses sold in 2020. It likely coincides with an overall increase in outdoor recreation during the pandemic, but also seems to follow an overall increase in hunting and fishing in Michigan this year. The DNR also reported a 27% increase for spring turkey hunters and a 9% increase in fishing licenses.
"We've always had a strong core customer base of hunters, and this year our blaze orange wool cap sales were up 60%," said Thorsen. "Hunting is a solitary activity outside with a local and sustainable push for food. Feed your family and keep your distance were big focuses of the pandemic. And retailers all over the country were reordering orange hats because they couldn't keep them in stock."
Much like retail the food and beverage industry saw an uptick in online purchases, and watched their products trend across the state with the additional exposure and emphasis on buying and supporting local businesses. Breweries focused on bottles, cans, and retail in opposition to their usual draft offerings, and those with known brand identities were able to keep their product in consumers' hands while highlighting the locally sourced ingredients from Northern Michigan, including a large array of fresh picked hops and roasted malt.
Barrel + Beam, located in Marquette, is a brewery that solely focuses on crafting world-class farmhouse and barrel-aged ales and ciders. As their brewery grew in popularity across the state, their taproom had become a space that encouraged people to gather and host large events like weddings, birthdays, and various other celebrations. As the pandemic hit, owners Nick VanCourt and Marina Dupler shifted their business model, taking everything online, while also home-schooling their kids and for Marina, working her full-time job.
"When you can't do something that takes up a lot of your time, you shift your focus," said Marina Dupler, co-owner of Barrel + Beam. "Specifically for us, we shifted our focus back to the main reason we opened the brewery. To make beer."
Their name reflects the intersection of old-world process with new-world taste with premium ingredients. Barrel + Beam has always sourced Michigan ingredients but they pushed more energy into that endeavor, all the way down to their boxes which are now sourced from Escanaba.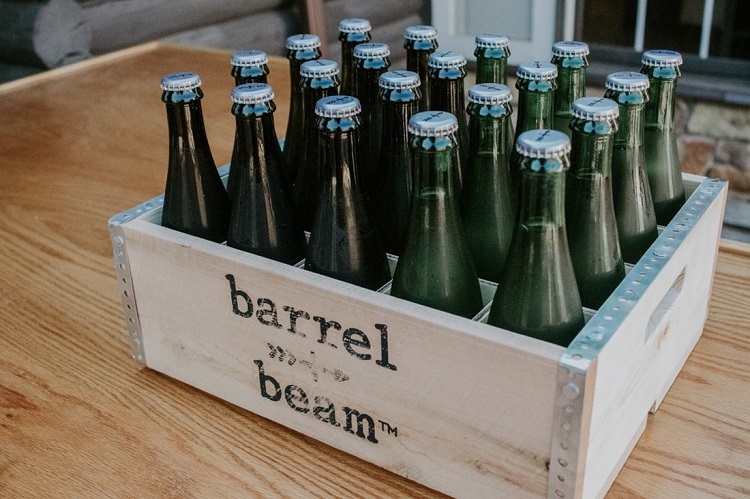 "We live in a community that really embraced the definition of small town life," said Dupler. "But we did our best to support everyone we could. We have a local canning line coming online soon, we partnered with a local fishery and farm for a Father's Day Grilling Kit, created our Canteen Online Store with local food purveyors and makers, and ordering from local restaurants became a civic duty!"
While summer and fall saw an increase in traffic, outdoor winter activities in Northern Michigan also drew a large number of tourists to slopes, snowmobile trails, snowshoeing, and shanties for ice fishing. For some northern businesses, the pandemic began at the end of their season and they either had to scramble to cover the lost revenue, or pivot and reinvent themselves in preparation for the upcoming winter.
Big Sno Outfitters, Bessemer's 33-year-old high-performance ski and snow sports equipment shop, got hit hard at the start of the pandemic, and with it being an off-season for the shop things looked even more grim. Thankfully a Michigan Small Business Restart Grant aided their business and helped pay bills until winter season. As the snow began to fall in Northern Michigan, Big Sno Outfitters started to see the influx of travelers, with three ski areas just minutes from the shop.
"It was amazing seeing so many people, so many families, and even those I haven't seen in fifteen years or so," said Mark Serwe, owner of Big Sno Outfitters. "We've now surpassed sales over the last year, and there's continued momentum from the community and those stopping in looking to support the small local shop. I'm honored to be that shop."
The additional seasonal traffic forced many ski resorts to hit the accelerator on innovation. This year, Harbor Spring's Nub's Nob put most of their products online, affording a more efficient experience in the rental building. More outdoor eating and drinking options are available with a nearly tripled size of their Winter Garden, adding picnic tables, fire pits, and a Winter Garden Cafe. In addition, a slope-side pick-up window off the pub has become available and online orders can be placed for curly fries and beer, right from the chairlift. Nub's Nob crafted a truly memorable outdoor winter experience encouraging everyone to get outside and enjoy the snow with friends and family.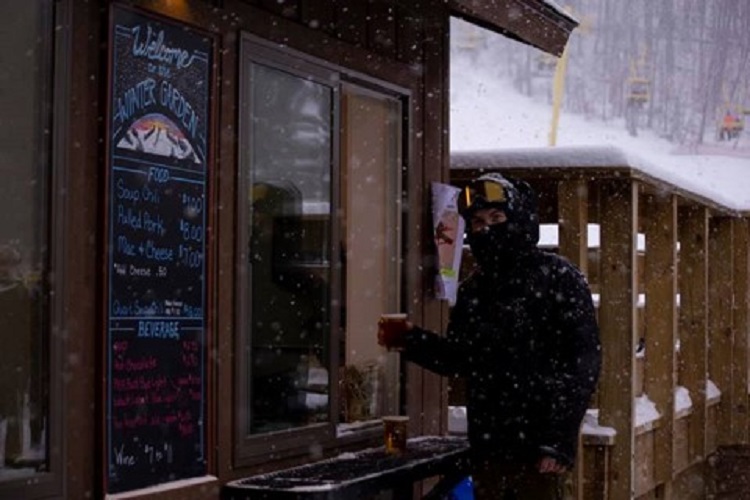 Northern Michigan has always embraced the work life balance, how could you not with that much nature at your disposal? But the pandemic caused businesses to really reflect on what they were doing and why they were doing it, and forced many business owners to quickly adapt to new situations. Be it searching for grants and opportunities to get the business to their peak season, keeping up with retail demands, or shifting the entire business model to reflect the roots and reason the business started. Some of the businesses even adopted innovative technology to lend an extra boost. While the pandemic altered the state of businesses in Northern Michigan, it brought many more Michiganders north in search of the beauty, nature, outdoor activities, and community that truly embraces the work life balance — through the great outdoors.
To learn more about the Michigan Economic Development Corporation's COVID-19 response programs and the impact they are having on economic recovery efforts, visit michiganbusiness.org/covid19response.
This article was developed to highlight the MEDC's Support Local initiative, which encouraged Michiganders to support local businesses, in collaboration with small business organizations across the state. To learn more about opportunities to support local businesses in Michigan, go to michigan.org/supportlocal.
Contact Us