MEDC COVD-19 Response
MEDC COVID-19 Response
Since a State of Emergency was declared in March of 2020 in response to COVID-19, the Michigan Economic Development Corporation (MEDC) has launched 23 economic relief and recovery programs to provide vital economic support to businesses, entrepreneurs, workers and communities across all 83 Michigan counties, while enabling the state's Arsenal of Innovation to support the frontlines in the fight against COVID-19.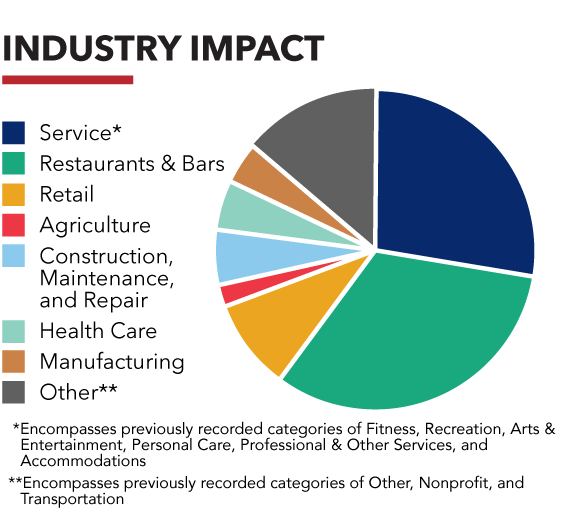 Under the Radar Michigan | Michigan's Arsenal of Innovation
On a special episode of the popular television show, Under The Radar Michigan, Tom and the gang talk with five Michigan companies who stepped up, set up, and came to the rescue against COVID-19.
Nearly 700 small businesses across Michigan awarded grants through MEDC's Pure Michigan Small Business Relief Initiative
The Pure Michigan Small Business Relief Initiative utilized $10 million in federal U.S. Housing and Urban Development (HUD) CARES Act funding to provide economic assistance to small businesses across Michigan.
Learn More
"I had tears of joy when we got word we received this (PMSBRI) grant. I had no idea how I was going to tell nine employees, who have been struggling for 10 months, that they would not have a job to come back to. I don't think most people will ever know the sacrifices that have been made by those in the restaurant industry just to keep food on the table and a roof over their heads. This means everything."
- Denise Strong, owner of Triple J Café in Carsonville
More than 100 live music, entertainment venues awarded grants through MEDC's Michigan Stages Survival Grant Program
Venues statewide receive $3.4 million in grants to assist with impacts of COVID-19 pandemic. The funds can be used for working capital to support payroll expenses, rent, mortgage payments, utility expenses, or costs related to reopening a business.
Learn More
"The Robin Theatre is overjoyed to receive the Michigan Stages Survival Grant. These funds will help to keep us afloat while we wait to reopen and help us create a safe environment for artists and audiences when that time comes. We are committed to the communities we serve, and want nothing more than to get back to the creative work we love."
- Dylan Rogers, owner of The Robin Theatre in Lansing
Nearly 6,000 small businesses across Michigan awarded $52.5 million through Michigan Small Business Survival Grant Program
Critical relief retains more than 52,500 jobs and supports Michigan small businesses that have experienced a significant financial hardship due to COVID-19 emergency gatherings and face mask orders.
Learn More
"Yen Yoga & Fitness is honored to be a recipient of a survival grant from the MEDC. This grant will directly assist our amazing team as our industry has been tremendously impacted due to the pandemic. We know that the pandemic impacts everyone, and we will continue to do what we can to support our community through health and wellness."
- Sara Harding, Owner of Yen Yoga & Fitness in Traverse City
Nearly $100 million allocated to businesses across Michigan through Michigan Small Business Restart Program
At least 97,264 jobs have been retained as a result of the program with at least 30 percent of the funds awarded to women-owned, minority-owned or veteran-owned eligible businesses throughout all 83 counties of the state.
Learn More
"The Michigan Small Business Restart Grant has been a godsend for small businesses like mine. The grant funding has allowed me to put personal protections in place that will allow me to keep my doors open, and my customers safe, during the current health crisis. The funding has also allowed me to hire two employees to assist with cleaning and day-to-day operations. I am very grateful."
- Sharlene L. Howe, Owner of Howe Art Supplies in Swartz Creek
336 Farms and Food Processors Awarded $15 Million in Michigan Agricultural Safety Grants
The Michigan Agricultural Safety Grant program allocated $15 million of federal CARES Act funding to provide much-needed funding to Michigan's agricultural processors and farms' COVID-19 mitigation efforts. In addition, 124 small farms received $567,000 in MEDC Small Farm Safety Grants.
Learn More
"We are very grateful for the timely actions by the MEDC to make the Michigan Agricultural Safety Grant available to farmers. The application process was simple and funds were disbursed within 72 hours. The grant provided us with the support we needed to protect our workers and customers while simultaneously reducing the risk of detrimental disruptions to our operations and distribution of produce."
- Juliette King McAvoy, Food Safety Manager at King Orchards.
$4.7 million in additional loans made to 71 businesses through MEDC Michigan Small Business Relief Program
To date, a total of 2,879 small businesses around Michigan have been awarded nearly $20 million in relief grants and loans through the program to assist with COVID-19 recovery efforts.
Learn More
"The COVID-related shutdown was a difficult blow and even after reopening we are at a limited capacity. We greatly appreciate the MEDC and the relief programs that have supported our business and employees. By working together, we will get through this and the Cheese Haus looks forward to another 50 years."
- Judy Zehnder Keller, Owner of the Frankenmuth Cheese Haus
94 Small Businesses Receive $565,750 in Support in First Round of Michigan Entrepreneur Resilience Fund
Launched by MEDC with Michigan Women Forward in response to the economic impacts of the COVID-19 pandemic on underserved communities, the fund will help entrepreneurs and small businesses recover from the outbreak, as well as assist them in meeting the demands of COVID-19 response efforts.
View Recipients
"While we have brought our art and now our classes online, because of this grant we will be able to fully reopen and people are safe to experience community fellowship again."
- Hannah Berry, Owner of Lions & Rabbits in Grand Rapids
58 Early-Stage Tech Companies Receive $3 Million in Support from State's Tech Startup Stabilization Fund
Among the companies to receive support through the fund, many represent regionally diverse areas in the state, including Houghton and Hancock in Michigan's Upper Peninsula, Grand Rapids, Jackson and Troy. While 53% of the companies represent the advanced information technology sector, the range of industries represented includes life sciences, mobility and advanced manufacturing.
Read More
"I'm very glad that Bedestrian is among the roster of innovative companies to receive an award from the Tech Startup Stabilization Fund. And I'm thankful to the ID Ventures team's efficient administration of this fund at this critical time. This fund shows that Michigan is responding proactively, not only to weather COVID-19, but to help innovative startups emerge stronger and spur the next economic growth cycle."
- Shadi T. Mere, CEO of Bedestrian
22 Michigan communities receiving nearly $1 million in grants for small businesses' COVID-19 recovery efforts
A total of 299 Michigan small businesses have been awarded $993,984 in grant funds through the Match-on-Main COVID-19 Response Program. These grants support COVID-19 economic recovery efforts of small local businesses throughout the state.
Learn More
"We are absolutely thrilled that MMDC's Match on Main application on behalf of the City of Mt. Pleasant was approved and that many of our downtown businesses will be receiving critical financial support as they recover from the COVID-19 shutdown. These funds will help ensure that Downtown Mt. Pleasant will continue to be a vibrant place for residents, students and visitors to enjoy."
- James McBryde, Middle Michigan Development Corporation President and CEO
More Than 100 Michigan Small Businesses Using MEDC Crowdfunding Program in COVID-19 Recovery Efforts
The MI Local Biz program allows small businesses throughout the state to raise funds and win matching dollars from MEDC. In total, $500,000 in matching grants will be provided by MEDC to help businesses recover from the negative economic impacts of the COVID-19 crisis.
Learn More
"Partnering with the MEDC on this incredible opportunity to grow my business during these uncertain times is such an honor, and I am so grateful and amazed to have been selected for the MI Local Biz program. With any funds raised, I will be able to directly reinvest in other Michigan makers who provide products for the store by replenishing the store's inventory in preparation for shopping to resume across the state."
- Amy Polk, Owner of Applecore General Store in the Les Cheneaux Islands of Michigan's Upper Peninsula
PMBC Grants Support Retooling Efforts of Small Businesses and Nonprofits in Response to COVID-19
A total of $1 million in grants have been awarded through the PMBC COVID-19 Emergency Access and Retooling Grants program. These grants provide immediate funding of up to $150,000 to qualified manufacturers producing supplies needed in response to COVID-19.
Read More
"TentCraft, before this crisis, had never manufactured products for the healthcare or medical industry. This MEDC PMBC COVID-19 Emergency Access and Retooling Grant is a crucial piece of our pivot toward these new products. This grant allows us to keep our people employed AND helps us to produce products that are sorely needed by the frontline healthcare workers. We are proud of the orders that we have produced in Michigan and welcome the opportunity to support in any way we can in the fight against COVID-19."
- Matt Bulloch, TentCraft President
"RCO is honored to receive this grant opportunity and use our ingenuity to partner with MEDC, PlanetM, the city of Detroit, and to help flatten the curve and manage the spread of COVID-19."
- Jeff Simek, General Manager of RCO Engineering
Michigan Council for Arts and Cultural Affairs Emergency Relief Fund grants support 176 arts and cultural organizations throughout Michigan
To provide relief from the negative impacts of the COVID-19 outbreak, MEDC and MCACA has awarded a total of $502,400 in Emergency Relief Fund grants to 176 nonprofit arts and cultural organizations around Michigan. MCACA also leveraged $83,834 in funds from Arts Midwest to award grants to an additional 28 Michigan organizations.
Read More
"All operational support is vital now, so the ERF grant has a tremendous impact for us. Thanks go to MCACA and MEDC for this assistance. With these funds, we will be able to keep the contractual personnel who we rely on to help develop and book a variety of outreach and performance opportunities that we present for our community."
- Cindy McSurely, Blissfest Music Organization Executive Director
MEDC COVID-19 Response Resources