Foreign Direct Investment
Investing in Michigan means investing in Pure Opportunity, where businesses can thrive in a globally connected location and access the talent and supply chain needed to grow and expand.
Invest in Michigan
Home to more than 1,400 foreign companies with more than 5,000 locations throughout the state, Michigan is the premier gateway for businesses from around the world to expand. MEDC can provide the knowledge and connections you need for doing business throughout the United States.
Get in Touch
Access our Workforce
Michigan is home to a wealth of highly skilled talent, with a workforce of nearly five million people. From having the highest concentration of engineers in the U.S. to a skilled trades workforce that ranks in the top ten nationally, Michigan is preparing the talent needed for the jobs of the future.
Learn More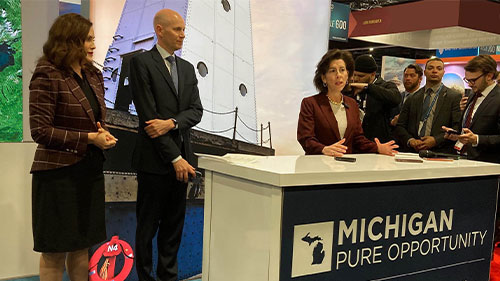 Latest News
Michigan Wins More than 500 Jobs, Up to $400 Million Investment from Norway's Nel Hydrogen
Norwegian hydrogen company Nel Hydrogen is establishing an automated gigawatt electrolyzer manufacturing facility in Michigan. The project is expected to generate a total capital investment of up to $400 million and create more than 500 good-paying clean energy manufacturing jobs that build on Michigan's leadership in the hydrogen space.
Read More
Michigan is a Top Global Destination for Foreign Direct Investment
Top 5 Investing Industries
By matching established and diverse industries with foreign companies that have similar goals, Michigan has recorded $13.1 billion in foreign direct investment from 2018-2022 within several key industries.
Global Access & Logistics
Michigan is within 500 miles of nearly half the U.S. and Canadian population and commerce centers providing unparalleled access to market.
25% +
of $700+ billion annual trade between the U.S. and Canada crosses the Ambassador Bridge, the most active border crossing in North America.
33
active deep water ports surround Michigan, also known as the Great Lakes state.
26
freight railroads with 3,600 miles (5,793 km) of track across Michigan.
18
commercial airports in Michigan, including Detroit Metropolitan, one of the largest U.S. air hubs in North America
MEDC is Here to Help
Companies with a presense in Michigan can always rely on support from the Michigan Economic Development Corporation. For more than two decades, MEDC has helped transform Michigan's economy by strengthening international relationships, connecting businesses leaders, building community, and much more.
Data Source: fDi Markets, from the Financial Times Ltd 2023