High-Tech Skills Training Boosted by New Mobility Investments in Michigan
Friday, November 17, 2023
State, industry and university partners announce grant awards for three of Michigan's higher education institutions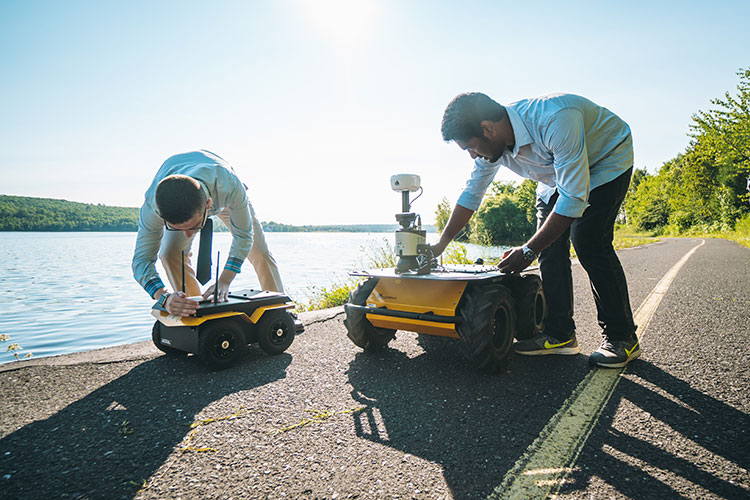 LANSING, Mich. — Today, Lieutenant Governor Garlin Gilchrist II joined the Office of Future Mobility and Electrification (OFME) to announce strategic grants and collaborations that will position Michigan as a leading destination for high-tech education, testing and training. As part of the launch, three of Michigan's top research institutions have been selected to receive grant funding that will support educational and technical workforce training initiatives for students and professionals across the state in the mobility industry.

"The State of Michigan has been laser-focused on building the talent necessary to make Michigan the best place to build the future," said Lt. Gov. Garlin Gilchrist II. "We're proud to support our internationally renowned higher education institutions in their efforts to provide opportunities for our workforce to experience entrepreneurship, get hands-on testing experience, and explore world-changing ideas. Together, we're making it clear that the future of cars, batteries, and tech is being made here in Michigan."

The University of Michigan, Michigan Technological University, and Western Michigan University are set to receive a total funding of $775,000 from the Mobility Public-Private Partnership & Programming (MP4) Grant. This funding aims to assist in preparing Michigan's workforce for the increasing number of high-tech jobs in electric vehicles (EV), infrastructure improvements, and related fields. The MP4 Grant is specifically designed to support and advance partnerships and programs that contribute to the development of Michigan's statewide mobility ecosystem.

These three universities will receive funding to deploy unique training and testing programs that will support the education of more than 200 students pursuing careers in mobility and innovation, electrification and the future of infrastructure:

The University of Michigan: $500,000 to support its Perot Jain TechLab, which will provide students with unique opportunities to experience entrepreneurship. In partnership with Perot Jain Venture Capital and Ford Motor Company, the University of Michigan will work with startup companies that are building the future of connected, autonomous, electric and shared vehicles.
Michigan Technological University: $100,000 to establish a drone operator training program, which will support the state's need for training Unmanned Aircraft Systems (UAS) and drone pilots to safely operate around different types of infrastructure, including how to collect condition data needed for effective asset management of bridges, roads and other infrastructure. In partnership with the Unmanned Safety Institute (USI) and the Michigan Department of Transportation (MDOT) Aeronautics, the program will help improve the skills of existing and newly certified remote pilots so they can expand their technical abilities.
Western Michigan University (WMU): $175,000 to establish the West Michigan e-Mobility Testing Asset. WMU's Center for Advanced Vehicle Design and Simulation (CAViDS), with its industry partners Dana Incorporated, Eaton and The Lubrizol Corporation, will be developing a specialized piece of equipment to test gears at high rotational speeds. The developed equipment will also support educational and workforce training initiatives at WMU in collaboration with Michigan Works! Southwest.

"Whether on the ground or in the sky, mobility innovation is critical to ensuring Michigan's high-tech leadership," said Justine Johnson, Chief Mobility Officer of the State of Michigan. "These projects represent the strong research and collaboration that exists in Michigan's mobility ecosystem. When educational and research institutions collaborate with the state, great things happen."
Michigan's Office of Future Mobility and Electrification (OFME), in partnership with the Michigan Economic Development Corporation (MEDC) and the Department of Labor & Economic Opportunity (LEO), launched the MP4 Grant program to help support partnerships and programs that address emerging mobility systems across all transportation modes – including air, ground, marine and off-road – throughout the state of Michigan. The new grant program complements already-existing grant programs offered by the state, including the Mobility Wallet Challenge and the Michigan Mobility Funding Platform.

"Our higher education institutions are crucial partners in the state's effort to prepare Michigan's workforce for high-tech career opportunities in the twenty-first century and beyond," said Kerry Ebersole-Singh, Chief of Talent Solutions and Engagement Officer at the MEDC. "These new programs demonstrate the synchronization that we've built between industry, government and universities that is invaluable in supporting students and professionals across the state to gain meaningful educational and technical training."

This is the second round of grants awarded through the MP4 Grant program. In June 2023 the first round of grants were awarded to Polaris Inc., Electric Outdoors and Snowbotix. Today's news directly supports the goals and initiatives outlined in the MI Healthy Climate Plan, aiming to reduce greenhouse gas emissions and transition the state toward economy-wide carbon neutrality.

Michigan is committed to collaborating with its industry leaders and educational institutions to build a strong talent pipeline to ensure a competitive workforce now and in the future. Michigan's Talent Action Team was created to fill high-tech jobs critical to Michigan's economy as well as the efforts of Michigan Gov. Gretchen Whitmer and recently appointed Chief Growth Officer Hilary Doe to grow the state's population. The team has already placed 1,000+ Michiganders in EV manufacturing jobs and enrolled 340 participants in its Michigander Scholars program as part of its one-of-a-kind cross-industry efforts and rolled out a new $20 million marketing campaign called "You Can in Michigan" in October 2023.
About Michigan Economic Development Corporation (MEDC)