'You Can in Michigan' Talent Attraction Campaign Capturing National Attention
Michigan is already seeing returns from "You Can in Michigan," the state's new national talent attraction campaign marketing the state to fill open jobs, grow Michigan's population and drive the state's economic future forward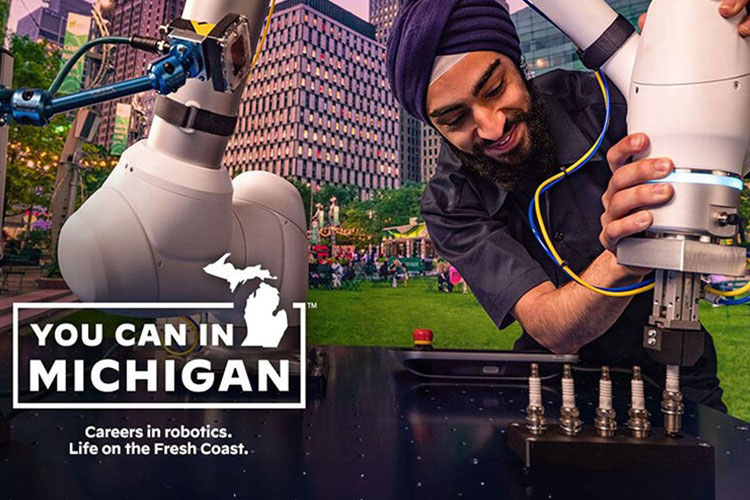 The "You Can in Michigan" talent attraction marketing campaign is the latest piece in the state's ongoing showcase of its thriving economic opportunities, and it's already getting attention from millions of potential new Michiganders.
Launched Oct. 10, the campaign targets national audiences to grow Michigan's population and talent pool by promoting its innovative industries, adventurous landscape and welcoming, affordable communities.
As a Michigander by choice, Team Michigan has a great story to tell! Yes, work remains to enhance the very special place that is Michigan and Team Michigan remains resolute in our commitment to that work. With the You Can in Michigan campaign, we are letting the nation know that the welcome mat is out and open to people who want to make a difference in a rapidly changing world. We're boldly telling the continuing great Michigan story that all risk-takers, gritty workers and trailblazers have a place in Michigan that they can be proud to call home – and more of those people and native Michiganders are paying attention.
Capturing the Country's Attention
The campaign is using national ads on television, social media, print and radio to show tech talent across the country that Michigan is the perfect place for them to build their lives and careers. These advertisements are driving potential new neighbors to TheMichiganLife.org, where job seekers can explore the state, calculate their cost of living and define their career goals with the support of the Michigan Career Portal.
After its first 10 days, the campaign is already driving results:
66,000 visits to TheMichiganLife.org
634 submissions on the Michigan Career Portal
Over 365,000 views of the You Can In Michigan national video
11 million impressions nationwide
Another six million impressions estimated for out-of-home ads placed on college campuses across Michigan.
Telling Michiganders' Stories
The You Can in Michigan campaign also features the stories of Michiganders who relocated to Michigan, and the impact that decision has had on their career and lifestyle. Key themes discussed in these testimonials include:
Connecting Michigan's People, Places and Projects
This influx of talent is key to maintain the economic momentum that Michigan has been building, and serves as an essential part of the state's Make it in Michigan strategy. This comprehensive approach focuses on empowering people and businesses to forge success in Michigan by creating good-paying jobs, attracting and retaining a skilled, talented workforce, building vibrant places to live, work, and raise a family and using powerful tools to bring manufacturing and supply chains home.
The state's recent statewide policy efforts have already helped start to turn the tide with Michigan's trend in population. Over the last six months, Michigan has not only earned national accolades for successful projects and places essential to talent attraction but also took the No. 4 rank in the nation in total workers added to the workforce, according to the U.S. Bureau of Labor Statistics.
Growing Michigan's Population
Another part of the multi-pronged approach to increasing Michigan's workforce is the Growing Michigan Together Council, led by Michigan's Chief Growth Officer Hilary Doe, both national firsts. The Council will develop strategies to make Michigan a place everyone wants to call home by focusing on the following:
Improve statewide pre-K-12 education
Support our workforce with community assets, such as child care
Upgrade and modernize our transportation and water infrastructure
Michigan implemented another first-of-its-kind initiative with its Talent Action Teams in 2022, working with public sector, industry partners and training institutions to develop a workforce that helps attract long-term, sustainable investments from high-tech companies around the world.
Team Michigan is also celebrating Michigan Careers in Energy Week this week to raise awareness of the many high-wage, in-demand opportunities in the energy industry, one of the state's most rapidly evolving areas. Now in its 10th year, Careers in Energy Week is a chance for the Michigan Energy Workforce Development Consortium partners in industry, education and government to team up and tell students and jobseekers about the rewarding opportunities available in the energy sector.
These pipelines of talent, infrastructure upgrades and business opportunities, coupled with Michigan's commitment to preparing communities for business investments and developments, help make Michigan's approach to economic growth a holistic one. From quiet towns to buzzing cities, the state's comprehensive approach is building resilient prosperity for generations of Michiganders.

Watch: Michigan Career Opportunity
About Michigan Economic Development Corporation (MEDC)