IEDC awards highlight impact of MEDC's community revitalization initiatives in Michigan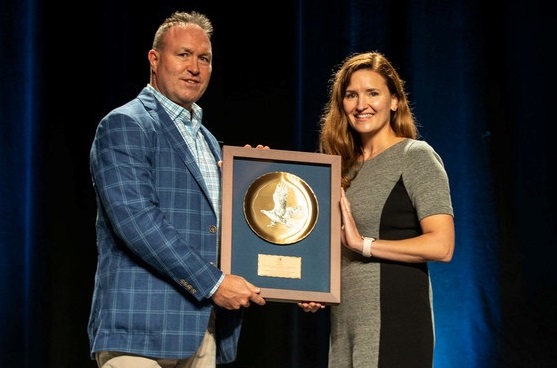 Two MEDC-supported projects focused on bringing new opportunities for economic growth and local vitality have been recognized by the International Economic Development Council (IEDC) at this year's IEDC 2021 annual conference in Nashville, TN.
The Cadillac Lofts project in downtown Cadillac was recognized with a gold award in the Real Estate Redevelopment and Reuse category, and the BLOCK600 project in downtown Lansing won a gold award in the Public-Private Partnerships category.
"We are proud to work with our partners in Cadillac, Lansing and throughout the state to support innovative placemaking efforts that lay the foundation for long-term economic resiliency in our communities," said Quentin L. Messer, Jr., CEO of MEDC and President and Chair of the MSF Board. "By focusing on traditional downtown districts and revitalizing public spaces, we are helping to establish vibrant, unique places where people want to live, work, visit, and play."
IEDC's Excellence in Economic Development Awards recognize the world's best economic development programs and partnerships, marketing materials, and the year's most influential leaders. These 25 award categories honor organizations and individuals for their efforts in creating positive change in urban, suburban, and rural communities.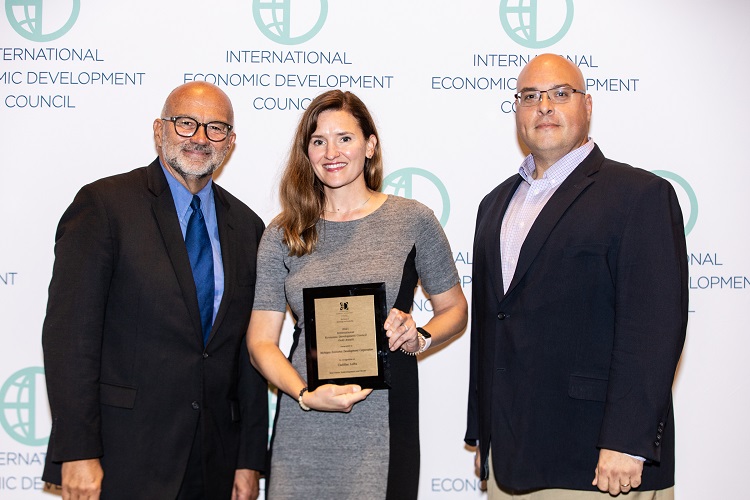 The Cadillac Lofts project in downtown Cadillac, recipient of a gold award in the Real Estate Redevelopment and Reuse category, included the renovation of an abandoned grocery store and two single-story buildings into commercial space and much-needed rental housing. The city of Cadillac was awarded a $1.5 million Michigan Community Revitalization Program performance-based grant from the Michigan Strategic Fund for the first phase of the project, which has added residents to downtown Cadillac on a year-round basis, positively impacting existing retailers, restaurants, and other local businesses.
As a result of this project, the city currently has three new redevelopment projects that are being pursued given the renewed confidence and resurgence in Cadillac's downtown real-estate market. Due to high-demand, phase two of this development will begin vertical construction on a second building in 2022 with site work beginning in summer 2021.
"MCC is focused on addressing multiple bottom lines in every project we take on," said Eric Hanna, president and CEO of Michigan Community Capital, developer of the project. "We are thrilled to partner with the MEDC to create projects like Cadillac Lofts, that will change the trajectory of the city of Cadillac well beyond this project and for years to come."
The BLOCK600 development, winner of a gold award in the Public-Private Partnerships category, transformed a previously vacant, contaminated and desolate block into a vibrant, thriving block in downtown Lansing's Stadium District. Supported with a $1.5 million MCRP performance-based grant from the Michigan Strategic Fund, the completed project includes a hotel, grocery store, and housing, now providing residents, workers, and businesses with the amenities they expect to see in a great city.
The new Capital City Market stocks local products and has already become the first place of sale for several Lansing entrepreneurs' food products, providing area residents and workers with fresh, local and affordable groceries. Through MEDC's Pure Michigan Business Connect program, the market is able to stock its shelves with products from Michigan entrepreneurs like High 5 Salts, a line of organic seasoning blends. The 122-room Courtyard by Marriott Hotel is a vital resource for Lansing's growing hospitality industry, meeting visitors' needs for more overnight accommodations, meeting and event space, dining and entertainment.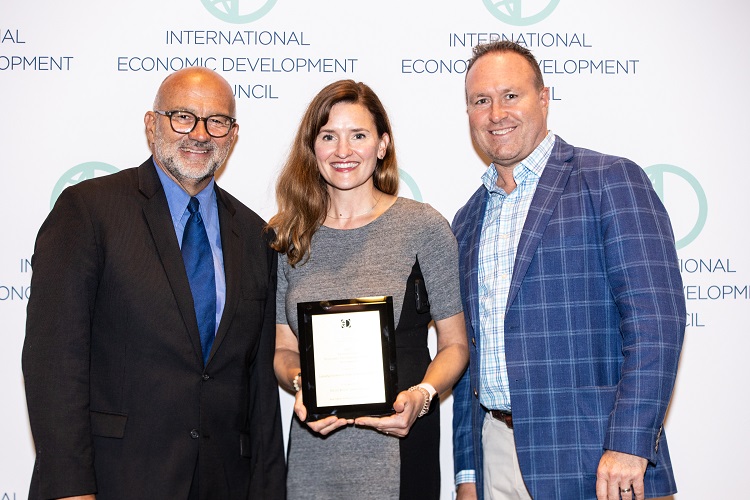 The Lansing Economic Area Partnership (LEAP) also won a gold award for the BLOCK600 project.
"LEAP is proud and honored to receive these prestigious awards from the IEDC on behalf of our membership and region," said LEAP President and CEO Bob Trezise.
With all these amenities, BLOCK600 has increased traffic flow in the area, dramatically changing the nearby traffic pattern.
"We are honored to be a part of the BLOCK600 development winning the IEDC Public-Private Partnership award. The partnership with the MEDC was vital in bringing Block 600 to fruition, and we are grateful for their commitment to our capital city and the growing Stadium District," said Pat Gillespie, president of Gillespie Group, developer of the project. "Together, we were able to open the first grocery store of its kind, combined with the first full-service hotel in over three decades to downtown Lansing. We are thrilled to see the energy that this development has added not only to the district, but to the greater Lansing area."
In addition to winning in the Real Estate Redevelopment and Reuse category, LEAP also received a gold award for its One and All Inclusive Entrepreneurship Initiative in the Economic Equity and Inclusion category.
Other local partners and organizations recognized with IEDC's Excellence in Economic Development Awards include:
Lakeshore Advantage
Silver, Annual Report – 2021 Annual Investor Briefing
Lenawee Now
Silver, Special Event – Career Con
Saginaw Future Inc.
Bronze, Annual Report – Saginaw Success! Annual Report
The Right Place, Inc. & Hello West Michigan
Bronze, Innovative Programs and Initiatives – Back To Michigan Program virtual event series
Back To Michigan Host Organization Committee
Silver, Regionalism & Cross-Border Collaboration – Back to Michigan virtual event series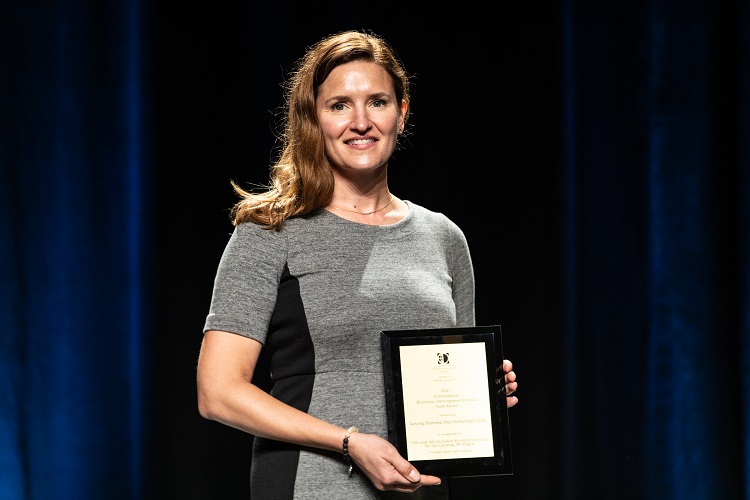 "Our partners work incredibly hard to drive economic growth around the state and are integral in our efforts to build a championship economy here in Michigan," Messer said. "Congratulations to these partners on receiving this well-deserved recognition."
Today's awards build on a growing list of accolades for Michigan in 2021, including:
To see why companies are choosing Michigan, visit www.michiganbusiness.org/why-michigan/.
To learn more about MEDC's community development programs, go to www.miplace.org.
About Michigan Economic Development Corporation (MEDC)