Governor Whitmer Announces Award Recognizing Michigan as Top State for New Manufacturing Jobs and Investment
Michigan receives 2021 Manufacturing Gold Shovel Award on strength of 2,619 new jobs and $441.8 million in private investment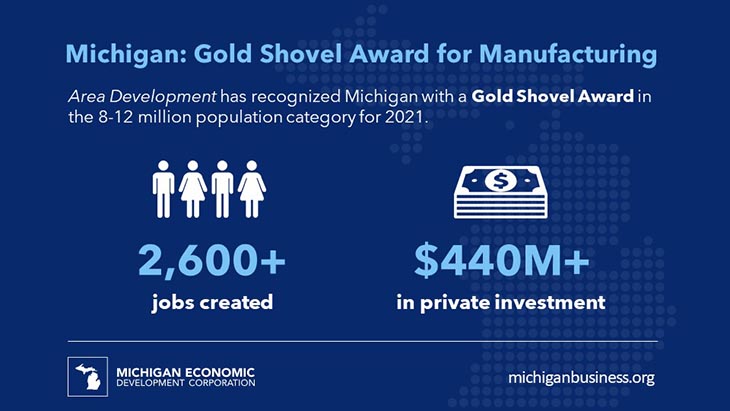 LANSING, Mich. – Governor Gretchen Whitmer today announced Michigan has been awarded an Area Development 2021 Manufacturing Gold Shovel award, affirming the momentum and strength of job creation around new and expanded manufacturing facilities in the state.
"This Manufacturing Golden Shovel Award is a recognition of our ongoing economic jumpstart," said Governor Gretchen Whitmer. "As we emerge from the pandemic together, we will stay laser-focused on creating good-paying, high-skill jobs here in Michigan and investing in working families and small businesses."
Area Development's Annual Gold & Silver Shovel Awards recognize state economic development agencies that drive significant job creation through innovative policies, infrastructure improvements, processes, and promotions that attract new employers and investments in new and expanded facilities. The awards are presented annually to states that have achieved significant success in terms of job creation and economic impact.
In announcing the award, Area Development noted, "another Manufacturing Gold Shovel winner was Michigan, with a host of headlines related to its automotive sector, including opportunities linked to the growth of interest in electric vehicles."
The Michigan Economic Development Corporation submitted the top-10 job creation and investment projects initiated in 2020 for consideration in the 8-12 million population category – including Bridgewater Interiors (Detroit/Delta Township), Dakota Integrated Systems and Detroit Manufacturing Systems (Detroit), Magna International (Highland Park) and The Paslin Company (Warren). Combined, the 10 projects accounted for 2,619 new good paying jobs for Michiganders and $441.8 million in private investment, further cementing the state as a national leader in manufacturing and automotive R&D. The list also includes two major headquarter announcements– Perrigo Co. (Grand Rapids) and Wacker Chemical Corp. (Pittsfield Charter Township) – highlighting the state's growing opportunities in professional and corporate services.
The strength of these projects earned Michigan the 2021 Manufacturing Golden Shovel in its category.
"In a year marked by disruption and uncertainty – with small business relief a top priority – we continued to stay focused on job creation and economic growth as well and we are proud these efforts have been recognized with Area Development's Manufacturing Golden Shovel Award," said Josh Hundt, Chief Business Development Officer and Executive Vice President at the MEDC. "Michigan has positioned itself to be the state where manufacturing and technology converge and where businesses can find the skilled workforce that will ensure we can not only compete, but win, in today's global economy."
Read more about Michigan's Manufacturing Golden Shovel Award here.
Earlier this week, Governor Whitmer attended the ribbon cutting ceremony for XL Fleet's new Fleet Electrification Technology Center in Wixom, which will create nearly 50 jobs and further fuel the state's leadership in mobility and electrification solutions. Combined with today's Golden Shovel announcement centered largely around automotive manufacturing projects Michigan's economic recovery is well underway.
As part of the state's efforts to continue to attract and grow new businesses investment in the state, Governor Whitmer, the MEDC and the Office of Future Mobility and Electrification also participated this week in a number of virtual events for the 8th annual SelectUSA Investment Summit. The summit is the highest profile event promoting foreign direct investment (FDI) in the United States and this year welcomed 3,000 participants, including business investors from more than 60 markets.
Governor Whitmer was joined by Steve Milam, North America Corporate Senior Director of DENSO International America, Inc., for a fireside chat to discuss the competitive advantages Michigan offers global businesses. She also participated in a governor's roundtable moderated by U.S. Department of Commerce Secretary Gina Raimondo focused on FDI and identifying specific actions the Department of Commerce and the Biden Administration can take to support efforts of economic development organizations around the country to bring more foreign investment to states like Michigan.
Michigan is ranked 6th in the nation for total jobs created by foreign direct investment and was ranked the top state for FDI job growth by over the past five years by Global Business Alliance. Detroit was also ranked the no. 1 metropolitan area for FDI projects by Site Selection Magazine this year.
About Michigan Economic Development Corporation (MEDC)