High-tech, manufacturing growth in Detroit, new community revitalization efforts continue Michigan's economic recovery
• Detroit Manufacturing Systems expansion builds on state's automotive industry, securing 225 new pathway jobs for Michiganders • High-tech online auto insurance provider Clearcover establishing first Michigan-based facility, adding 300 high-wage jobs • Community revitalization projects in Detroit, Grand Rapids bringing new opportunities for economic growth, local vitality • Additional support approved for Michigan entrepreneurs through Business Accelerator Fund
LANSING, Mich. – The Michigan Strategic Fund today approved business expansions by a high-tech auto insurance provider and a Tier 1 auto supplier, three community revitalization projects, and additional support for the state's high-tech startups – actions that will continue to drive Michigan's economic recovery and further position the state for future prosperity – the Michigan Economic Development Corporation announced.
"Today's MSF approvals demonstrate the significant role we play in restoring Michigan's economic recovery, while continuing to support the businesses and community projects that will secure the long-term economic health of our state," said MEDC CEO Mark A. Burton. "These business expansions in key industries – professional services as well as auto manufacturing and mobility – will have a significant economic impact in Detroit while creating good jobs for our residents. We're pleased to work with our local partners and support these investments."
Business Growth Brings News Jobs to Detroit
Detroit Manufacturing Systems, LLC is a certified, minority-owned Tier 1 auto supplier, specializing in the manufacturing and assembly of vehicle modules (e.g., instrument panels). Headquartered in Detroit, the company has more than 800 employees in Michigan and 1,200 in the U.S. DMS has secured long-term contracts with new and existing customers, which has vastly expanded its customer base and diversified its product offerings. The company plans to repurpose its existing facility in Detroit and also diversify and expand its capabilities to market to other industry segments.

The project is expected to generate a total private investment of $31.9 million and create 225 jobs, resulting in a $1.5 million Jobs Ready Michigan Program performance-based grant that will be used to assist with training needs. A large focus for this project is the transformation of the company's existing and new workforce into the next generation of skilled workers. This investment in new technology will result in skilled operators of advanced machinery and equipment, robotics and other automation technology.
"At Detroit Manufacturing Systems, we are creating a culture of serving and empowering others to grow, rise, and give back to accelerate a positive change in the world. That is at the core of who we are at Detroit Manufacturing Systems, which is why we are so excited and appreciative of this grant from the State of Michigan," said Bruce Smith, Chairman and CEO of Detroit Manufacturing Systems. "This grant enables us to invest in people in an underserved area of Detroit providing economic and growth opportunities for talented individuals who will rise with us as an organization."

This project aligns with MEDC's strategic focus to support and grow businesses at the intersection of of mobility and automotive manufacturing. In addition, a majority of the jobs created as a result of this project will be entry level positions, bringing new, highly-skilled opportunities to Detroit residents and offering a path to higher-wage jobs.
The Jobs Ready Michigan Program is designed to provide grants for business expansion and location projects that lead to job creation and investments in Michigan that have a demonstrated training need, particularly in pursuing new opportunities for high-tech, high-demand, and high-wage jobs.

Michigan was chosen over a competing site in Toledo, Ohio. The city of Detroit plans to offer personnel, financial or economic assistance in support of the project. For information on careers with DMS, visit https://www.dmsna.com/careers.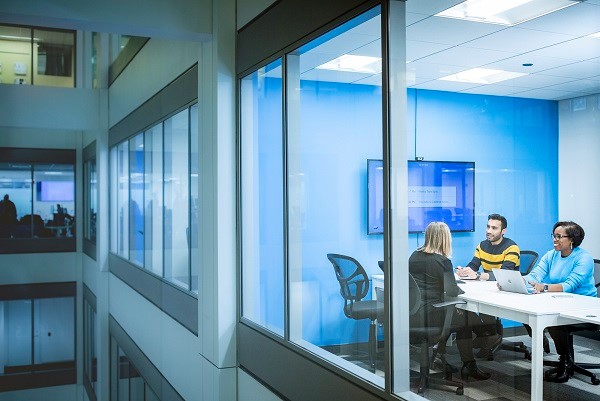 Clearcover, Inc. is a venture-backed, Chicago-based insurance carrier that leverages technology to improve customer experience and increase efficiencies to drive down insurance costs. The company handles the full personal auto insurance experience, from underwriting to servicing each policy. Clearcover continues to grow its service offerings and expand availability of current insurance products into new regions of the U.S.
As a result of this growth, the company plans to expand its presence to the city of Detroit to support its business functions, including its industry-leading customer experience team and claims team. The project is expected to generate a total private investment of $5 million and create up to 300 high-wage jobs, resulting in a $3.5 million Michigan Business Development Program performance-based grant. The company conducted a national search and then chose Michigan over its final competing sites in Indiana and Wisconsin.
"When we started our national search for a second talent hub, it was critical to us that we find talented people who can help us continue reinventing a centuries old industry," said Kyle Nakatsuji, Co-founder and CEO of Clearcover. "Several cities offer talent, but what made Detroit stand out to us is its embodiment of our core values: empower others and embrace being the underdog. We're excited to offer high-growth career opportunities in a city with talent that not only reflects who Clearcover is but also reflects the customers we serve."
In addition to the MBDP grant, the MSF also approved a $400,000 Jobs Ready Michigan program performance-based grant.
"We appreciate the Michigan Strategic Fund's support of this project to help Clearcover establish a presence in our city," said Detroit Mayor Mike Duggan. "It's another example of a national company seeing Detroit as a good investment."
Clearcover is committed to hiring qualified Detroiters for the positions and is partnering with Detroit at Work and the Detroit Economic Growth Corporation to achieve this goal. The company also anticipates that software engineering roles may be incorporated in the future. The DEGC has offered financial assistance in support of a Detroit office location for the project. Individuals interested in careers with Clearcover should visit https://clearcover.com/careers/.
"With today's announcement, Detroit further establishes itself as a financial services hub," said DEGC President and CEO Kevin Johnson. "Clearcover had its pick among many Midwestern cities to grow its hi-tech auto insurance business. Clearcover will join such industry giants as TCF Bank, Ally Financial and Quicken Loans in our city. Detroit is proving once again that we will compete and win in a variety of diversified sectors."
The project aligns with MEDC's strategic focus of supporting a business in the target industries of tech and professional and corporate services. In addition, the company offers an extensive training program and is creating high-wage jobs in a geographically disadvantaged area.
"The Detroit Regional Partnership is incredibly excited to welcome Clearcover to the Detroit Region. Clearcover joins a community of innovators in the region who have utilized new technology to improve the customer experience and disrupt aspects of the traditional financial services industry," said Maureen Donohue Krauss, President & CEO, Detroit Regional Partnership.
About Clearcover
Clearcover is the smarter car insurance choice, offering better coverage for less money. Clearcover's customer-first, service-focused model powered by advanced technology delivers a convenient, reliable, and affordable experience. Built for today's driver, Clearcover takes the guesswork out of car insurance, making it easy to save money, get insured, and get serviced on the go. Learn more at https://clearcover.com/ and keep in touch at @clearcover or visit https://www.facebook.com/Clearcoverinc/.
The MSF also approved additional funds for the Business Accelerator Fund (BAF) to be allocated to Michigan's startups and entrepreneurs that are surviving and growing throughout the COVID-19 crisis. The BAF, administered by the Michigan Small Business Development Center, provides a series of small grants to be used toward the delivery of specialized commercialization services to assist advanced technology companies. The additional funding will allow for expanded and expedited services to companies developing technology with potential to fight COVID-19. Read more about this announcement here.
Community Revitalization Projects Create Vibrant Communities, Attract Talent
The Michigan Strategic Fund also approved two community revitalization projects in Detroit and one in Grand Rapids that are helping to create vibrant communities that attract talent through innovative placemaking. By contributing to traditional downtown districts and revitalizing public space in geographically disadvantaged areas, these projects are helping to develop attractive places to live, work, visit and play.
Life is a Dreamtroit, LLC plans to redevelop the former Lincoln Motor Company headquarters, which sits on 3.8 acres in the Northwest Goldberg neighborhood of Detroit, into a mixed-use, mixed-income development. The project is expected to generate a total capital investment of $19.7 million and is one of the first major community investments being made within the neighborhood and will continue to act as a catalyst for future development along West Grand Boulevard and Lincoln Street. MSF today approved two Michigan Community Revitalization Program performance-based loans totaling $2,493,900 in support of the project. The City of Detroit Brownfield Redevelopment Authority also received MSF approval of $1,264,729 in state tax capture that will assist with the remediation of brownfield conditions at the site.
The increase in foot traffic due to the retail shops, art studios, venue space and new residential units will add to the security and vibrancy of an urban Detroit neighborhood. The project also meets MEDC's strategic goals of attracting talent through innovative placemaking and providing equitable pathways toward opportunities by offering affordable rental housing near major employers. In addition, the project has a concentrated focus on encouraging recycling and sustainability. The existing tenants, Recycle Here!, Detroit's only recycling center, and environmental nonprofit Green Living Science, work to provide hands-on environmental stewardship and educational opportunities to students and visitors.
In addition to MSF support, local support for the project includes a Neighborhood Enterprise Zone with an estimated value of $908,500 and Commercial Rehabilitation Act tax abatement with an estimated value of $2,489,000. The city is also contributing to the local portion of the Brownfield TIF with an estimated value of $1,400,000. The city is engaged with MEDC's Redevelopment Ready Communities program.
The City of Detroit Brownfield Redevelopment Authority has received MSF approval of a brownfield work plan that will include $2,521,176 in state tax capture reimbursement for the Royal Palm redevelopment project in the city of Detroit. The project will be in the Foxtown neighborhood of Detroit, redeveloping a historic 13-story building into a Hilton brand hotel with approximately 172 hotel rooms and a ground floor café and restaurant. In efforts to remain historically accurate per the 1996 listing in the National Register of Historic Places, modern amenities will blend with historic accents, and the building's original name, the Royal Palm, will also be restored.
The project is expected to generate a total capital investment of $50.3 million and create approximately 65 new full-time equivalent jobs. Activation of the property will preserve a historically significant piece of architecture and will bring jobs, add density and spur additional growth in the Foxtown neighborhood. The project also meets MEDC's strategic goals of supporting development in geographically disadvantaged areas and transforming underutilized properties into productive, viable mixed-use developments. The city of Detroit is supporting the project through the approval of a 12-year Obsolete Property Rehabilitation Act tax exemption valued $3,633,205.
The City of Grand Rapids Brownfield Redevelopment Authority has received MSF approval of a brownfield work plan that will include $4,431,633 in state tax capture reimbursement for the Vandenberg Center redevelopment project in the city of Grand Rapids. The project will include the rehabilitation of the building at 111 Lyon Street NW, and demolition activities and ground floor commercial rehabilitation of the 200 Monroe Avenue property in downtown Grand Rapids. When completed, the project will include commercial office, retail and restaurant space. It will also include the installation of approximately 5,400 square feet of new snowmelt sidewalk.
The project is expected to generate a total capital investment of $134.7 million, and will result in bringing new workers and increased economic activity to the downtown. The project aligns with MEDC's strategic plan by transforming underutilized properties into attractive, vibrant places where talent is interested in locating.
The city of Grand Rapids is supporting the project through the Downtown Development Authority's Development Support program in the amount of $950,000. In addition, support includes the local portion of the Brownfield Tax Increment Financing Plan, valued at $1,237,592. Grand Rapids is certified with MEDC's RRC program.
Other approvals made by the Michigan Strategic Fund today include:
One-year extensions of two International Trade services contracts – MSF also approved an extension of Trade Small Business Services contracts with service providers Foster Swift Collins & Swift P.C., IBT Online, Michigan State University – International Business Center and the Small Business Development Center. The contracts will allow the service providers to continue to offer export seminars, workshops and legal training resources to Michigan companies involved in exporting their goods or services.
One-year extension of a contract with the Council of Great Lakes Governors Inc. to continue to administer dedicated International Trade Centers in several foreign markets.
One-year extension of a grant agreement with the Michigan Manufacturing Technology Center – MSF approved an extension of the contract with MMTC to provide manufacturing support services to the Michigan manufacturing and related industries with the goal of increasing sales and creating and retaining jobs.
To learn more about MEDC's COVID-19 response programs and the impact they are having on economic recovery efforts, visit michiganbusiness.org/covid19response. Other resources for businesses across Michigan struggling with economic losses as a result of the COVID-19 virus can be found online at michiganbusiness.org/covid19. The MEDC has also developed a FAQ for Michigan businesses and communities at michiganbusiness.org/covid19-faq.
About Michigan Economic Development Corporation (MEDC)