Introducing "The Michigan Opportunity," an economic development podcast featuring candid conversations with business leaders across Michigan


On The Michigan Opportunity, a new podcast launched by the Michigan Economic Development Corporation, listeners will hear firsthand accounts from Michigan business leaders and innovators about how the state is driving job growth and business investment, supporting a thriving entrepreneurial ecosystem, building vibrant communities, and helping to attract and retain one of the most diverse, talented workforces in the nation.
Hosted by MEDC Senior Advisor for Trends and Development Ed Clemente, The Michigan Opportunity will highlight Michigan's economic trends and momentums via a broad list of internal and external strategic subject matter experts. Ed is joined on the premier episode by Gerry Anderson, executive chairman of DTE Energy Corporation, who shares his insights on Michigan's economic recovery in the aftermath of the COVID-19 pandemic.
Other episodes available now include:
Tom Kelly – Executive Director and CEO, Automation Alley
Fay Beydoun – Executive Director, American Arab Chamber of Commerce
Tom Durkee – Business Development Manager, Tribal Relations, MEDC and Deidra Mitchell – President and CEO, Waseyabek Development Company, Nottawaseppi Huron Band of the Potawatomi
Keona Cowan – Executive Vice President, Lending, Invest Detroit
Visit www.michiganbusiness.org/podcast to listen to available episodes of The Michigan Opportunity. It can also be found on Spotify, Google Podcasts and Amazon Music, and Apple Podcast.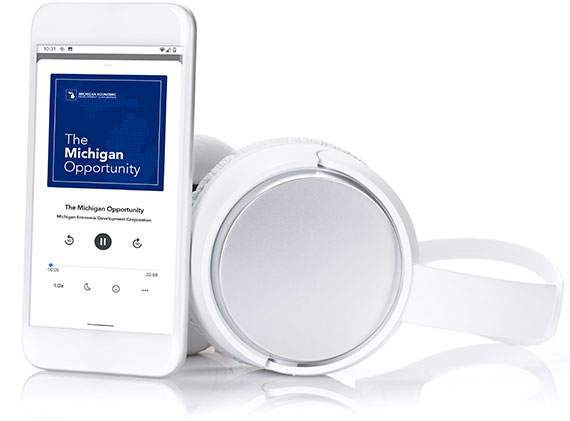 The Michigan Opportunity will serve as a forward-thinking voice for Michigan as a conduit to global trends and applications to the new global economy. The podcast is one more way MEDC is continuing to build on its ongoing efforts to highlight the state's economic recovery efforts, market the state and promote Michigan as a world-class business location.
With its robust R&D talent base, logistical advantages, low cost of living, and overall quality of life, Michigan is one of the preeminent locations for companies to grow or relocate their business. To learn more, visit michiganbusiness.org/why-michigan.
To get more news from MEDC visit michiganbusiness.org/news.
About Michigan Economic Development Corporation (MEDC)