Get to Know Hilary Doe
Thursday, August 24, 2023
Announced as Michigan's first-ever Chief Growth Officer at the Mackinac Policy Conference in June 2023, Hilary Doe is helping to lead a once-in-a-generation effort to grow the state's population.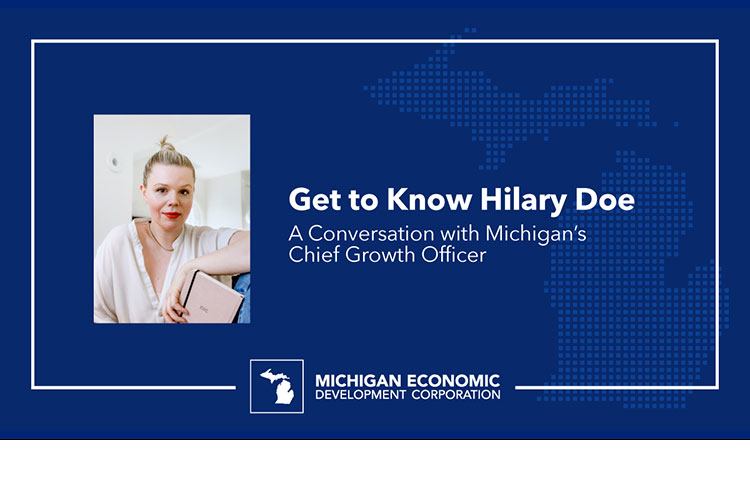 Hilary Doe has had a busier Michigan summer than most. In June 2023, Governor Whitmer announced the appointment of Doe as Michigan's Chief Growth Officer, the first Chief Growth Officer in the nation, at the Mackinac Policy Conference.
In her new role, Doe is leading the state's efforts to grow Michigan's population, economy and reputation as the best place to live, work, raise a family and start a business. In the months since the announcement, Doe has been working to build her team and the Growing Michigan Together Council for this once-in-a-generation effort.
Previously, Doe served as the national director at the Roosevelt Network, where she built and led an organization engaging thousands of young people in public policy, advocacy and civic engagement at chapters nationwide. The organization ultimately went on to receive the MacArthur Award for Creative and Effective Institutions.
Doe also served as Vice President of the Roosevelt Institute, where she oversaw strategy and expanded the Institute's Four Freedoms Center, with the goal of empowering communities and reducing inequality alongside some of the greatest economists of our generations. Most recently, she served as President and Chief Strategy Officer at Nationbuilder, working to equip leaders around the world with software to grow their movements, businesses, and organizations.
Read on to learn more about Doe, from her Michigan upbringing and views for the state's future to her favorite Detroit spots and, yes, her Michigan tattoo.
Your past roles have involved empowering communities, inspiring young people and reducing inequality. How do you feel like those experiences are informing your new role as Michigan's first Chief Growth Officer?
I think my experience up to this point is going to be incredible preparation for this effort. The reason I was so inspired to make the leap and take this on is because there was a real acknowledgement by everybody that this is a big problem to solve. States across the country are facing it, but Michigan is stepping up to solve it.
To get it done, we need to take a really holistic approach here, whether that's suggesting policy change, creating new initiatives for retention and attraction, or doing marketing and branding work to tell our story differently. It's a really broad mandate that we've been given and one thing that I feel very clear about is that to be effective at coming up with those recommendations, we need to involve the folks who are the ones that we intend to retain and attract.
One of the most important things that I've been working on in this first 90 days is concurrent with the council running this fall, by launching an ambitious public engagement effort beginning in the U.P. and running through November.
The focus is to facilitate conversations with folks and communities across the state who have these diverse experiences and get their feedback on why they stay, what they love about Michigan, what they're looking for in their lifestyle – and leverage all that feedback to inform our policymaking. This kind of bottom-up approach to policymaking is one that I've really held close throughout my whole career.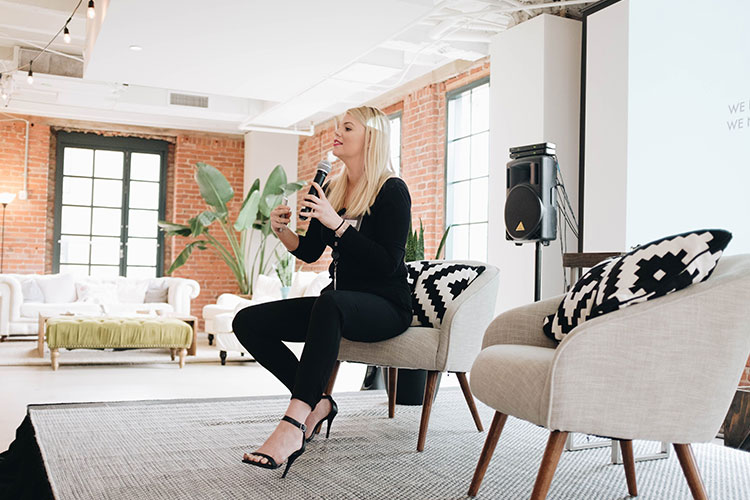 With the development of the Growing Michigan Together Council, who's being recruited for this effort?
We worked hard to try to ensure that the workgroups have a lot of regional diversity and a lot of diversity of expertise. We ensured we had representation of young people, balancing that with the need for experts in a lot of different fields.
In terms of who's on the council, we did try to cover a broad swath, because the policy interventions we might suggest for Traverse City will be different than what we might suggest for Lansing, Ann Arbor or Detroit. It's critical that we have those diverse voices.
With this public engagement effort, we're really focusing hard on lifting up folks across the state, from every region. We're kicking it off in the U.P. and we're putting a major emphasis on young folks – lots of university events, community college events, engagement with young workers, young families and family picnics in various places across the state.
In an abbreviated timeframe, we're trying to push hard to make sure that we have representation from across the state of the folks that are already here who we want to retain and the strong feedback from the types of communities we know that we're going to need to attract – think, excited young folks, workers and families – who will be critical to this effort.
What makes you proud to be a Michigander?
Well, the list is long. One of the things I'm most proud of is that I was jokingly referred to as a walking Pure Michigan commercial for much of my adult life, because I wasn't living in Michigan at the time and always had a fun fact. But I think our history is really compelling to me. We sort of changed the way people move around the world and what they listen to and love, and it's an inspiration for thinking boldly and ambitiously.
Do we have the right to be at the vanguard of the green transformation and a new economy and the future of mobility? I think we're really wanting to paint ourselves into the center of that story. I also love to tell people about how being from Michigan means being proud stewards of 80% of North America's freshwater and our miles of freshwater coastline.
You grew up and went to school in Michigan before leaving the state for work, and now you're back leading the state's population growth efforts. Can you speak to what brought you back to Michigan?
For me personally, it was a pretty typical story, but I was really chasing a mission. I had helped to cofound the Roosevelt Institute Campus Network in Michigan when I was at the University of Michigan, with a bunch of other folks at the University of Michigan at that time. I really fell in love with that mission-driven work: young people and communities across the country were identifying policy challenges in their community and then developing and implementing solutions to solve them. It was so inspiring to see those chapters crop up all over and to watch what some of them pulled off and accomplished.
When I had the chance to move to D.C. and try to grow the Roosevelt Institute into a leading national think tank, I took it. I think what that speaks to is ensuring that folks feel like we can build national movements and global companies in Michigan. As soon as I got far enough along in my career where I had control over where I could live and my family was able to, we moved back home. It was always on my mind, and it was always on my heart.
If anyone chooses to grow up in a state that they love and leave and come back, that's great. I get it. But one of my aspirations in this endeavor is that no one in our state grows up feeling like in order to have the kind of future they want to have, they have to leave. I think that's a real distinction. The commitment is to ensure that no matter what path you're on, you can do that here in Michigan.
What is something people outside of Michigan ought to know about our state and its people?
When I met my husband, who's from Massachusetts, he had never been to the Midwest. I was of course going on and on like I do and said, 'You've got to see it, it'll blow your mind.' As a requirement of our engagement, I made him come to Michigan and take a vacation. And he said something like, 'Wow, it's like the Caribbean. I can't believe this is a lake!' And that's exactly what you want from a partner if you love Michigan as much as I do.
People don't understand what we have here, and it's an incredible honor and privilege to be the steward of that kind of natural resource, and it's also breathtaking and inspiring that we've been called to take that on. We have an incomparable responsibility and incredible opportunity for folks to live here and have a uniquely beautiful kind of life.
Do you have some favorite hidden or not-so-hidden gems around the state?
I had a cabin on Higgins Lake growing up and we went up in the summers. My parents were both public school teachers, so they had the summers off, and we could go. It's such a Michigan memory, but I'll never forget hanging out in the boat during the day and then getting a Nibbles ice cream cone with sprinkles. It was such an idyllic memory of Michigan summer.
One of the beautiful things about living in Detroit is it's full of gems. I feel like there's new things popping up all the time and I love to get to discover those. We have so many neighborhoods and I feel like I fall into a new neighborhood every weekend. I love Takoi, so that's one of my picks in Corktown. I love to stay at the Shinola Hotel for a staycation. They have great bathtubs, and I love a great tub. I love a trip to Candy Bar and the Siren Hotel. El Barzon is a Detroit staple that has been around forever, and it is a haunt of ours now.
Your Michigan tattoo has been a point of conversation since you were appointed into your position as Chief Growth Officer. What led to your decision to get a Michigan tattoo?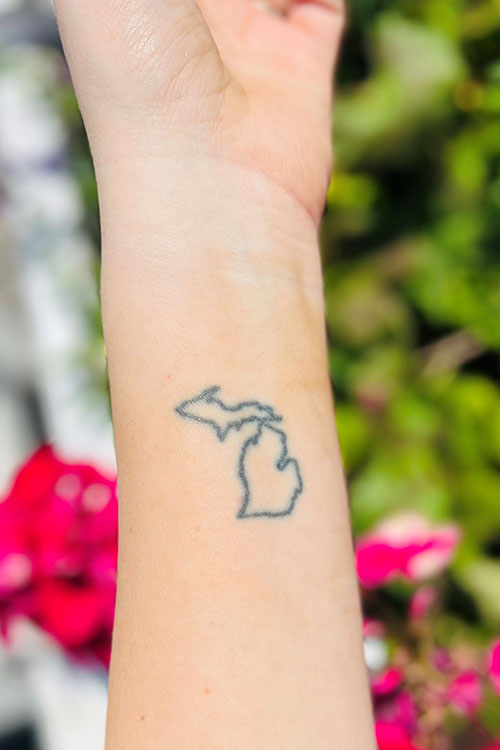 The joke I tell is that I like to always have a little Michigan up my sleeve. But I think the truth is more than the joke implies or lets on. I was living in Brooklyn at the time, and we'd been there for a while at that point. I was missing home. I love New York City, but when I would walk around, it didn't call to me in the way that Michigan calls to me.
I remember making the choice to wander over one weekend to a tattoo parlor in Williamsburg, Brooklyn and get it. I was immediately happy to have more connection to home. And I don't think it's just nostalgia; honestly, it's a belief in the opportunity for our future. It feels like a place of possibility and creation, where we're making things together. And I wanted to be able to look down and be inspired, frankly, as cheesy as it is, and reminded of home and possibility. And Michigan signifies that for me.
Learn more about the Growing Michigan Together Council at https://growingmichigan.org/.
Learn more about the MEDC's talent efforts at https://www.michiganbusiness.org/workforce/.
Contact Us