Clear Skies Ahead: Climate Stability and Policies in Michigan Mitigate Risk
Thursday, December 1, 2022
In an era of severe supply chain disruption, climate change and natural disasters are at the forefront of risk mitigation for corporate location decisions. In fact, a 2022 report by the Site Selectors Guild names climate change, environment and sustainability as the top factors predicted to rise in importance of site selection by 2032.
Michigan, ranked the No. 1 Best State for Climate Change, is building on its steady climate and low natural disaster susceptibility by enacting policies and initiatives to improve climate change resilience, in turn extending its steady meteorological climate to a competitive business climate.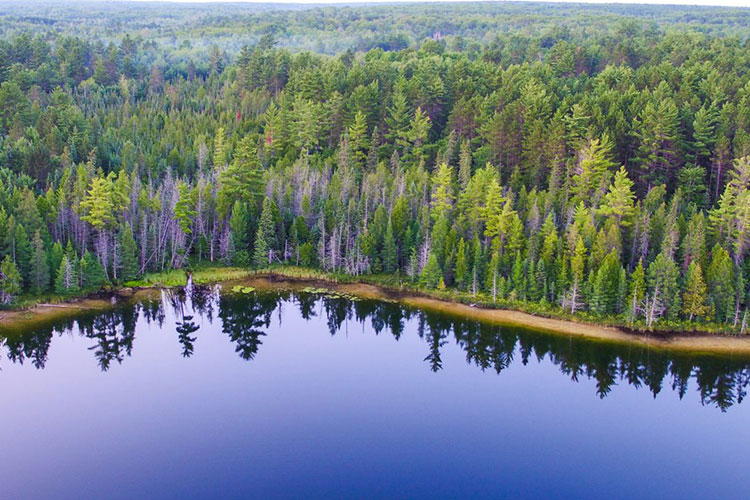 ONE OF THE LOWEST STATES FOR NATURAL DISASTER RISK
Companies located in Michigan have the advantage of being in one of the most stable climates in the United States. According to the National Oceanic and Atmospheric Administration (NOAA), Michigan declared just 46 "billion-dollar events" in the past 42 years. Billion-dollar events are defined as natural disasters that cause more than $1 billion in direct losses.
The Great Lakes State's number of billion-dollar events is one of the lowest in the Upper Midwest – compared to Iowa (68), Wisconsin (50) and Minnesota (48) – and among neighboring states Illinois (104), Ohio (83) and Indiana (82). States in other parts of the country report a high number of billion-dollar events as well, such as Texas (105), South Carolina (86), Georgia (104) and Tennessee (94).
According to data sourced from NOAA, Michigan's unique split formation offers a low natural disaster risk, with the lower and upper peninsulas keeping cool temperatures and retaining its natural surroundings.
COMMITTED TO BEING A CLIMATE WINNER WITH THE HIGHEST CLEAN ENERGY WORKFORCE
Michigan is advancing its competitive edge beyond low natural disaster risk by proactively instituting initiatives that curb climate change. The Great Lakes State was recognized in 2021 as a top state in sustainable development practices and was the top state with the highest energy job growth.
"As extreme weather events unfortunately become more frequent, Michigan's relatively stable climate and abundant freshwater are becoming more attractive to individuals and companies looking to put roots down in a beautiful environment," said Quentin L. Messer, CEO of the Michigan Economic Development Corporation (MEDC) and President and Chair of the Michigan Strategic Fund. "Michigan is committed to more aggressively presenting its case for being a climate change winner. We are working with businesses to reduce carbon emissions, promote clean energy jobs and support the infrastructure to prevent and prepare for natural adversities. These actions, including implementation of Governor Whitmer's MI Healthy Climate Plan, will ultimately prepare Michigan residents and companies to thrive in our four-seasons climate while elevating the lives of Michiganders and Americans nationwide."
The MI Healthy Climate Plan is a roadmap to achieve carbon-neutrality by 2050, with a short-term goal of reducing emissions 52 percent by 2030. The state created an Office of Climate and Energy and a Council on Climate Solutions to oversee, advise and implement the MI Healthy Climate Plan. The plan has already played a significant role in attracting investment in the state, including a $1.6 billion investment by home-grown Michigan company Our Next Energy for its first-ever battery manufacturing campus in Van Buren Township.
Climate scientist Jonathan Overpeck says the plan is the "aggressive climate action needed to stave off climate change disaster in Michigan." Overpeck adds that the University of Michigan, where he serves as Dean of the School for Environment and Sustainability, "is committed to carbon neutrality and will utilize shallow geothermal heating and cooling in addition to renewable energy, battery storage, electrified mobility, building energy efficiency upgrades and other rapidly improving technologies to do the job."
Other university, corporate and utility partners across Michigan are implementing sustainable initiatives as well. Consumers Energy, the state's largest energy provider, calls for zero-methane emissions from its natural gas delivery system by 2030 and to go coal-free by 2025. Detroit's DTE Energy has also committed to achieve net zero greenhouse gas by 2050. The DTE Gas Net Zero Plan will reduce carbon emissions by 6 million metric tons per year ― the equivalent of taking 1.3 million cars off the road.
These new initiatives equal new opportunities. Based on a new report from Clean Jobs Midwest, Michigan's clean energy workforce is nearly 120,000 strong, up 5.6% compared to 2020. The total employment in the field is projected to increase by 7.5% between 2020 and 2030.
INVESTING IN INFRASTRUCTURE FOR FURTHER RISK MITIGATION
Michigan understands that the one of the most critical ways to mitigate risk is investing in the state's infrastructure. Dr. Parag Khanna, Founder and Managing Partner of FutureMap and Climate Alpha, argues in MEDC's podcast, The Michigan Opportunity, that Michigan will be the place to be in 2050 due to its forward-thinking on infrastructure and climate resiliency.
Michigan "isn't just an American industrial hub, it's also the midpoint of this Chicago-Toronto corridor in what will be a 'North American union,'" said Khanna. "We're going to integrate ever more in functional ways: infrastructure, trade, mobility of people, sharing of resources, water and electricity. That's the way to think about Michigan: an incredibly stable geography environmentally at the heart of this North American super continent."
Governor Gretchen Whitmer is advancing Michigan's infrastructure by signing the largest investment – $4.7 billion – in the state's history. The plan will provide $645 million to improve transportation, $2 billion to improve water, $450 million to improve state parks and $250 million to improve high-speed internet infrastructure in every region of the state.
LET'S TALK
With the impacts of climate change looming, Michigan's steady climate and sustainability initiatives are setting the state apart from the rest – earning accolades along the way.
To discover more about Michigan's tools and programs that can support your corporate growth plans, contact a business development specialist here or at 1.888.522.0103.
Contact Us