Eight Public Private Partnerships Strengthening Michigan's Talent Pool
The availability of skilled labor remains a top factor in every site selection decision, and Michigan's industry leaders, educational institutions and government partners are coming together to build a strong and equitable talent pipeline.
Michigan's No. 1 asset is its people – a workforce defined by integrity, grit and a culture of innovation. Men and women who not only see what's possible, but rise to the challenge of making what may seem impossible a reality.
Helping to address today's tight labor market, meet eight public/private partnerships in Michigan producing everything from hands-on industry experience for engineering students to a semiconductor apprenticeship in advance of a pending industry boom.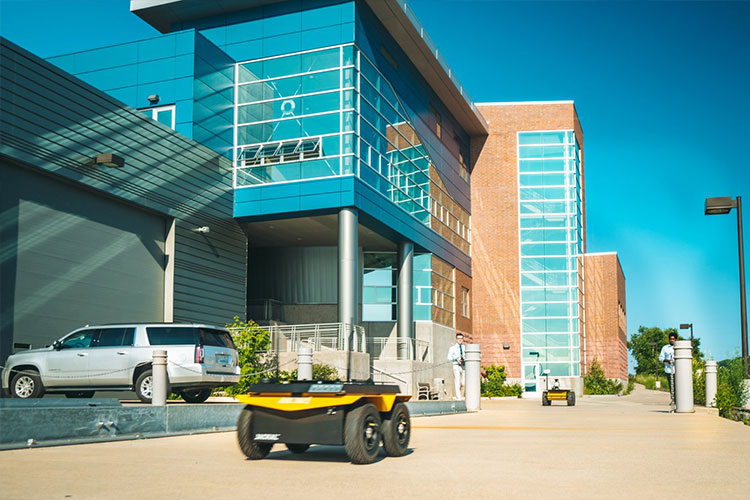 FORD AND THE UNIVERSITY OF MICHIGAN ADVANCE TALENT INNOVATION
Two of the world's biggest names in industrial innovation and academic excellence are investing their resources and expertise in world class facilities to advance the battery and robotics fields.
Developed in cooperation with Ford Motor Company and the Michigan Economic Development Corporation, the University of Michigan (U-M) Battery Lab is a full-service, 9,000-square-foot battery cell fabrication and testing facility partnering with industry leaders to prototype, test and analyze batteries and their materials.
"We are fortunate to have the U-M Battery Lab in the area," says Tobias Glossmann, principal systems engineer at Mercedes-Benz Research and Development North America located in Michigan. The facility provides Mercedes-Benz with "lab capabilities to evaluate battery materials in large cells that represent real-life behavior."
Ford further partnered with U-M on the Ford Robotics Building. Opened in 2021, the 134,000-square-foot complex allows students to collaborate with industry in state-of-the-art autonomous aerial vehicle fly zones, walking robot obstacle courses, an imitation of Mars' surface and more.
PREPARING THE SEMICONDUCTOR AND TECH TALENT PIPELINES
Michigan has positioned itself as a leader in advocating for and supporting the semiconductor industry, from urging the passage of the CHIPS Act to developing workforce initiatives.
Rick Wallace, president and CEO of KLA, points to Michigan's "impressive engineering talent" for supporting the Silicon Valley-based semiconductor manufacturer's growth – and the industry's talent needs are only set to amplify.
In May 2022, Michigan also announced the $1.5 million Semiconductor Career and Apprenticeship Network (SCAN) Program grant. The SCAN Program will engage key microelectronics employers, end users in automotive and manufacturing industries, and workforce development and education partners to build a more robust and knowledgeable talent pipeline for the industry.
Michigan's collaborative approach to workforce preparedness is well underway in IT and computer science. Grand Valley State University (GVSU)'s Applied Computing Institute is connecting students with industry collaborators to solve computing problems. Fortune 500 company Whirlpool tapped three GVSU students to create a mobile app as part of its Smart Countertop Oven.
"The GVSU team understood the problem and independently executed it with agility within the time frame," says Whirlpool lead engineer Dayanand Suldhal.
In Michigan's Upper Peninsula, Michigan Technological University and nearby printed circuit boards maker Calumet Electronics are partnering to bring hands-on manufacturing experience to engineering students. Michigan Tech hosted a summit of industry, education and government leaders in August 2022 to develop strategies for building a stronger workforce for domestic electronics and microelectronics manufacturing, at which it was announced that Michigan Tech and Calumet's approach to workforce development would be scaled nationally.
BUILDING AN EQUITABLE TALENT PIPELINE
Communities and institutions across the state are making sure Michiganders have access to quality K-12 education and beyond, readying them to jump into the workforce as skilled talent in their chosen professions and fill in-demand occupations.
The Detroit Regional Chamber's Detroit Drives Degree is collaboratively working to increase the region's post-secondary attainment rate from 43% to 60% and cut the racial equity gap in half. Meanwhile, the Urban Alliance in Kalamazoo partners with Kalamazoo Valley Community College and the Northside Association of Community Development to provide technical training for unemployed and underemployed individuals.
At the state level, the Sixty by 30 Alliance comprised of economic development organizations, colleges and universities, workforce development initiatives and professional associations is working toward 60% of working-age Michiganders to hold a certificate or college degree by 2030. Its programs include last-dollar scholarship program Michigan Reconnect and essential workers scholarship program Future for Frontliners.
Michigan Reconnect launched in 2021 and has accepted 100,000 applicants as of August 2022. "We can see that Michigan adults are excited to pursue an associate degree or skills certificate," says Susan Corbin, acting director of the Michigan Department of Labor and Economic Opportunity.
"When you add in the 120,000 essential frontline workers who've applied for tuition-free college or high school completion, you're talking about connecting over 170,000 Michiganders to good-paying jobs and businesses with the talent they need to thrive," Corbin adds.
LET'S TALK
Michigan is proactive and intentional in its workforce development as it prepares talent across the state for in-demand occupations that will innovate the future.
Let's discuss how these and other public/program partnerships, tools and programs can support your corporate growth plans. Contact a business development specialist here or at 1.888.522.0103.
Contact Us