Latest LG Energy Solution expansion in Holland further bolsters its relationship with Michigan as leaders in battery production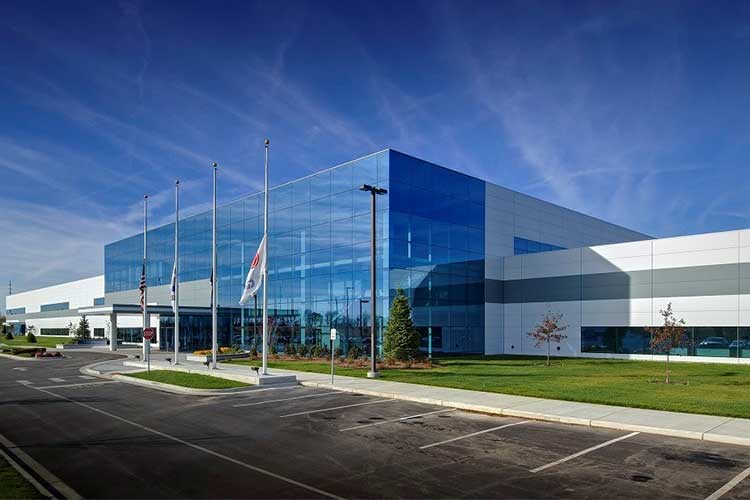 In March 2022, LG Energy Solution (LGES) announced a $1.7 billion investment to quintuple plant capacity in Holland, Mich. providing a strong pipeline to produce battery components in Michigan today and into the future as the electric vehicle (EV) industry grows. Read the full release here.
"LG Energy Solution is at the forefront of green business, promoting sustainability, electrification and innovation. We have already become a contributor to the State of Michigan's 'championship economy.' Michigan was a natural choice to our commitment of building an impactful global business because of its rich pool of talent, being close to the geographic epicenter of the automotive industry and its strong support," said President of LG Energy Solution Michigan Bonchul Koo. "I am optimistic about realizing LG Energy Solution's aim to achieve carbon neutral by 2050 and about creating ripple effects of environment conscious business in Michigan and beyond. I look forward to what the future holds."
Founded in 1947, LGES, formerly known as LG Chem Michigan and a division of LG, designs and produces innovative energy solutions to solve the automotive industry's toughest challenges. The company manufactures large lithium-ion polymer battery cells and packs for EVs and other energy storage applications.
LG Energy Solution has had a presence in Holland since 2010, when it chose Michigan for its first EV battery plant in the United States, planting a flag for the state's national leadership in battery manufacturing. LGES now has 1,495 employees in Michigan with the South Korean electronics giant growing its Holland battery factory in 2018, adding 100,000 square feet to its facilities.
Once again, LGES has chosen Michigan as its home for opportunity and growth, helping put the state in a position to prevail in battery manufacturing as the automotive industry moves toward an electric future.
Plugged into Michigan
The LGES expansion announcement comes mere months after GM announced its historic $7 billion investment in the state, which includes up to $2.5 billion to build Ultium's third U.S. battery cell plant in the city of Lansing and Delta Township. GM acted as a key partner in bringing LG to Michigan; its latest Ultium joint venture with LGES is expected to grow the state's global leadership in EV and advanced battery production. The facility will include a clean room environment, machinery and equipment that will allow for the high-volume output necessary to produce cells at this capacity. The project is expected to generate a total capital investment of $2.5 billion and create up to 1,700 jobs.
The Ultium battery cell plant project is among the first to be approved utilizing the new Critical Industry Program and Strategic Site Readiness Program signed into law by Governor Whitmer in December 2021. These programs were created to ensure Michigan could effectively compete for billions of dollars in investment and attract tens of thousands of jobs to bolster the state's economy – and already, these tools are paying off.
Today, LG has roots statewide, with investments in Troy, Holland and Hazen Park that began under former Michigan Governor Jennifer Granholm, now U.S. Secretary of Energy. With the company's latest $1.7 billion investment in Holland and new Ultium battery cell plant in Lansing, it's clear that LGES is plugged into Michigan for long-term success.
Leading the Charge
As the proud home to about one-third of U.S. battery production, Michigan ranks 5th nationally for employment related to electric vehicle battery manufacturing, with 2,000 workers employed at various Michigan battery manufacturing and OEM locations including LGES. The state's continued focus on driving the mobility and electrification industry's future continues to attract battery investments from around the world.
In particular, West Michigan – dubbed the "Smartcoast" – has become a hub for the lithium-ion battery technology found in electric cars, RVs and specialty vehicles in recent years. This success is part of the region's emergence as a destination for innovative, high-tech startups. Utilizing entrepreneurship and collaboration, they have shown how a region's economy thrives on the successes of both large and small businesses.
Holland-based companies Jolt Energy Storage Technologies, Volta Power Systems and Global Battery Solutions have been at the forefront of this entrepreneurial revolution, all benefitting from Michigan's robust entrepreneurial ecosystem. Lakeshore Advantage, a nonprofit economic development organization founded in 2003 with key support from MEDC, aids companies from startups to grownups and helps nurture entrepreneurship and innovation in Ottawa and Allegan counties. Through its SURGE program located in the Holland SmartZone, Lakeshore Advantage supported Jolt, Volta and Global Battery Solutions by providing mentorship, resources and networking opportunities that helped them secure a collective $90,000 to achieve their next milestones. Lakeshore Advantage was also a vital partner in securing the recent LGES investment in Michigan, providing hands-on support and guidance to make the project a reality for the state.
"We are extremely grateful for LG's long-term partnership and employment in our community. As an international leader in advanced energy storage, LG choosing our region for this transformational expansion is extraordinary," said Jennifer Owens, Lakeshore Advantage President. "Automotive electrification is the future and to have a global leader in electric vehicle production residing in our community cements West Michigan as a national competitor for future-focused economic prosperity."
Like many companies established along the state's West Coast, LGES was drawn to Holland for its quality of life, from the area's community-centered focus to its proximity to Lake Michigan.
As a world leader in battery manufacturing, LGES also keeps sustainability in mind with its business practices in the state. Its Holland production facilities are landfill-free, meaning that less than 1% of its total waste stream goes to a landfill. Of the waste produced, 97.4% is repurposed and 2.5% goes to a waste energy facility.
Preparing MI Talent for the Future
As the company continues to expand its footprint in the state, LGES is providing opportunities for growth and development to its nearly 1,500 Michigan employees and counting.
LGES is developing a Battery Academy that each employee will work through as they onboard into positions, from entry level to experienced. This training module will effectively lay out a map of advancement pathways, giving employees a clear vision of how to develop skills to move up through the ranks. The training programs will include, but are not limited to, career path training, apprenticeships, engineering development programs, leadership development and hydraulic and pneumatic trainings.
There are many modules in development that will be a cross-collaboration with higher ed institutions, including Grand Rapids Community College, Muskegon Community College and Grand Valley State University. In addition, LGES provides tuition reimbursement for job-related degrees and certifications, which provides the employees the opportunity to receive educational credentials that they may not otherwise have access to.
Innovative talent solutions like these ensure Michigan will continue to have a strong EV and battery manufacturing workforce at LGES and companies across the state well into the future.
Powering Ahead
LGES recently made a splash in its debut on the South Korean stock market in January 2022. From its initial 2009 investment in Holland to the latest expansion, LGES has poised Michigan to become a battery capital of the world, while also demonstrating a strong relationship between Michigan and South Korea in foreign direct investment opportunities. Today, South Korea is the third highest global investor in Michigan, investing $1.2 billion over the last five years. In fact, South Korean FDI projects were the largest amongst all countries, with projects averaging $152.7 million in capex; projects originating in South Korea were approximately four times larger than the average across all other source countries.
Home to more than 1,400 foreign companies with more than 5,000 locations throughout the state, LGES's $1.7 billion investment in Holland proves once again Michigan is the premier gateway for businesses from around the world to expand.
Learn how Michigan is a place of Pure Opportunity for global companies like LGES at michiganbusiness.org/pure-opportunity.
Contact Us