Michigan's North Coast: The epicenter of live, work, play
Tuesday, February 15, 2022
Framed by three Great Lakes – Lake Superior, Lake Huron and Lake Michigan – Michigan's North Coast brings together opportunities to live, grow a business and enjoy a Pure Michigan quality of life in perfect harmony. With unparalleled outdoor recreational opportunities, northern Michigan also boasts diverse businesses ranging from tourism to high-tech manufacturing. Known for its forests and wildlife, Michigan is second only to California for its agricultural diversity and the North Coast region specifically boasts vast expanses of rural land perfect for agribusiness and agritourism, while also offering vibrant medium-sized cities and rich educational and cultural opportunities.
Surrounded by fresh water, Michigan's North Coast has a long tradition in commerce. The Soo Locks in Sault Ste. Marie, with roots dating back to the mid-1800s, connect Lake Huron and Lake Superior and draw half a million visitors each year. Because of the Soo Locks, nearly 7,000 freighters carrying billions of dollars of cargo each year can traverse the Great Lakes and access the Atlantic Ocean and beyond.
Michigan also boasts 33 deep water ports around the state, with access to the Great Lakes shipping system and to the Atlantic via the St. Lawrence Seaway. Ports in northern Michigan include the Port of Charlevoix, Port of Alpena and Port of Cheboygan. Located at the north end of Lake Huron, the Port of Cheboygan is a deep-water seaport that can accommodate domestic vessels and international saltwater vessels.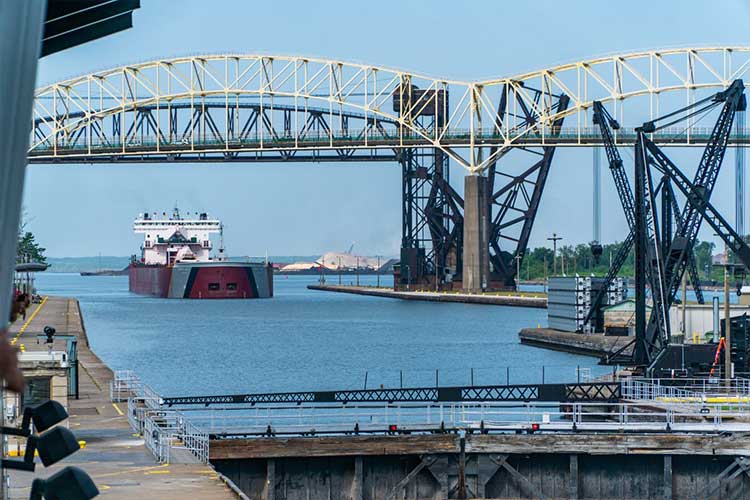 In addition to Michigan's accessibility by water, 26 freight railroads traversing 3,600 miles of track serve Michigan businesses, including the Canadian National Railway and Lake Superior and Ishpeming Railroad in the Upper Peninsula. Whether by land or water, Michigan's well-developed supply chain and infrastructure make it readily accessible to vendors and customers.
Michigan also features 18 commercial airports, including Detroit Metropolitan Airport (DTW) in southeast Michigan, one of the largest North American air hubs. Northern Michigan offers many options for regional air transport, connecting the region to DTW and beyond. Cherry Capitol Airport, located in Traverse City, flies passengers to destinations such as Chicago, Orlando and Phoenix, while Sawyer International Airport near Marquette services residents and businesses in the U.P.
In addition, Michigan offers one of the most talented, diverse and abundant workforces in the U.S. With a skilled trades workforce of more than 250,000, the greatest concentration of engineering talent in the country and a broad range of high-tech talent – ranking in the top ten nationally for STEM degree completions – Michigan has a density of skilled talent that other states cannot match.
Northern Michigan is home to higher education institutions building that next generation of talent, particularly in the areas of engineering and cybersecurity. Michigan Technological University (MTU), a public research university in Houghton, offers more than 125 degree programs, including its nationally recognized undergraduate and graduate programs in mechanical engineering. Meanwhile, the Upper Peninsula Cybersecurity Institute (UPCI) at Northern Michigan University in Marquette is the only facility of its kind in the U.P. and one of six statewide, offering non-degree and industry credentials relevant to emerging careers in cybersecurity.
Calumet Electronics is among the local businesses taking advantage of its proximity to the talent pipeline from nearby universities. Less than 15 miles from MTU, the leader in the domestic printed circuit board industry draws in new talent while boosting the local economy. In 2021, Calumet Electronics announced the addition of 75 new jobs as the company continues to expand its facilities and invest in next-generation technology. The company also played a key role in Michigan's pandemic response, ramping up production of its products for medical ventilators by nearly 40 percent when demand skyrocketed.
And whether starting up, expanding an existing presence or relocating into the state, businesses and workers find in Michigan's North Coast an extraordinary quality of life and a cost of living that makes the state the fourth most affordable in the country.
More recently, with the growth of remote workforces allowing people to work and live anywhere in the country, Michigan is emerging as a place where talent across all industries can find the perfect work-life balance thanks to its blend of economic opportunities and Pure Michigan way of life.
With infrastructure, supply chain and cost-of-living advantages like these, it should not be a surprise that Site Selection magazine would name Michigan as one of the top 10 states in the nation and third in the Midwest for business competitiveness in 2021. Michigan was also recognized as a top state in sustainable development practices by Site Selection in 2021, affirming the state's commitment to green energy practices and social responsibility while continuing to be a state where businesses can succeed and grow.
The growth and impact of Arauco North America in Grayling is a testament to that. In 2019, global manufacturer Arauco opened a new $450 million particleboard facility with a focus on renewable sources in the heart of Michigan's North Coast, helping create nearly 250 jobs in the region. Arauco became the county's second-largest employer and has exceeded its original investment and job creation goals, while impacting the community in other ways too. Kirtland Community College decided to expand its campus near Grayling, where it established a new Michigan Forest Products Institute. The college partnered in workforce training with Arauco and committed up to $1 million in training services to the company.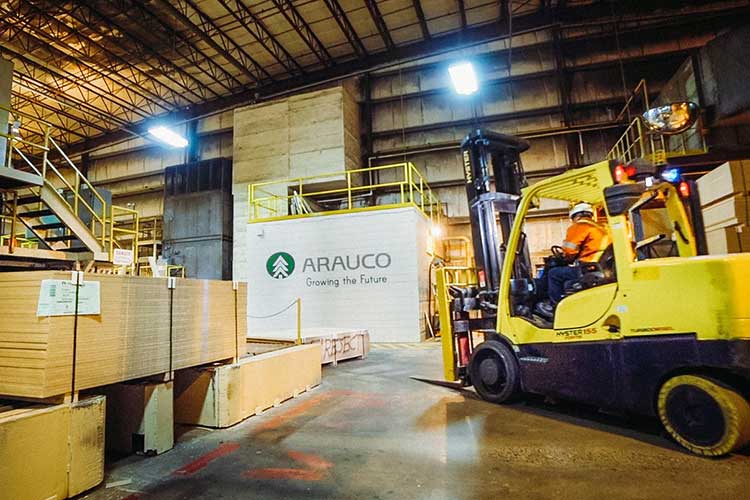 As a result of the new jobs in the region, Sawmill Lofts, LLC announced plans to replace two vacant buildings in downtown Grayling with a new, five-story mixed-use development. The project will include 42 residential rental apartments including studios and one- and two-bedroom apartments, as well as commercial space on the first floor and will also include the improvement of public space through new sidewalks and improved streetscape features.
A large, highly skilled, enthusiastic workforce is one of Michigan's great strengths. And one might expect such a workforce to be concentrated in or near its major metropolitan hubs. That makes finding such a workforce on Michigan's North Coast one of the region's strongest assets for businesses looking to locate and grow in Michigan.
Small businesses in Michigan have also made a profound impact on the economy through innovation, perseverance and resilience. Outdoor adventure apparel company Stormy Kromer has been in business for 118 years. Stormy Kromer has made a name for itself by consistently growing, and now features a full line of apparel to go along with its well-known cap. Located in the western reaches of the Upper Peninsula, Ironwood is the hometown and the backbone of the business.
Gina Jacquart Thorsen, president of Stormy Kromer, states that the Upper Peninsula adds to the brand. "We make cold-weather products here in a place where it can be tested and put though harsh winters. The people that work on the products know how to survive the cold and this strengthens the brand and gives it credibility."
That sense of adventure and love for the outdoors is a hallmark sentiment for northern Michigan, which boasts national parks, miles of freshwater coastline and several cultural attractions. From winter skiing getaways in Boyne to miles of mountain biking trails in Keweenaw, North Coast provides experiences for all seasons. The Thunder Bay National Marine Sanctuary protects a nationally significant collection of nearly 100 historic shipwrecks in Lake Huron, which can be enjoyed by visitors in a glass-bottom boat, from a kayak or even diving opportunities.
Michigan's North Coast national parks provide the scenery and experiences that Pure Michigan has to offer. Sleeping Bear Dunes National Lakeshore in Empire is best known for its sandy bluffs and panoramic views of Lake Michigan, while the Upper Peninsula's Pictured Rocks National Lakeshore and Tahquamenon Falls State Park share Michigan's postcard-worthy gifts of water and coastline.
The North Coast of Michigan is also home to one of the country's most unique destinations, Mackinac Island. With nearly one million visitors each year, Mackinac Island allows visitors to go back in time. Whether traveling the island by bicycle or horse-drawn carriage – no cars allowed – or visiting Fort Mackinac, founded during the American Revolution, the opportunities are as varied as the number of famous fudge shops lining Main Street. The island's historic charm is capped by the Grand Hotel, a National Historic Landmark and top resort welcoming guests since 1887.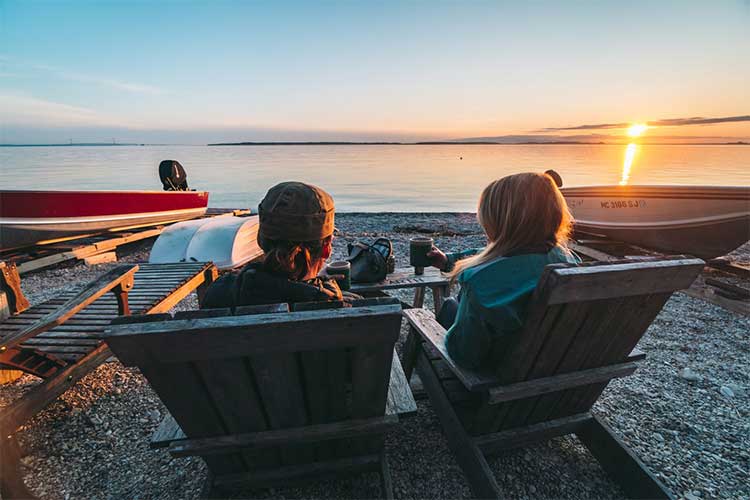 While Michigan's North Coast is known for its panoramic views of natural resources and 16,000 square feet of recreational space, it is clear businesses also choose the region because of the opportunity for growth and reliable talent. For businesses, residents and visitors, the North Coast provides the adventurous, hard-working and picturesque qualities known for Pure Michigan.
For more information on how MEDC can help your business grow and learn more about Michigan's stunning norther coast, please visit http://www.michiganbusiness.org/why-north-coast/
Contact Us