Upper Peninsula Communities' Revitalization Creates Aesthetic, Social and Economic Benefits
Tuesday, January 18, 2022
Houghton and Hancock see success with two MEDC programs
For many people, Michigan's Upper Peninsula conjures up a distinct set of mental images, from vast tracts of forest and pristine inland lakes to the sandy beaches and dunes of Lakes Michigan and Superior. The Upper Peninsula is known for these unlimited outdoor recreational opportunities all year long.
But accurate as it is, that list isn't comprehensive. It fails to reckon with the dynamic communities of the Upper Peninsula, which are home to vibrant cities and villages that attract business and recreation, as well as workers, students, tourists and residents. That dynamism is clearly displayed in the revitalization efforts taking place in Houghton and Hancock. These two communities are proactively investing in themselves by addressing local needs, while becoming a place that attracts businesses and visitors alike – much of which is possible, in part, through support and technical assistance from the Michigan Economic Development Corporation (MEDC).
Beyond its traditional incentive assistance, two MEDC programs in particular are essential in providing technical assistance to both Houghton's and Hancock's revitalization efforts – Michigan Main Street (MMS) and Redevelopment Ready Communities (RRC), which the two communities are each involved in to various degrees.
The two programs often work in tandem. RRC certification works with local governments by promoting best practices in creating effective redevelopment strategies. By measuring and then certifying communities that integrate transparent, predictable, efficient development practices, RRC formally recognizes that a community has a vision for the future and a route to get there. It indicates that a community goes above and beyond statutory requirements and is open for investment. MMS helps communities, stakeholders and developers create a set of best practices for their downtown place management.
In that sense, RRC serves as a pipeline for MMS candidate communities that are poised to adopt downtown place-management best practices, and which could benefit from additional support. Every MMS community also participates in RRC. Together, the two programs help communities develop strategies to become diverse, resilient and sustainable places that attract and retain talent and business investment.
The RRC and MMS programs align with each other in helping communities in their downtown revitalization efforts. For example, they encourage communities to share stakeholders in essential tasks like creating a joint-site plan review team, establishing downtown development plans which identify projects and estimated costs and developing public participation strategies.
Hancock is beginning to build the fundamental components for managing the revitalization of its downtown by applying a common-sense method called the Main Street Approach (MSA). The technique helps a community tackle complex revitalization issues by engaging residents in identifying the city's unique assets and leveraging its downtown's history.
And the revitalization extends beyond Main Street and Hancock's downtown area.
Thanks to the city's active efforts to become certified in MEDC's RRC technical assistance program, Hancock has completed numerous projects to make the city more welcoming to new development, including a Public Participation Plan, Guide to Development and Internal Review Process Document. The city is also finalizing a complete update of its decades-old zoning ordinance, a project that was partially supported through RRC technical assistance match funding. The update is consistent with the city's resiliency-focused master plan, which is explicitly designed to help Hancock build the capacity to meet current and future economic, social, environmental and climate challenges.
MEDC is also supporting grassroots efforts to encourage community involvement in Hancock's revitalization, with the city conducting a crowdfunding campaign to become eligible for a matching grant from MEDC's Public Spaces Community Places program. The grant will fund the development of underutilized public space into the City of Hancock Dog Park, which will provide a fenced environment in which dog owners and their unleashed pets will be able to play and socialize safely.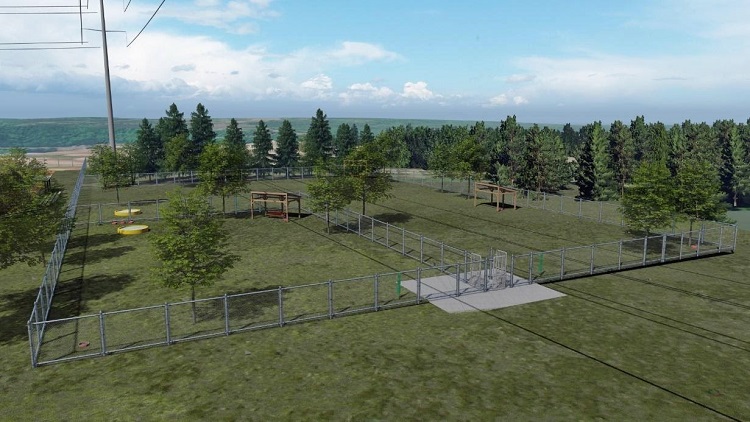 Additionally, in partnership with the Community Economic Development Association of Michigan (CEDAM), MEDC is further supporting revitalization efforts in Hancock by helping the city host a community development fellow for 15 months. During that time, the fellow will help build community capacity while supporting preparations for redevelopment efforts throughout the city.
In Houghton meanwhile, the city recently celebrated a major milestone achievement: becoming an RRC Certified community. Over the past four years, the city completed numerous projects to receive this designation, including a full master plan update, brand new website, internal and external resources for managing development projects, stronger board and commission processes and a new focus on marketing the city's assets.
In addition to technical assistance, MEDC has partnered with the city via financial incentives such as the Community Development Block Grant (CDBG). CDBG funds are aiding in a long-planned project to transform an underutilized waterfront into a vibrant community space. The Pier Placemaking Project will create a downtown recreational and community gathering place to be used for local events, including live music, a farmer's market and support for the tourism business expected to result from Houghton's designation as a port of call for Great Lakes cruising lines. Enhancing the waterfront with these amenities is a major goal of the city's master plan, showcasing another example of the city's ability to turn vision into reality. The enhancements will help the city attract additional private investment in the coming years.
CDBG funds are also supporting Houghton's efforts to create affordable housing through two downtown rental rehab projects located near the Pier Placemaking Project. The first involves a pair of historic, mixed-use buildings in downtown Houghton. In one, the entire second floor of the building will be converted into five residential units. In the other, two new residential units will occupy the now-vacant part of the historic Lode Theater.
When the project is complete, downtown Houghton will have gained more than 4,000 square feet of residential space while actively using now-vacant space and maintaining the city's historic downtown character. At least four of the new residential units will house low-to-moderate-income households for one year.
A second CDBG-supported project provides rental rehab improvements for new residential space in the rear lower level of an existing mixed-use building. The area will include four new residential units, three of which will be reserved for low-to-moderate-income households.
MEDC efforts like these are helping the Houghton and Hancock communities – and others throughout all corners of the state – sharpen their focus, harness their energies and leverage their assets to create and sustain places that can attract and retain talent, business and tourism.
For more information on RRC, MMS, CDBG and other resources available to help your community preserve and revitalize its commercial neighborhoods, please visit miplace.org.
Contact Us