Governor Whitmer Announces 350 New Manufacturing and Logistics Jobs, Transformational Placemaking Projects in Benton Harbor, Houghton
• American Axle and Manufacturing creating 100 jobs, investing $40.6 million in Three Rivers • Hollingsworth Logistics Group creating 250 jobs in Brownstown Charter Township • Innovative Whirlpool development in Benton Harbor and St. Joseph to result in new Technical Center, housing opportunities for critical talent retention and attraction efforts • Houghton Pier Placemaking project to provide critical infrastructure improvements; create additional public space and amenities for residents and visitors • MSF approves support for award-winning entrepreneurial programs
LANSING, Mich. – Governor Gretchen Whitmer joined the Michigan Economic Development Corporation (MEDC) to announce economic assistance for projects approved by the Michigan Strategic Fund Board today that will create 350 new jobs in Michigan and retain 400 high-wage positions, support the state's entrepreneurial ecosystem and facilitate transformational development projects in Southwest Michigan and the Upper Peninsula.
"Today's projects help us continue to jumpstart Michigan's economy by creating hundreds of good-paying jobs, reinvigorating our hospitality industry, and supporting vibrant communities across Michigan," said Governor Whitmer. "Through today's significant investments and initiatives, we are reminding the world that the ingenuity and innovation of Michigan's people and businesses remains unmatched."
Business expansions creating 350 new jobs, securing Michigan's leadership in automotive manufacturing, logistics
American Axle & Manufacturing Inc. (AAM), founded in 1994 and headquartered in Detroit, is a global Tier 1 supplier that designs, engineers, manufactures driveline and metal forming technologies that are making the next generation of vehicles smarter, lighter, safer and more efficient for the auto industry. The company has 16 facilities in Michigan with more than 3,200 associates.

The company plans to invest at its facility in Three Rivers, a project that includes total private investment of $38.6 million and the creation of 100 new jobs. The Michigan Strategic Fund today approved a five-year SESA Exemption valued at up to $468,888 for the company's $40,608,000 Eligible Investment in Eligible Personal Property in support of the project.
In addition, the city of Three Rivers was awarded $2 million in Community Development Block Grant funds to assist with adding necessary machinery and equipment at the project. At least 51% of the 100 positions will be filled by low to moderate income persons. Michigan was chosen for the expansion over the company's facility in Mexico.
"The city of Three Rivers is pleased to support AAM in their expansion. AAM has been an important part of our community for many years, and this project will help the company continue to grow and provide good jobs in or area," said Joseph Bippus, Three Rivers City Manager.
"Southwest Michigan First is honored to work alongside American Axle, as well as our partners at the Michigan Economic Development Corporation and City of Three Rivers, on this project," said Carla Sones, president and interim CEO at Southwest Michigan First. "We thank American Axle for its ongoing commitment to investing in our region, as well as its pledge to continue to create jobs for individuals of diverse backgrounds. The company's decision to grow at its Three Rivers' location exemplifies the innovation, access to skilled workers, geographical advantages and ease of doing business in Southwest Michigan."
The project aligns with MEDC's strategic plan by fostering high-wage job growth that will help Michigan remain at the forefront of the future automotive and advanced mobility industry. For information on careers with AAM, visit https://careers.aam.com/us/en.
Hollingsworth Logistics Group LLC, founded in 1991 and headquartered in Dearborn, is a Native American-owned and minority business certified leading provider of third-party logistics supply chain solutions. From complex order fulfillment strategies to detailed assembly and kitting operations, the company's experience-backed supply chain solutions optimize the effectiveness, accuracy, and cost of logistics to drive business for its customers.
As a result of new business, Hollingsworth plans to expand its operations into a 500,000-square-foot facility in Brownstown Charter Township. The project is expected to generate a total private investment of $17 million and create up to 250 jobs, resulting in a $1.5 million Michigan Business Development Program performance-based grant. Michigan was chosen for the project over competing sites in Ohio, Tennessee or Texas.
"Hollingsworth is proud to invest and grow in Brownstown Charter Township and is grateful for earning the support of the Michigan Economic Development Corporation," said Steve Barr, Owner and Chairman of Hollingsworth. "This expansion will provide significant employment opportunities in the region and help us to continue to successfully serve our growing customer base."
The project will provide immediate job growth in the local region and will include both pathway and management jobs. Hollingsworth provides training in soft skills, leadership, coaching, communication and project management and encourages advancement from within the company. With a workforce that is over 80% minority-based, Hollingsworth has a history of employing disadvantaged populations, and works with local organizations like Michigan Works! to hire for entry-level positions. The project aligns with MEDC's strategic focus industry of mobility and automotive manufacturing and the regional impact industry of logistics.
Brownstown Charter Township has offered to support the project through job fairs and assistance with local permitting and approval processes. For information on careers with Hollingsworth, visit https://www.hollingsworthllc.com/careers/.
Whirlpool's $80 million investment in Benton Harbor and St. Joseph taking innovative approach to business growth and talent attraction in the region
Whirlpool Corporation was founded in 1911 and today is the world's leading kitchen and laundry appliance company. With its global headquarters in Benton Harbor, Whirlpool Corporation has 78,000 employees and 57 manufacturing and technology centers located around the world.
The company is planning to invest more than $60 million to rehabilitate and reconstruct its Global Laundry and Dishwasher Technical Center in the city of St. Joseph. The new Technical Center will involve the demolition of a four-story building, construction of a new facility and renovation of the existing space that will remain. The current and future buildings are to be utilized as office space and laboratory testing of pre-manufactured home appliances. Whirlpool Corporation will retain 400 full-time engineering, research and development, and administrative support positions, all of which average $140,000 in annual wages.
Through a partnership with Harbor Shores Community Redevelopment LLC, Whirlpool Corporation also plans to construct Harbor Shores Apartments, a multi-family development with 80 apartments and 120 parking spaces, which is anticipated to result in $20.9 million in total capital investment in the city of Benton Harbor. By coupling the investment in new housing units with the redevelopment of the nearby Technical Center, Whirlpool Corporation will be able to generate positive business impacts, including the ability to attract and retain needed talent while offering housing options.
In collaboration with Whirlpool Corporation's anticipated improvements to its St. Joseph Technical Center, Cornerstone Alliance was previously awarded a grant through the 21st Century Jobs Fund in the amount of $1.2 million to coordinate development and construction of a pedestrian bridge to connect the city of St. Joseph and the city of Benton Harbor over the Paw Paw River, to create better access to the St. Joseph Technical Center.
As a result, the Michigan Strategic Fund today approved a Michigan Community Revitalization Program performance-based grant in the amount of $750,000 for Harbor Shores Community Redevelopment LLC. It also approved a brownfield work plan for the Berrien County Brownfield Redevelopment Authority including state tax capture in the amount of $1,894,405 for the reimbursement of brownfield activities at the Technical Center. Additionally, the Board approved an amendment to Cornerstone Alliance's Michigan 21st Century Jobs Fund grant agreement to extend due dates as needed and reflect the updated project scope.
"The approval of this project brings together Whirlpool Corporation's commitment to innovation with the tools for attraction and retention of outstanding talent," said Donald D'anna, Vice President of Global Tax at Whirlpool Corporation. "We're thankful for the support of the local community and of the state of Michigan that is enabling our global laundry and dishwasher technology facility to be rebuilt with the advanced equipment and processes we need to stay competitive, as well as approving and supporting the construction of an 80-unit development that offers even more great living options for employees of our company and residents of Michigan's Great Southwest."
"For more than 100 years, Whirlpool Corporation has been headquartered in Benton Harbor, and this project exemplify Whirlpool's ongoing commitment to our residents and the State of Michigan," said Rob Cleveland, President of Cornerstone Alliance. "Whirlpool's position as the global leader in home appliances is unrivaled, as is the company's commitment to diversity, the environment and Corporate Equality. This project will employ and house hundreds of high-skill, high-wage Michiganders in modern, state-of-the-art facilities and will bring new people to our community. In today's extremely competitive environment, we are grateful for the support shown by the Michigan Economic Development Corporation and the Michigan Strategic Fund."
The project aligns with MEDC's strategic plan by helping support 400 high-paying jobs in the focus industries of engineering, design and development, and professional and corporate services while supporting workforce housing that allows talent to continue living and work in the state. For information on careers with Whirlpool Corporation, visit https://www.whirlpoolcareers.com/.
Houghton placemaking project to spur economic growth in the community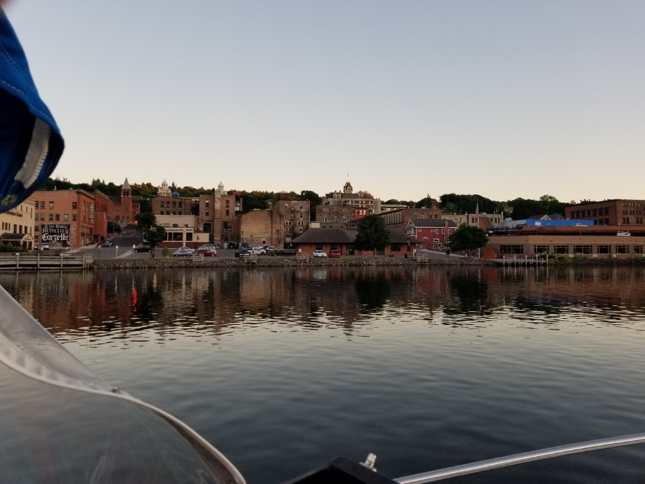 In Houghton, the Pier Placemaking Project will transform an underutilized waterfront into an active community space that services the city by creating downtown recreational and community gathering places. As part of the project, the city will expand its public space, access and interface along the Portage Canal Waterway through the reconstruction of a parking area, expansion and linkage of a waterfront trail system and construction of a pier.
The project will boast placemaking amenities including various landscape features, built-in utilities for events and future build out. The space will also serve as a venue for a variety of community events, live music and the farmer's market. Additionally, with Houghton's recent designation as a port of call for Great Lakes cruising lines, this pier will allow visitors to disembark the cruise line in the heart of downtown and be introduced to the vibrancy of the area, encouraging future trips to the region and additional private investment as a result.
The MSF Board today approved a Community Development Block Grant Public Facilities grant agreement in the amount of $4,035,010 for the city of Houghton to complete the Pier Placemaking Project. The city of Houghton also plans to contribute 22 percent of the project costs, totaling $1,160,010.
"The City of Houghton is extremely thankful to the MEDC for their support for this project and excited to see it move forward to construction," said Robert Backon, Mayor of Houghton. "The place that will be created in our downtown has been long-envisioned and now that it will be realized, our businesses, residents, and visitors will be able to gather and enjoy our downtown in new ways. Outdoor spaces like the Pier are vital in bringing our community together. The trying times we faced this past year showed us how having these resources is critically important for everyone's health and wellbeing as people can safely get outside, see each other, and make those human connections."
"It's been a long and winding road through this project's ideation, funding, design, permitting – then COVID turned everything upside down for a while. We in Houghton appreciate MEDC standing by us throughout all the bumps in the road. Now this important project can get underway and be a big part of another step forward in the evolution of Downtown Houghton," said Eric Waara, City Manager of Houghton.
The project aligns with MEDC's strategic focus on developing attractive places through innovative placemaking, while helping to market the state by encouraging future travelers to visit Houghton's downtown region. Additionally, the project supports the city's Master Plan, which identifies the need for improved safety and accessibility to the waterfront trail, establishing an all-seasons gathering place for community events, creating relaxing areas for people to gather, enhancing the waterfront and existing public attractions, while generating greater green space, parking and waterfront activity in the central downtown.
State continues support for Michigan's entrepreneurial ecosystem
The MSF Board also approved various amendments and funding allocations to support the continued growth and impact of Michigan's entrepreneurial university programs, including:
Reallocating funds for the Technology Transfer Talent Network (T3N), totaling $250,000, to support the program's continued work in universities throughout the state. The T3N program is a statewide university network supporting the commercialization of university technologies, licenses to industry partners and startup creation through a variety of mentorship opportunities and programming.
Approving funding allocations for various Michigan Translational Research and Commercialization (MTRAC) Innovation Hubs throughout the state, including:


A University of Michigan Advanced Transportation Innovation Hub grant extension through February 28, 2023
A Michigan Technological University Advanced Materials Innovation Hub grant extension through February 28, 2023
A Wayne State University Advanced Computing Innovation Hub grant extension through February 28, 2025
The Board also amended the MTRAC guidelines to allow the MSF to streamline the administration and implementation of Innovation Hub activities throughout the state.
Over the past two years, Michigan's entrepreneurial programs have received national recognition by the International Economic Development Council, with the MTRAC Program receiving a gold award in the Partnerships with Educational Institutions category in 2019 and the T3N program receiving a silver award in the same category in 2020.
"The projects approved by the MSF Board today underscore what is possible when you take a holistic, people-first approach to economic development," said Quentin L. Messer, Jr., incoming CEO of MEDC and President of the MSF Board. "I look forward to working alongside the incredible team at MEDC and regional and local our partners across the state to continue demonstrating Michigan is a place where risk-takers, businesses, labor, communities and people can succeed and grow. Creating more upward economic mobility is a team effort and I am grateful to the Michigan Strategic Fund board for working with us to make these projects happen."
About Michigan Economic Development Corporation (MEDC)