THIS JUST IN: MEDC recognized with five IEDC Excellence in Economic Development Awards
IEDC honors state's excellence in economic development efforts, looks ahead to bright future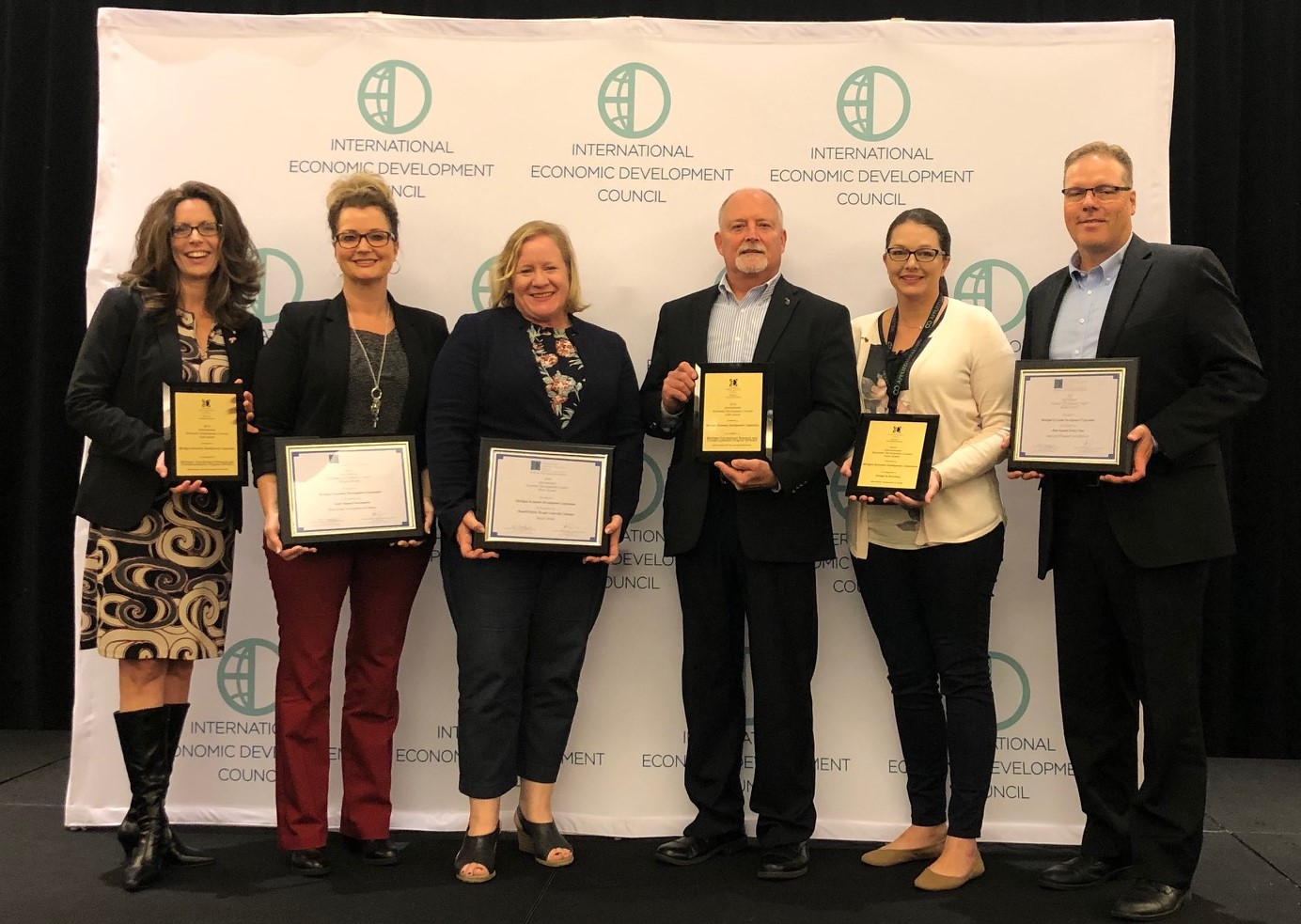 At this year's International Economic Development Council (IEDC) annual conference in Indianapolis, Indiana, MEDC was recognized with five awards for various programs and partnerships that strengthen the state's business climate. Such recognitions continue to prove that Michigan has some of the world's best economic development programs, partnerships and attraction efforts. From public to private, rural to urban and local to international, MEDC is equipped with the full range of economic development tools to improve the quality of life in all regions.
In addition, three of MEDC's economic development partners were recognized: Lansing Economic Area Partnership (LEAP) received a Gold Award in the public-private partnership category for the Spartan Michigan Dairy project in St. Johns, which is now seen as one of the largest value-added agricultural projects in Michigan history, and a Silver Award for the 2018 LEAP annual report. The Right Place received a Silver Award for its West Michigan Life Instagram channel and a Gold Award for the collaborative ReThink West Michigan event with partner organization, Hello West Michigan. ReThink West Michigan was also given a third award for Best in Show. Ann Arbor Spark received a Gold Award for the Ann Arbor Spark Entrepreneurial Services Program and a Silver Award in the partnerships with educational institutions category for their work with the University of Michigan to help attract KLA to Ann Arbor.
IEDC's Excellence in Economic Development Awards recognize the world's premier economic development programs and the year's most influential leaders. These 34 awards honor organizations and individuals for their efforts in creating positive change in urban, suburban and rural communities. With more than 5,000 members, IEDC is the largest organization of its kind.
The following five recognitions highlight Michigan's business climate as one of the most favorable in the Midwest:
Gold Award recipient for the following program: Bridge & Stocking – Real Estate Development & Reuse, Population 25,000 - 200,000
Gold Award recipient for the following program: Michigan Translational Research and Commercialization Program (MTRAC) – Partnerships with Educational Institutions, Population Greater than 500,000
Silver Award recipient: PlanetM Digital Thought Leadership Campaign – Digital Media, Population 25,000 - 200,000
Bronze Award recipient: North Channel Development – Real Estate Development & Reuse, Population 25,000 - 200,000
Bronze Award recipient: Innovation Programs and Initiatives, Population greater than 500,000
"Michigan continues to elevate its reputation as a national leader in economic growth potential. MEDC was honored with five awards – a testament to both the unique business climate and quality of life advantages Michigan offers companies and talent alike," said Jeff Mason, CEO of MEDC.
The program awards highlight innovative real estate redevelopment or reuse projects purpose-built or adaptively reused for the creation of jobs or for increasing the tax base. By demonstrating a measurable impact on employment and the tax base, MEDC's winning projects serve as catalysts for economic development statewide and demonstrate innovative partnership approaches including public and private sectors.
The accolade for partnerships with educational institutions recognizes excellence in economic development through meaningful linkages with post-secondary education. MEDC was recognized because of the direct economic benefit to Michigan communities produced by the MTRAC program. The digital media award recognizes the innovative use of digital media technologies in economic development.
Michigan continues to receive recognition as the optimal place for businesses to expand and explore new opportunities through a multitude of economic development programs and partnerships. The state's commitment to creating positive change in both peninsulas, in addition to widespread university commercialization support matched with a low cost of living, have combined to establish Michigan as an ideal destination for emerging and growing businesses.
From startups to established global companies, MEDC works to support businesses of all sizes to help them grow and create jobs for Michigan residents. To see why companies are choosing Michigan, visit here. To learn more about the services available from the MEDC to help businesses grow, go to michiganbusiness.org.
About Michigan Economic Development Corporation (MEDC)