Support and Resources Are Available to Grow Businesses of All Sizes
Thursday, September 30, 2021
Through a comprehensive suite of programs and services, MEDC helps fuel business growth and connects companies to the state's highly skilled workforce.
The Michigan Economic Development Corporation (MEDC) is committed to driving economic opportunity here in Michigan for businesses all sizes and across industry sectors. Whether you are an entrepreneur looking to make strategic connections, or a company looking to expand your customer base or access much-needed capital – MEDC is your partner in finding Pure Opportunity in Michigan.
Increasing access to capital for Michigan businesses
Small to medium-sized businesses in Michigan utilize the MEDC's Capital Access programming to maintain and grow their companies when private sector lenders need a partner in order to secure a loan. Through its experienced debt specialists and vast connections throughout the finance industry, the Capital Access team is able to provide businesses the support and tools needed to expand within the state, increasing a business's ability to secure loans ranging from $5,000 to $20 million.
In 2020 alone, the Capital Access team helped 100 companies thrive during the global pandemic, boosted job opportunities by 300 positions and helped 1,500 Michiganders keep their jobs.
In Harbor Beach, for example, National Filters Inc., a top-quality filtration manufacturer was forced to downsize during the pandemic. The company pivoted their production to the development of personal protective equipment in order to keep operations running. Through MEDC's Capital Access connections with Tri-County Bank, National Filters was able to secure more than $190,000 in loans and rehire 16 employees who were furloughed.

"The MEDC stepped in and offered assistance with their MSF Collateral Support Program, which allowed the loan to be done without capital injection by the borrower," said Tri-County Bank Vice President Fred Manuilow. "And in this time of crisis, our borrowers need all the capital they can get. The MEDC could not have made the process any easier or faster. It was absolutely amazing to be a part of this process and experience the MEDC's commitment to Michigan businesses."
Creating opportunities for small businesses to go global
Expanding business into international markets can create huge opportunities but is not without challenges. The MEDC International Trade team can assist a company looking to expand into foreign markets or export its products around the world — all while continuing to grow and prosper in Michigan. With international trade offices covering more than 90 markets, MEDC's International Trade Program offers business support identifying and pursuing global market opportunities. Through this program, businesses have access to experienced professionals and resources — such as financial assistance, counseling and market analysis — that can help promote their products and services around the world.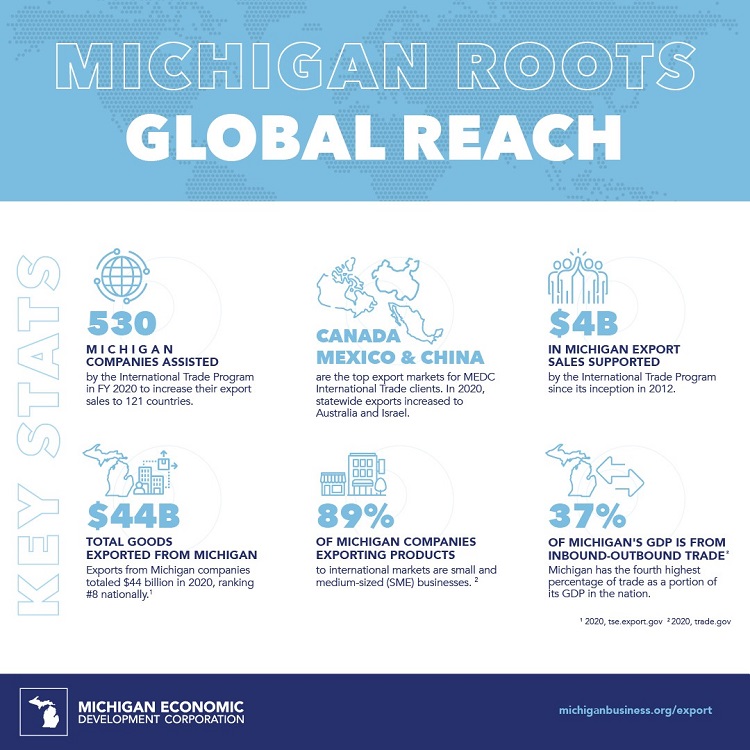 The Michigan State Trade Expansion Program, also known as MI-STEP, helps eligible Michigan-based small businesses increase their reach in international markets. Qualifying companies can apply for a grant to help offset the cost of export-related activities such as trade missions, international website development, e-commerce and more, making it more feasible for doing businesses to expand in global markets to increase and diversify their customer base.
In Wixom, for example, OPS Solutions produces Light Guide Systems, an augmented reality tool that uses projected lights and proprietary software to transform manual assembly and manufacturing processes. The company worked with the MEDC's International Trade Program to take its technology to international markets and, ultimately landing contracts upwards of $3.5 million, as a result of establishing channel partners in new markets, receiving quotes from potential customers and participation in vetted matchmaking meetings through MI STEP supported activities.
"It is definitely worthwhile for any company here in Michigan to understand all the different ways MEDC can assist to help their operation grow faster or even smarter," said President and CEO Paul Ryznar. "Thanks in large part to MEDC and the MI-STEP program, we're engaged with more than 175 non-U.S. companies in 28 countries worldwide."
Due to increasing sales in Europe and China, OPS Solutions has opened sales offices in Czechia and China to assist with its international exports. The company was on track to increase sales by 70 to 100 percent and expects to continue using the MEDC International Trade Program to accelerate its international expansion in Europe, Asia and South America.
Building strategic connections to grow supply chain sourcing opportunities
MEDC's Pure Michigan Business Connect (PMBC) is a free service that brings small to medium-sized Michigan businesses together with local, national and global companies for supply chain sourcing opportunities. This demand-driven, multi-billion-dollar public/private initiative developed by the MEDC in 2011 is structured to make connections within all industries.
PMBC uncovers procurement or innovation gaps by working with local and regional partners to identify suppliers that can fill those needs. The PMBC team facilitates introductions to these suppliers through data-driven matchmaking events, buyer tours, pitch competitions and other supplier-immersion initiatives.
In Saginaw, the third-generation company, Accurate Carbide Tool Co. (ACT), experienced the impact of PMBC firsthand. The company manufactures high-quality precision machined tooling and components for automotive and aerospace suppliers across the country and the PMBC team helped ACT expand its nationwide reach by facilitating introductions with the manufacturing team at Boeing. This connection resulted in ACT attending the Boeing Supplier Showcase in Seattle, Washington, to pitch a group of Boeing engineers and purchasers.
"Accurate Carbide Tool Co. is proud to be a homegrown Saginaw company that has the talent needed to perform at the highest level with auto and aerospace suppliers," said Aaron Longtain, general manager with ACT. "Before Pure Michigan Business Connect facilitated a match between us and Boeing, we were unable to compete for bids with larger companies due to a lack of awareness on a national level."
Just four months after the Boeing Supplier Showcase, ACT won 12 purchase contracts with Boeing's Research and Technology and Test and Evaluation unites, resulting in a revenue growth of $60,000. Thanks to the work of PMBC, ACT remains a strong supplier to one of the largest global aircraft manufacturers in the world.
Supporting startups in bringing new technologies to life
With a carefully cultivated ecosystem of tools, resources and support available, Michigan offers entrepreneurs and startups opportunities to grow in communities of all sizes throughout the state. Through the MEDC's Entrepreneurship and Innovation team, MEDC assists high-tech startups and entrepreneurs in finding the programs, services and expert counsel needed to accelerate research, license intellectual property, form companies, create jobs, support early-stage growth and engage with other Michigan businesses.
In Houghton, Orbion Space Technology is doing what no other high-tech aerospace company has done before: offering a rocket propulsion system at an affordable price for commercial satellite companies. To help the company reach new heights, Orbion turned to its local SmartZone at Michigan Technological University for access to business development support and the Tech Transfer Talent Network's Mentors-in-Residence program to identify opportunities and venture creation programs to build its foundation.
"The support we've received from the MEDC — both financially and in the form of resources within the ecosystem — has been an invaluable contributor to our company's achievements," said CEO Brad King.
Orbion has gone on to raise $30 million in combined Series A and Series B venture capital funding and was named Up-and-Coming Company of the Year by the Michigan Venture Capital Association. It also was recently awarded a U.S. Air Force contract to enhance the resiliency of U.S. systems in space.
The MTEC SmartZone that helped guide Orbion on its journey is one of 21 strategically placed business incubator hubs across the state where technology-based firms, entrepreneurs and researchers can be in close proximity to all of the community assets that support their endeavors. Through this unique SmartZone network, Michigan provides business accelerator services including mentoring, networking events, product development, grant writing, business planning, technology mining, market analysis and more.
To navigate throughout a post-pandemic world, Michigan businesses will have to adapt, and MEDC is going to be right there alongside them, helping connect businesses to new resources, meet new partners and access the capital they need. If your business needs support and guidance to reach its new potential, MEDC is here to help.
Visit michiganbusiness.org/partnership to get started today.
Contact Us