Collaboration and Innovation Create Ingredients for Economic Success at Capital City Market
By supporting transformative projects like this, MEDC works to develop attractive places that will encourage people to not only visit the state, but choose to call Michigan home.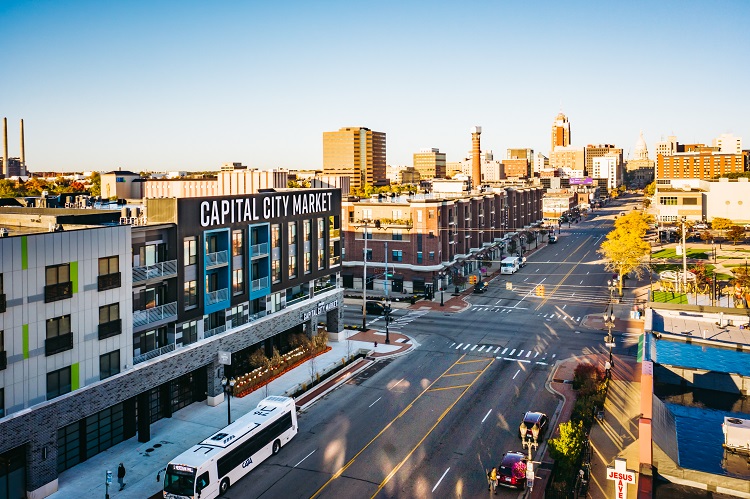 Launching any new business is always a heavy lift. Launching a grocery store at a time of increased competition and new retail grocery channels? Heavier, still.
Unless you're launching in Michigan. Of course, the adage that you make your own luck remains true everywhere. But in Michigan, there is also a built-in network of support, resources and partnerships that stand ready to help.
One case in point: the Capital City Market in downtown Lansing.
The Capital City Market is featured as part of the Block600 Development project, as a plan to redevelop more than four acres of blighted, contaminated property in the downtown corridor of Michigan's capital city. By creating a new four-story, mixed-use building, the project offers an affordable urban grocery market - the Capital City Market - in what had previously been a food desert in downtown Lansing. Operated by Meijer, the market itself is designed with an open-air atmosphere and offers both fresh and frozen food, a coffee shop, and pre-prepared to-go items.
As the first market of its kind in the area, the grocery is notable for featuring more than 1,000 locally sourced products from small businesses and entrepreneurs. It enjoys buyer-supplier partnerships with more than 40 Michigan farmers and suppliers and makes Michigan-made foods from more than 20 Michigan companies readily available to Lansing-area consumers. One example: High 5 Salts, a line of organic seasoning blends handmade in Detroit's historic Eastern Market, which formed a partnership with Capital City Market through a connection made by MEDC's Pure Michigan Business Connect (PMBC) program.
The partnership between Capital City Market and High 5 Salt took root at the 2020 Michigan Food and Agriculture Summit, hosted by the Michigan Economic Development Corporation (MEDC). Due to COVID-19, MEDC's Pure Michigan Business Connect (PMBC) team pivoted and transitioned the annual summit into a virtual event. Because of this transition, Capital City Market Store Director Mitch Cook, who was originally scheduled to speak to 20 businesses in person, now had the opportunity to speak to more than 80 virtually — and included in the group of local businesses was High 5 Salts.
"I'm really grateful PMBC pivoted their conference to a virtual event — like all of us small business owners had to do — to find a new way to get our products out there," says Laura. "Michigan is so supportive of its local food industry, and if you take advantage of those resources that are out there, like Pure Michigan Business Connect, it's amazing what it will do for you."
Thanks to efforts like those, a long-vacant parcel has been reimagined and redeveloped. Downtown Lansing now has a conveniently located grocery market selling goods from local producers.
In addition, however, the Block600 Development also includes 36 market-rate residential units plus a 120-room hotel with a restaurant and a lobby bar. With more people living in and visiting the neighborhood, the combination has increased daytime and evening foot traffic and general economic activity among businesses in the area, underscoring the vibrancy of the region as a place to live, work, visit and play.
For projects both big and small, Michigan is proud to demonstrate it is a state committed to helping businesses and communities alike seize opportunities, grow and succeed.
To learn more, please visit michiganbusiness.org/pure-opportunity.
Contact Us