MEDC's Pure Michigan Business Connect (PMBC) is a free service that brings small- to medium-sized Michigan businesses together with local, national and global companies for supply chain sourcing opportunities. This demand-driven, multi-billion-dollar public/private initiative developed by the MEDC in 2011 is structured to make connections within all industries.
PMBC aims to uncover procurement or innovation gaps by working with local and regional partners to identify suppliers that can fill those needs. The PMBC team facilitates introductions to these suppliers through data-driven matchmaking events, buyer tours, pitch competitions and other supplier-immersion initiatives.
The PMBC team can connect all types of companies and meet all types of needs because it has access to a vast and diverse supplier and startup network. These connections include traditional procurement searches, innovation or investment interest and connections to partner programs that offer subject matter expertise and additional resources.
Since its inception, PMBC has facilitated more than $12 billion in revenue, hosted over 220 matchmaking initiatives, provided business connections across 80 industries and organized approximately 15,000 buyer/supplier meetings.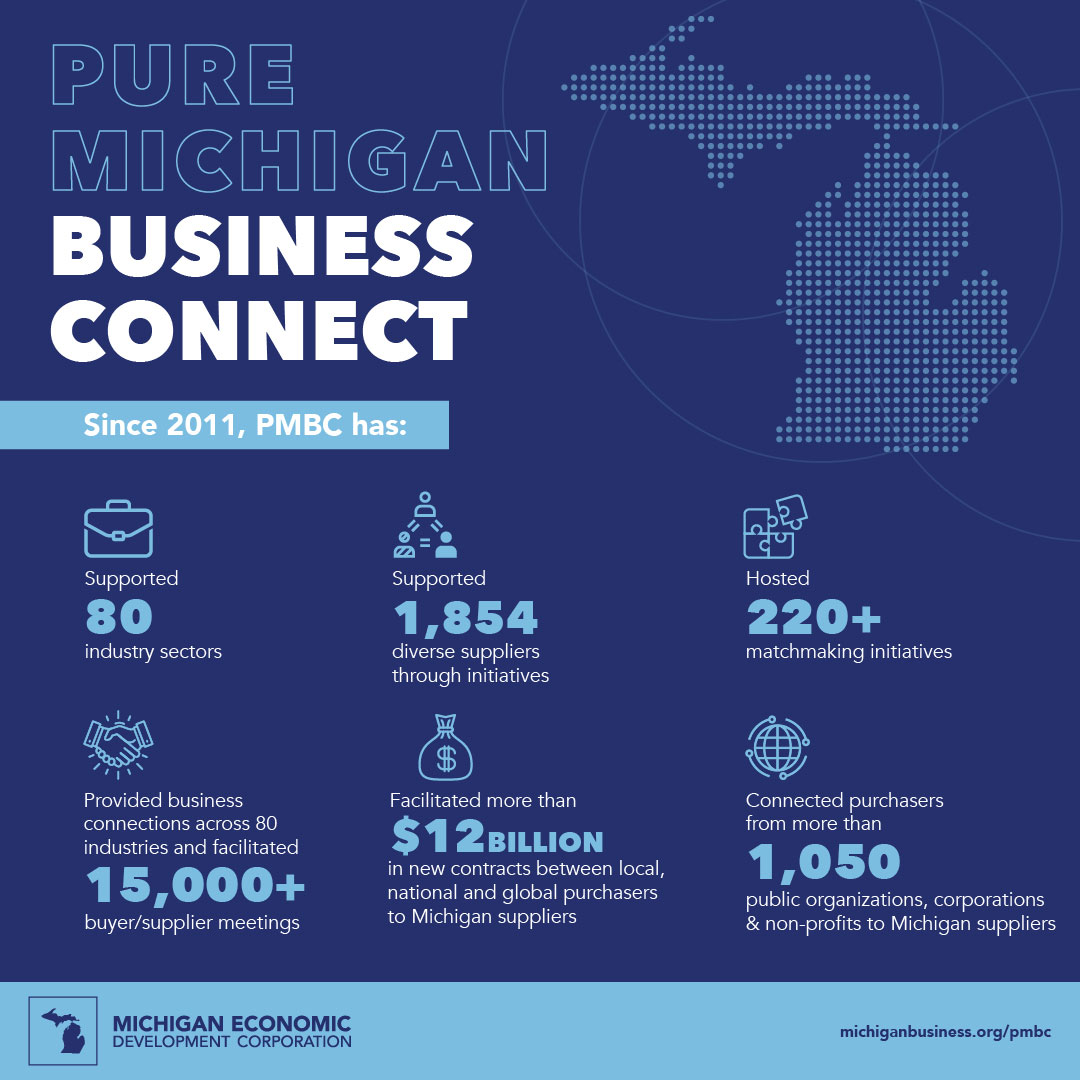 Read on to learn more about the opportunities available for Michigan businesses and suppliers to create connections and achieve success.
PMBC Community
The PMBC Community is a business-to-business platform created by Connect Space that connects Michigan companies of all sizes and industries to matchmaking opportunities. Joining the PMBC Community can be done in three easy steps:
Create or Update Your Profile: companies that create a profile with PMBC Community will have the opportunity to connect with other Michigan businesses, register to attend virtual and in-person matchmaking events and submit applications to meet with buyers.
Review or Add Capability Tags: as a member of the PMBC community, businesses can now customize what capabilities appear in their company profiles so that either buyers can see the products and services you provide, or suppliers can see the products or services you seek.
Download the PMBC App: simply search "PMBC" on the Apple App Store or Google Play Store and download the app. Doing so will allow users to connect with others attending matchmaking events, get alerts on schedule changes and summit updates and schedule on-the-fly meetings with buyers and suppliers.
Matchmaking Events and Targeted Searches
The MEDC's PMBC team facilitates connections through a data-driven matchmaking process through its online business connection platform, which serves as a day-to-day central hub for suppliers and buyers to engage with each other on open and active opportunities. The PMBC team also connects businesses through its expedited buyer/investor tours and supplier showcases that are supported by PMBC's custom research process.
A Michigan company that has benefitted from being a member of the PMBC Community is Tenera Grains, a seventh-generation family farm that harvests and sells corn and soybeans throughout the region. Tenera Grains' CEO Clare Smith attended the 2019 Pure Michigan Food & Agriculture Summit hosted by the PMBC in partnership with the Michigan Department of Agriculture & Rural Development.
"I'd never been to one of the annual summits, so I didn't know what to expect, aside from learning about other companies in the same field as Tenera Grains," said Claire. "I didn't even think to schedule one-on-one meetings at the summit, so when a connection I made offered to introduce me to Kellogg, I knew I was in the right place with the right people to help my company succeed."
As a result of Claire's meeting with Kellogg, which would not have been possible without the PMBC's annual summit, she connected with broker and distributor Anderson Grains to ensure Tenera Grains was "up to code" before selling to Kellogg. This networking opportunity also helped Tenera Grains with the "Next SKU Could Be You" Product Placement Competition.
Another successful PMBC match was made for Accurate Carbide Tool Co. (ACT), a third-generation Saginaw company that manufactures high-quality precision machined tooling and components for automotive and aerospace suppliers across the country. In 2018, the PMBC team helped ACT expand its nationwide reach by facilitating introductions with the manufacturing team at Boeing. This connection resulted in ACT attending the Boeing Supplier Showcase in Seattle, Washington, to pitch a group of Boeing engineers and purchasers.
"Accurate Carbide Tool Co. is proud to be a homegrown Saginaw company that has the talent needed to perform at the highest level with auto and aerospace suppliers," said Aaron Longtain, general manager with ACT. "Before Pure Michigan Business Connect facilitated a match between us and Boeing, we were unable to compete for bids with larger companies due to a lack of awareness on a national level."
Just four months after the Boeing Supplier Showcase, ACT won 12 purchase contracts with Boeing's Research and Technology and Test and Evaluation unites, resulting in a revenue growth of $60,000. Thanks to the work of PMBC, ACT remains a strong supplier to one of the largest global aircraft manufacturers in the world.
To learn more about Pure Michigan Business Connect and how it support suppliers and buyers throughout the state, please visit michiganbusiness.org/pmbc.
Contact Us