Tenera Grains transitions its seventh-generation family farm into the secret sauce of whole food granola for consumers in Michigan and beyond.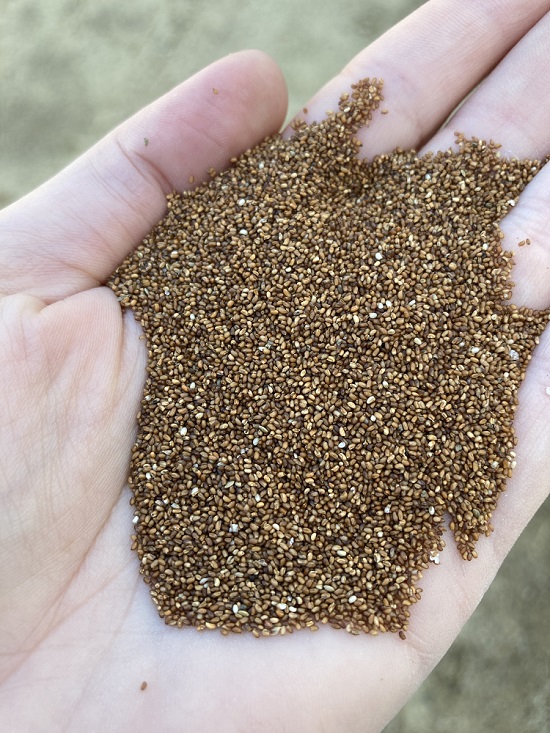 For seven generations, the Smith family made a living by harvesting corn and soybeans to sell throughout the region. Yet in 2015, when the cost of corn was down to $3.50/bushel, the Smith family needed to pivot to continue to keep the farm in the family and not have to sell land. It was in this market drought that the family had the idea to grow teff, a naturally gluten free and non-GMO grain that originates from Ethiopia. Claire Smith, the third of seven children, certainly didn't have aspirations of working on her family's farm, but when her parents suggested trying to grow teff, she was intrigued. Originally, the family's business, Tenera Grains, hoped to mill teff into flour and sell to Ethiopian restaurants for their traditional injera bread. However, that plan evolved when Smith experimentally put the whole teff grain into her granola and, after loving the flavor, Teffola was born.
As the Founder and CEO of Teffola, Tenera Grains' Claire Smith knew they had a great product. Even though teff was domesticated centuries ago, introducing this "new" ancient grain to purchasers and customers in today's market presented a challenge. That's when Smith decided to attend the 2019 Pure Michigan Food & Agriculture Summit hosted by the Michigan Economic Development Corporation (MEDC)'s Pure Michigan Business Connect (PMBC) program, in partnership with the Michigan Department of Agriculture & Rural Development (MDARD). The event offers companies opportunities to connect with buyers through scheduled one-on-one match meetings as well as through networking at walk-up booths.
"I'd never been to one of the annual summits, so I didn't know what to expect, aside from learning about other companies in the same field as Tenera Grains," said Claire. "I didn't even have any scheduled one-on-one meetings at the summit, so when a connection I made offered to introduce me to Kellogg, I knew I was in the right place with the right people to help my company succeed."
As a result of Claire's meeting with Kellogg and follow up communications, she started working with broker and distributor, Anderson Grains, to ensure Tenera Grains was "up to code" before selling to Kellogg. With a $40,000 Food and Agriculture Investment Fund (FAIF) grant from MDARD, Tenera Grains was able to buy grain cleaning equipment to help expand production capacity.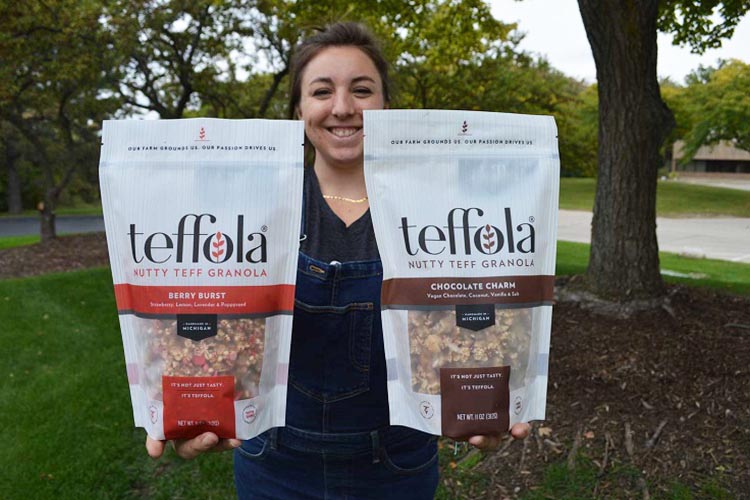 This same networking and business acumen helped Tenera Grains early on win the "Next SKU Could Be You" Product Placement Competition during their first year participating in Making It In Michigan in 2018. Their participation and award provided new product placement opportunities in retail stores and help from product center services, proving their pivot from growing corn and soybeans to alternative grains and seeds was the right move for the company.
Ultimately, Tenera Grains' participation in the 2019 Pure Michigan Food & Agriculture Summit helped accelerate the company's growth, providing opportunities and connections after the summit that allowed them to expand production to better meet customer needs and achieve new market and revenue growth.
Now, Teffola, the family's handmade, rich, nutty granola, is sold online and in retail stores throughout three Midwest states including Michigan, Ohio and Illinois.
Every day, PMBC is helping to connect Michigan suppliers of goods and services with local, domestic and global buyers, based on demand and procurement needs. To learn more about this program, visit michiganbusiness.org/pmbc.