Local Guide to Support Ingenuity of Michigan's Restaurants and Food Purveyors
The basic purpose of restaurants and other purveyors is to provide food and drink. Beyond that, restaurants historically have fulfilled a human need for connection and shaped social relations, in addition to shaping the overall economy and makeup of communities across the state.
Over the past year, Michigan restaurants and food purveyors were forced to drastically adapt and evolve with the pandemic.
Ecommerce, social media and brand development were integral to staying at the forefront of consumers' phones and computers. Engaging campaigns pushed monthly memberships, curbside pickup and local delivery. Structural and environmental redevelopments stretched the idea of what outdoor experiences could look like. Meanwhile, those rooted in the community focused on food security and justice by creating educational programs on food distribution and sustainability through farming. Outdated practices and injustices were brought to light and the industry is at a pivotal point that could forever change Michigan's food and beverage landscape.
As we enter into a sunny season in the Great Lakes State, the importance of supporting local is more integral than ever. Michigan is filled with amazing restaurants and food purveyors to support, and below are ones with missions to help workers, businesses and communities thrive. And with the click of a button or even a short road trip, consumers can support those serving, cooking, distributing, growing, distilling and caring for Michigan's food and beverage.
Southeast Michigan
Argus Farm Stop - The year-round farmer's market works with local farmers and producers to increase the availability of locally grown food and connect consumers with farms. Their two locations in Ann Arbor are offering in-store purchases, online orders for pickup and delivery, and weekly produce boxes that highlight seasonal local farm fare. Over the past year they've shifted many of their efforts to becoming a mobile farmer's market.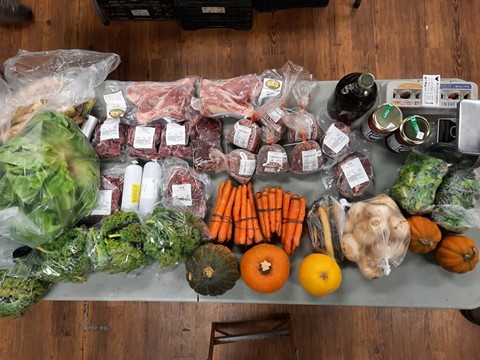 Batch Brewing Company - The Corktown brewery immediately closed dine-in operations and put all of their efforts into the commonly dubbed "Fauci Fieldhouse" to create a safe all-seasons outdoor dining experience with biergarten vibes. Local food entrepreneurs and other restaurants pop-up with their food menu in the space, giving kitchen staff a much-needed breather during the week, and Chef Matt's menu runs all weekend. The brewery also raised money for laid off industry workers through a pay what you can meal collaboration.
Bellflower - A new restaurant in Ypsilanti opened their combination sandwich table/bistro on August 24 and have been slinging sandwiches, fresh baked bread and an array of to go beverage options through their spacious patio, limited dine-in and through online orders. The restaurant hosts continuous collaborations with other local vendors and even serves as a pickup spot for online pop-ups of various food provisions.
Bløm - A meadery in Ann Arbor that crafts sessionable meads while highlighting Michigan-grown ingredients. They had patio huts installed to continue safe service to guests and their indoor community gathering space has been transformed into a community hub. In addition to mead, they offer local farm goods, cocktail kits, monthly local partner self-care and board game Bløm bundles with a can of mead, and a space for them to package, ship and process the abundance of cans with the shift focus to off-premise.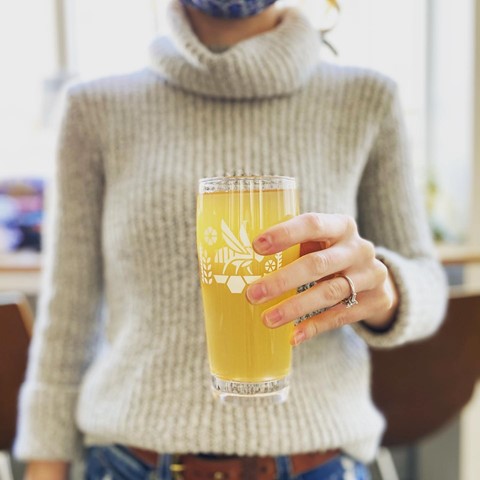 East Eats - A socially-distanced tiny-dining experience that brings arts, entertainment and pop-up small bites and thoughtfully curated meals to the Eastside of Detroit through dome and fireside reservations. In March, they hosted Black women food entrepreneurs in their space for Women's History Month.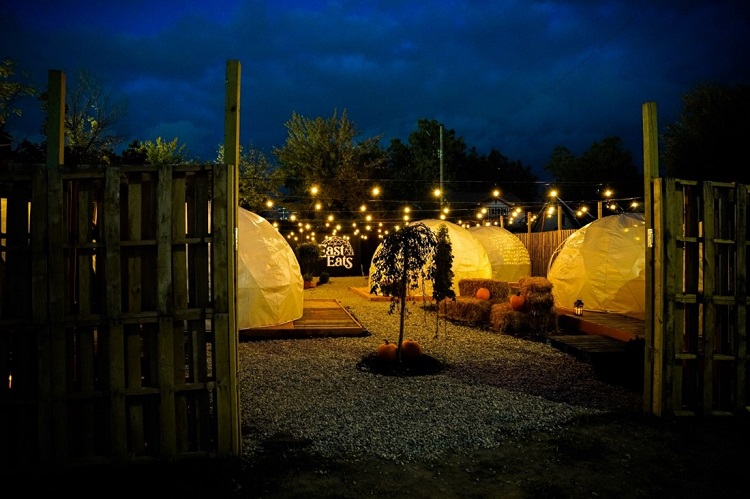 Edible Flint - The two acre farm in Flint is dedicated to connecting residents back to the land. Anyone in Genesee County is able to purchase a Garden Kit that includes a large array of transplants and seeds. The educational garden showcases accessible and innovative gardening techniques and donates mass quantities of produce to the local community and food pantries. Support their continued work through donations, and online and limited in-person educational workshops and work groups.
Eastern Market - Detroit's year-round open air market shifted with the pandemic, as did the Gratiot Central Meat Market, by offering spaced out in person shopping, drive-through bulk options for the public and weekly food boxes featuring a large array of their vendors with additional add on options for curbside carry-out. Their Detroit Kitchen Connect program is a great resource for those looking for commercial kitchen space to operate out of and offer technical assistance, workshops and start-up services. The market is open every Saturday.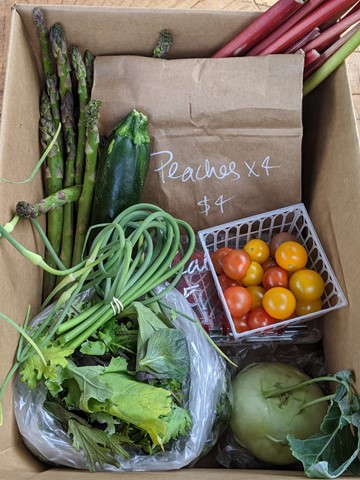 Folk – Located in Detroit's Corktown neighborhood, the restaurant shifted back to their roots with the pandemic and became a local market and cafe with a walk up window. Offering online ordering for grocery and cafe items, wine selection, gifts, picnic setups and Folk Boxes with themes centered on seasonality and holiday offerings. Orders can be placed online ahead of time and their walk-up window is available during hours of operation.
Kiesling + Milwaukee Caffe - The neighborhood industry bar attached to the Italian-inspired coffee bar, located in Detroit's Milwaukee Junction neighborhood, offered their space as a hub for pop-ups for local food entrepreneurs. Their pop-up and walk-up windows sell togo cocktails, an assortment of coffee offerings and occasional themed boxes featuring other local makers. Follow their Instagram pages for recent offerings!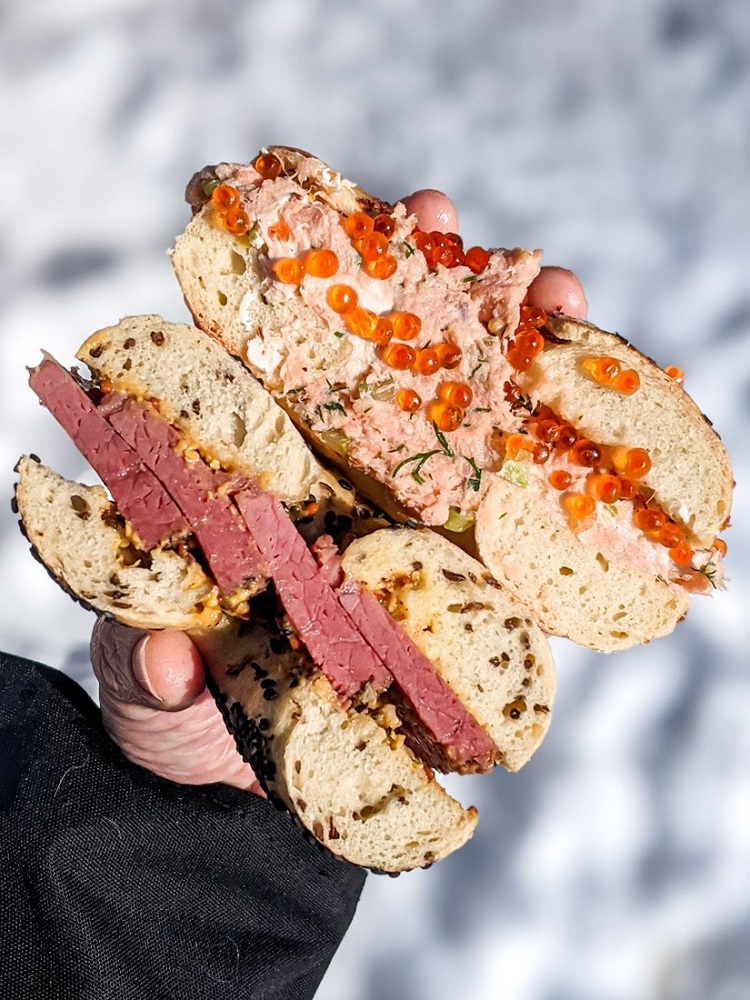 Make Food Not Waste - A nonprofit that holds an annual event in Eastern Market to feed thousands of people with food that would otherwise have been thrown away. The idea is to lessen massive amounts of food waste in America, while providing access to those who need it most. This year's event was virtual and included educational videos and community conversations. Make Food Not Waste continues their proactive approach to ending food waste through an online cookies series, waste-free recipes with local restaurants, food distribution and educational segments on composting, using kitchen scraps, meal planning, and preserving.
Mani + Isalita - Ann Arbor restaurants Mani Osteria, wood-fired oven pizzas, and Isalita Cantina Mexicana, street food inspired modern Mexican small plates - closed their dine-in services and created The Market at Mani + Isalita. The curbside menu offers a large togo menu showcasing both restaurants for individual, family and party meals. Pitchers of margaritas, cocktail kits, beer and wine, and totes filled with easy weeknight meals with interactive options that let you get a little messy.
Miss Kim - Ann Arbor's popular Korean restaurant is offering patio seating and curbside ordering, free kid's meals to those in need, pantry items and meal kits. In recent months they've begun hosting collaborative dinners with other chefs and restaurateurs, while offering a creative Korean spin on new dishes.
Oakland Avenue Urban Farm - The nation's first "agri-cultural" urban landscape in Detroit's historic North End. They host weekly farmers market, free food drives for the community, Detroit Black Farmer Land Fund in coalition with other local farms, Taste The Diaspora, distributing PPE and hot meals and operate an emergency food hub to distribute non-perishable food items.
Saffron De Twah - Detroit's modern Moroccan bistro transitioned to take care of their community many times during the pandemic. They've served over 110,000 through Saffron Community Kitchen, added monthly subscription boxes with multiple tiers including dry bar offerings, created a YouTube channel of cooking skills and recipes and are hosting local pop-ups in addition to streamlined seasonal togo menu offerings.
We The People Opportunity Farm - The Ypsilanti farm offers a nine month paid internship program for men and women returning home from incarceration. After completion they guide interns towards continued education and employment in the food, nutrition, and health services industries. In addition, their no cost food distribution puts food in the hands of community members in need
York - Ann Arbor's specialty grocer transitioned to a full-service bar with the intention of hosting guest food trucks and pop-ups in the beer and wine garden prior to the pandemic, which only pushed forward the need to do so. York Yard's food experience is complete with live music and DJs.
West Michigan
Art of the Table - A specialty food, beverage, and tabletop retail store located amidst the historic Heritage Hill neighborhood in downtown Grand Rapids. In addition to their selection of carefully chosen Michigan products, they offer beverage catering services, local themed food-related gift baskets, monthly wine club and a charity of the month program. They also host a virtual Live Wine tasting on Thursdays, introducing products to guests in a unique fashion with an immense amount of knowledge on the style, producer and winery. Bottles of select wines are available for purchase before and after the event.
Aperitivo - Located in the Grand Rapids Downtown Market, Aperitivo has expanded service to offer patio seating, a limited to go menu, takeout food, retail shopping, local delivery, curbside pickup, call ahead ordering, virtual tastings and happy hour events, virtual shopping and gift baskets and boxes. A new monthly cheese club joins the monthly wine club, including recipes and themed flights of cheeses, producer and tasting notes and pairing suggestions.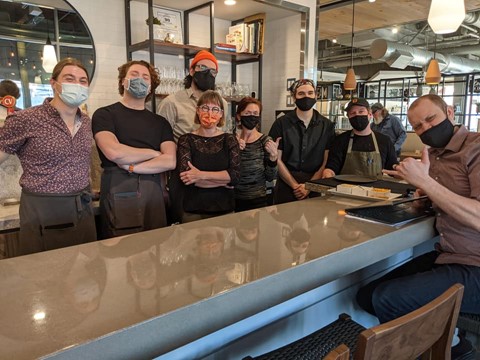 Blueberry Haven - Grand Haven's blueberry themed specialty shop that makes giving the gift of antioxidant rich blueberries easy with their wide range of jams, salsas, baking mixes and more and with the pandemic online orders and local pickup became their main focus. Online options including meal specific gift boxes, safe at home snacks and corporate gifts for staff or clients that showcase Southwest Michigan's blueberry farms that grow 44 percent of all the blueberries in the United States.
Granor Farm - A certified organic farm in Three Oak's that grows organic flowers, herbs and grains. They host a seasonal vegetable program, annual seedling sale, summer camps for kids, pre-ordering from their online Farmstand and Farmhouse Dinners. The farm is committed to creating an environment respectful of the land they cultivate, the products they grow and the local community they serve.
South East Market - A new grocery store in Grand Rapids offering in store shopping, curbside, local delivery, pay it forward dollars and monthly produce bundles. They serve their community by increasing access to healthy food options through dignified means, education opportunities and community empowerment. The equitable market intentionally sources from Black, Brown, Indigenous and Womxn-led farms and producers. They aim to build wealth for groups that have faced systemic oppression and provide their community with healthy and sustainably raised food.
Sovengard - The Scandinavian focused restaurant and biergarten shifted with the pandemic offering limited indoor and outdoor seating, takeout, delivery, reservations in the biergarten bell tents, and patio heaters and fire pits. They added complimentary gift bags to their Shop Local Brunch, filled with goods from small businesses looking for additional support. Wintergarten featured the hygge bell tents, hot drinks, snacks and additional fireside seating. They're cautiously accepting reservations for limited dine-in and their biergarten transitions, along with their seasonal, locally sourced food and beverage menus.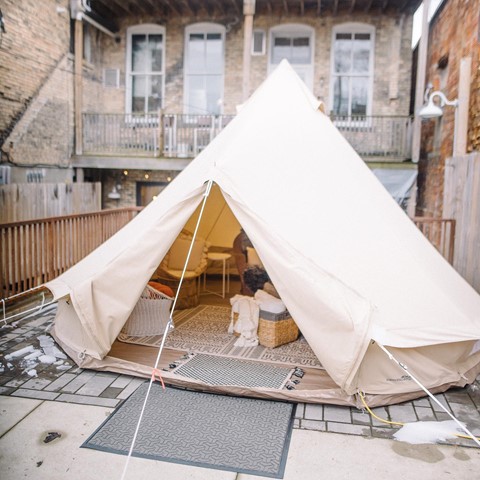 Sunlight Gardens - An urban farm in Battle Creek run by young farmers. They're cultivating health and consciousness through growing and educating their community on wholesome and local food.
Stillwind Farms - Located on a 1/4 acre in Muskegon, this woman-led, Certified Naturally Grown farm focuses on no-till vegetable farming and community collaboration. Their flexible CSA shares, otherwise referred to as Stillwind Market Cards, serve as a debit card for the farm and offer a variety of discounts and goods. An online farm store and pay it forward fund are currently available and future plans of education programs, collaborations, and sustainable farming for the Muskegon and Grand Haven communities.
Stamped Robin - The wine-forward aperitif bar in Kalamazoo created an online bottle shop with same day Kalamazoo delivery, theCRU monthly wine subscription box, Lil Bird mobile bar cart for small outdoor gatherings and serves as a walk-up window that serves the social district Central Commons. The team also collaborated and helped launch Nextdoor Wine Store, an online sister-wine store with a state-wide delivery focus, and they knocked down a wall to share a space with Two Twins Coffee, a unique community-focused drinking spot for adventure-seekers and coffee-drinkers alike.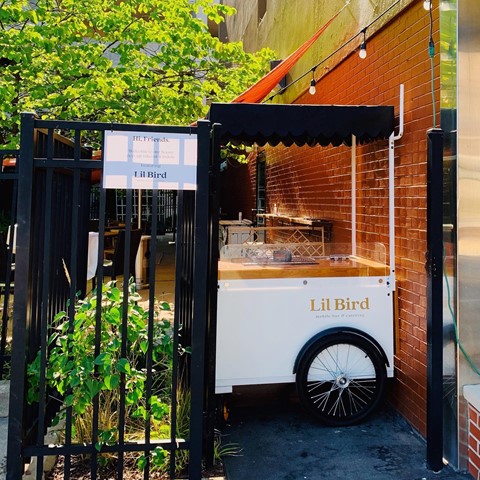 West Michigan Growers Group - Aims to empower local farmers through educational and collaboration, as well as impact the local food system as a whole. They gather, barter, place collective orders, apply for grants and host marketing events with a focus on West Michigan's farming community.
Northern Michigan
Applewood Eatery and Espresso Bar - The Escanaba from-scratch restaurant shifted their focus to carry out and offering free delivery. They kept their full menu online, offering a variety of wholesome breakfast, sandwiches, soups, salads and their full espresso bar includes fair-traded and organic roasts.
Barrel + Beam - With the halt in events, the UP-based brewery shifted their initial beginning efforts to getting farmhouse ales and ciders online for their to go and pickup service, which included curbside options. New food offerings featuring local pizzas made by Smelted and snacks from Door County Whitefish, Case Country Farm and Great Lakes Potato Chips are now available online and in their biergarten. Their pure Michigan terroir is a cornerstone of Barrel + Beam and allows for a 100% Michigan sourced product ale and rustic, brut ciders.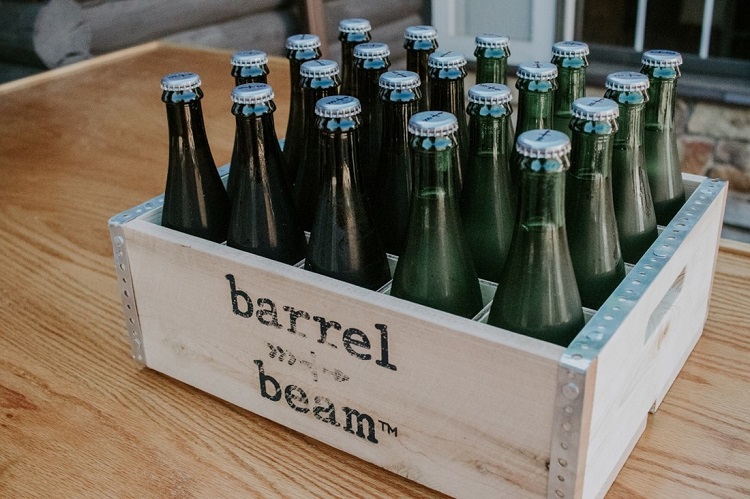 Farm Club - This Traverse City gem grows their own produce for menu items and crafts their own beers. Since the pandemic, offers have expanded even further. Reservations in the heated Shepherd's Tent includes a five course meal, and patio seating is available year round with outdoor fires to keep everyone warm. All menu items and local goods are available online for local pickup, and they're open early every Saturday for a Farmer's Market and Bon Fuego (fireside stew) happens Each Sunday. Their online marketplace features handmade ceramics, housewares, body care, cookbooks, kids items, pantry goods, local produce, prepared foods and snacks. Everything needed to enjoy beautiful Northern Michigan.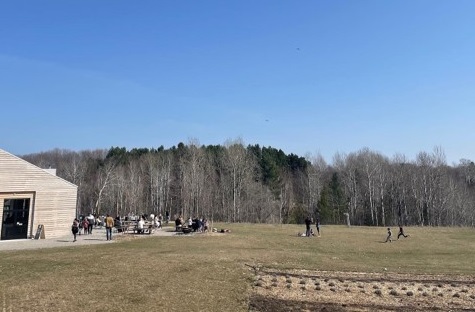 Harwood Gold - The fifth-generation Charlevoix maple farm began with sap from the trees surrounding Harwood Lake. Harwood Gold Cafe is the storefront with additional baked goods and hot pies. Maple syrups, jams, sauces, and spreads all sweetened using pure maple syrup are available online for shipments across the United States.
Hungry Hippie - A 60's inspired restaurant that began as a food truck, and is now operating out of two locations in Alpena. Open year round inside the Alpena Mall and seasonally next to Starlight Beach, the fast service lunch establishment sources as many local ingredients as they can find and now delivers right to customer's doors.
Light of Day Organic Teas - North America's only USDA Certified Organic and Certified Demeter Biodynamic Tea Farm is located just eight miles west of historic downtown Traverse City. Teas are available for state-wide purchase online, local pickup available, and visit during the growing season for Farm Friday Holistic Health Educational Tea Tasting, farm tour and private shopping experience.
MI Farm Cooperative - Northern Michigan's farmer-owned cooperative in Leelanau County that sells fresh, local produce to restaurants, caterers, schools, grocery stores and other food-related businesses in Leelanau, Grand Traverse and Benzie County. They also offer year-long seasonal CSA shares showcasing more than five local farms in one box and a large array of seasonal items.
Wren - A restaurant in Suttons Bay featuring comfort fare that supports environmentally responsible and sustainable farming methods. The sailboat sail across the patio kept an influx of guests all summer and during the winter has implemented mandatory time-off for the small staff to ensure creativity and inspiration, and time with family.
As another summer hits the shores of Michigan's Great Lakes, the landscape and experiences of supporting local and adopting the ingenuity and adaptive nature these restaurants and food purveyors have exhibited over the past year is more important than ever. Amidst a pandemic and broken systems, those in the food industry have managed to find a way to push forward, change their business model and keep communities fed – highlighting the ways that people come together around food, beverage and hospitality. As guests in their space, the biggest support we can give is to continue showing up for them in the same ways that they have for our communities time and again.
To learn more about the Michigan Economic Development Corporation's COVID-19 response programs and the impact they are having on economic recovery efforts, visit michiganbusiness.org/covid19response.
This article was developed to highlight the MEDC's Support Local initiative, which encouraged Michiganders to support local businesses, in collaboration with small business organizations across the state. To learn more about opportunities to support local businesses in Michigan, go to michigan.org/supportlocal.
Contact Us