5 Quick Questions with Kevin Ward, Executive Director of the Michigan Center for Integrative Research in Critical Care
Wednesday, February 17, 2021
Learn how entrepreneurship helps critical care technologies go from innovative ideas to hospital bedsides, with these 5 Quick Questions for Kevin Ward, Executive Director of the Michigan Center for Integrative Research in Critical Care.
What role does the Michigan Center for Integrative Research in Critical Care (MCIRCC) play in the entrepreneurial ecosystem?
Our members are deeply involved in the science of critical care ranging from basic discovery to translational science. These activities also involve developing hundreds of technologies and therapies that redefine the field of critical care—solutions that will diagnose patients sooner, treat them faster and more safely, and extend care outside the physical walls of the hospital.
But transformative lifesaving technologies don't get to the patient's bedside by themselves. They require an understanding of intellectual property, regulatory challenges, the market, and many other areas that traditional research approaches aren't always equipped to support. Without the development and integration of commercialization and entrepreneurial strategies into our problem solving, serious delays can occur, adding years to the journey of getting an idea to impact. Our ideas are informed and infused with serious entrepreneurship and commercialization expertise at very early stages making our ability to develop new companies and work with industry partners a key ingredient to saving lives.

What is your role at MCIRCC?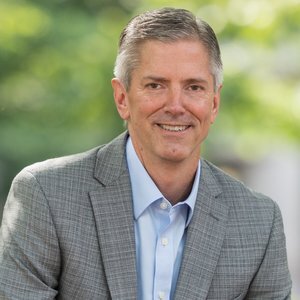 I wear many hats at MCIRCC - I am the Executive Director helping to lead a talented team committed to the mission of transforming critical care. I am also a customer of MCIRCC and use its resources to enhance my own science and projects, several of which I serve as principal investigator. One of my favorite roles is to act as a conduit between faculty outside of Michigan Medicine, but who are faculty in other schools, colleges, and units within the University, like the College of Engineering.
But though my role is significant, in the words of Bo Schembechler: it's all about "the team, the team, the team!" Despite the challenges of 2020, I have observed the warrior ethos profoundly demonstrated within MCIRCC. So many of our members and partners stepped up to creatively pivot their science, develop new collaborations, and take on extra duties to combat a common enemy, COVID-19. Through their efforts, MCIRCC was able to continue its mission to transform critical care through innovation, integration, and entrepreneurship.

What opportunities are available for entrepreneurs to engage with MCIRCC?
Industry and entrepreneurial partnerships are the key to getting our research out into the field. From licensing market-ready products to designing quality research models or cutting-edge data analytics, our team is ready to work.

The MCIRCC Pre-Clinical Lab is equipped with a state-of-the-art high resolution physiologic and metabolic monitoring and analytic equipment, tissue banking and analysis for preclinical research. Our best-in-class models of traumatic brain injury, cardiac arrest, sepsis, acute respiratory distress syndrome, and trauma are available for integrated projects ranging from exploring the basic pathophysiology of critical illness and injury to developing new diagnostics, therapeutics, devices, and digital health solutions ready for clinical testing in critical care.
Our data scientists have years of experience building analytical models for a wide array of applications and have developed a unique data platform that integrates physiologic signals, electronic health records and images from over 300 ICU beds. You can leverage our machine learning expertise to tackle your big data problems. Whether you want to utilize our data, or you already have your own, we can work with you to gain maximum insight. We offer several distinct services including:
Providing access to custom MCIRCC tools that allow our members to create cohorts and annotate physiologic monitoring waveforms.
Pulling de-identified cohort data for MCIRCC members.
Creating custom analytics as part of grants in which we are written.
Analyzing and building models using data from other data warehouses at the University
MCIRCC also has a Clinical Research Unit, which helps collect data (biologic, monitoring, etc.) from patients enrolled in our critical care clinical research studies. These studies range from examining the pathophysiology of critical care to the development and testing of new diagnostic and monitoring devices, to new therapeutics.

Collaboration is at the heart of MCIRCC. There is much we can achieve together that we could never do apart. We are always looking for folks who are able to contribute to our mission of transforming critical care through innovation, integration, and entrepreneurship. To learn more about how to engage with us, please contact us.

What are some examples of technologies that MCIRCC has helped commercialize and bring to market?
Below are several links with examples of technologies that MCIRCC has helped bring to market:
Fifth Eye Inc.: an MCIRCC spin-off company commercializing MCIRCC-developed technology to detect cardiac events before they happen, which received $11.5 million in venture capital funding.


Partnership with Veterans Brings New Medical Devices to Prehospital Settings: MCRICC and a team of active-duty special-ops veterans are bringing devices used to stop hemorrhage bleeds on the battlefield to civilian life.


Inspire Rx, LLC – A novel negative pressure helmet is 'a really simple solution to potentially help reduce virus transmission and increase the safety of health care workers, as well as patient safety.' This technology is also being explored as a personal protective tool during soldier transport via ground or air.
5. How do you see the critical care industry evolving in 2021 and beyond, and what role do you see for MCIRCC in that space?
The field of critical care has little to offer in life-saving advancements compared to 30 years ago. In order to see great impact in the future, the field needs to stop 'innovating' simply by virtue of making new fundamental discoveries, and instead consider how we could accelerate the impact of new research discoveries by thinking of them in terms of how they could help patients sooner as a potential product. The COVID-19 pandemic has underscored the need to bring new innovations to patients. It's also important to recognize that critical spans from the battlefield to premature critically ill neonates. We should push to develop platform technologies that span this spectrum.

MCIRCC is designed to get us engaged and thinking about how we can extract more from the enormous intellectual talent that exists across our great clinical and research medical centers and universities, and align expectations with industry, venture, and the market – which really means our patients!
What can we do to make more of those 'a-ha' moments of academic discovery translate into impactful products that transform medicine, including the next generation of innovators? The answer, for me, is building stronger and more intentional bridges between great science and the spirit of entrepreneurship. Entrepreneurship is the transition of innovation into something that propagates and brings continued, sustained value. MCIRCC's approach to develop a culture of high-risk, high-reward innovation in its basic and translational science efforts that is linked to entrepreneurship and commercialization, believing this will be a catalyst in the continued effort to save the lives of the most critically ill and injured patients.
Contact Us