How Michigan Is Contemplating The Big Ideas Defining The Future Of Mobility
Wednesday, August 7, 2019
When you can see what's coming, it's easier to be prepared. And Michigan has a better view of the developing mobility future than anywhere else.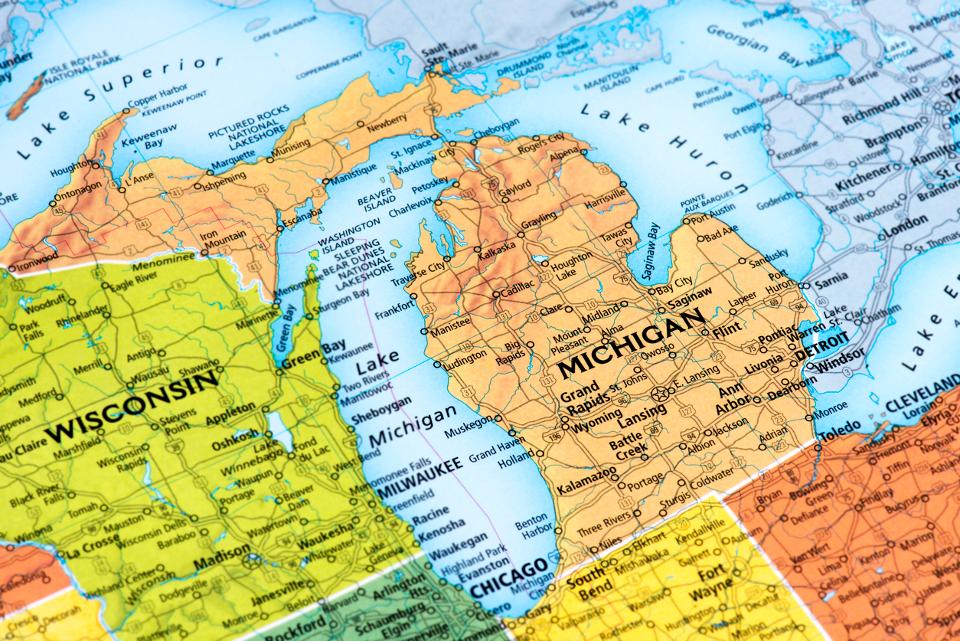 While the state's researchers, engineers and designers work on the technology that will bring us driverless cars and utilitarian drones, they're also partnering with public entities to ready communities for the major societal shifts to come.
"We're on the cusp of a revolution in mobility that will re-form cities and how cities function for the next 100 years," said Eric DeLong, deputy city manager of Grand Rapids. "It'll be just as impactful as the invention of steam engines or electricity."
That forecast is driving the Michigan Council on Future Mobility's conversations about the effect increases in autonomous and connected mobility technology will have on communities. In the 21-member group, representatives from industry, academia and the public sector are discussing and developing solutions for the unprecedented expansion of mobility coming our way.
Workforce & Talent
The idea of autonomous vehicles often raises concerns over the jobs of bus drivers, taxi drivers and even those doing work drones may do, like roofing. But the other side of that coin is the new mobility jobs already being created.
"Michigan is poised to be the main provider of mobility in the future," DeLong said. "Our communities all have niche companies that will prosper in this environment if we pay attention now."
Of course, that requires workers who are trained in new fields – and Michigan institutions are already producing them. Ann Arbor's Washtenaw Community College, for example, has worked with the state to develop more than 60 mobility courses in their Advanced Transportation Center.
"These cars with highly automated systems are going to need very highly skilled technicians to work on them," said John Peracchio, an intelligent transportation consultant and co-chair of the Michigan Council on Future Mobility. "There will be plenty of jobs for people who get the training."
Protecting Privacy In The New Age
As social media and mobile devices are already proving, a more connected world is one where the confidentiality of our personal data can be at risk.
Connected vehicles will only continue that trend. But there are steps communities can take to protect people's privacy.
The City of Grand Rapids has one solution: It now gathers public input on any use of new technology that could cause privacy concerns, such as drones used for emergency management or more advanced traffic cameras.
"We go through a process of describing the technology, getting public comment about it, and then implementing it according to our policies," explained DeLong.
Michigan researchers are also taking security concerns seriously. The Michigan Cyber Range, a project of the Ann Arbor-based Merit Network, is the nation's largest unclassified, network-accessible cybersecurity training platform. It recently partnered with the Detroit Arsenal, the United States Combat Capability Development Center (CCDC) Ground Vehicle Systems Center (formerly TARDEC), and the Michigan Defense Center to open a Cyber Hub in Warren, Michigan. The Cyber Hub will host training and virtual testing of its automotive security.
Cybersecurity developments are taking place on the west side of the state as well. The cybersecurity research and engineering firm GRIMM is opening a Grand Rapids-based cybersecurity research lab that aims to enhance security developments in the advanced manufacturing, aerospace, automobility, and defense industries.
The lab will enable GRIMM to work with both government entities and private mobility companies, like automotive suppliers, to provide training and expertise in the area of automotive, aviation and industrial control system security.
Minimizing The Threat Of Bad Actors
Where privacy concerns exist, security concerns follow. When Peracchio was with a Michigan mobility delegation in Israel, he took part in a demonstration during which the vehicle he was driving was compromised. While in motion, the wipers started, the instrument panel flashed and the anti-lock brakes suddenly engaged.
"If I had not been aware that this was a demonstration, that easily could have caused a crash," he said. "Where we are really concerned is infrastructure-to-vehicle communication, because once you connect a vehicle to the external world, there are all kinds of opportunities for bad actors to do terrible things."
A set of bills making their way through the Michigan legislature seeks to address these concerns, creating punishments for criminal vehicle hackers while avoiding overzealous hacking laws which can prevent good actors from doing the research needed to protect vehicles.
Mobility Access And Equity
Peracchio estimates 20 percent of Americans have challenges with mobility, whether due to disability, to age or to other restrictions.
"Highly automated vehicles have the potential to really help our most vulnerable travelers," he noted.
But the technology has to reach them first. Like most new developments, advancements in automated mobility are most likely to first deploy in expensive private vehicles. Ensuring that this technology is available to those who need it most – including blind people or those who struggle with reliable home-to-work transportation – is critical.
During the early days of the automobile industry, DeLong said, "No one had really thought about accessibility or equity. But now those are front-of-the-mind concerns. Last time, they were designing things; this time, we're designing a connected system."
Case in point: $8 Million Michigan Mobility Challenge, a program through which the Michigan Department of Transportation funds mobility pilot projects intended to solve mobility gaps for underserved populations – to the tune of $8 million.
Confronting Unintended Community Effects
More people with access to transportation is undeniably a good thing. But it won't be without unintended consequences for communities, particularly if each newly mobile citizen has his or her own vehicle.
"Without shared mobility, highly automated vehicles are likely to cause increased congestion on our roadways, and increase our carbon footprint," cautioned Peracchio.
Grand Rapids is already experimenting with ways mobility technology can bolster shared transportation options. Last month, the city announced the Grand Rapids Autonomous Vehicle Initiative, a ten-member coalition including May Mobility, PlanetM and others that will provide free autonomous shuttles to the public over the next year.
"We have the opportunity to be a test bed for a lot of this technology," said DeLong.
There's no doubt that the future of mobility is an exciting one. But before fully autonomous vehicles are chauffeuring us everywhere, there are some major issues to work through in order to ensure that mobility technologies are implemented safely, responsibly and equitably. Fortunately, in Michigan – where so many of tomorrow's mobility innovations are being developed – solutions to those big issues are underway as well.
Editor's Note: This article was originally published in part on Forbes in September 2018.
Contact Us