The Village of Cass City is experiencing growth and momentum thanks to its Redevelopment Ready Communities certification, a CEDAM Community Development Fellow and an MEDC-supported investment by a major local employer
In December 2022, Cass City became only the second community in Tuscola County to reach Redevelopment Ready Communities (RRC) certification. A small, rural community in the Thumb region, Cass City achieved this milestone by doing more with less, leveraging the support of a CEDAM Community Development Fellow through the Michigan Economic Development Corporation (MEDC) to reach RRC certification and celebrating the investment of an anchor employer to support continued job growth.
The change in trajectory for the Village of Cass City over the last six years can be attributed to Village Manager Debbie Powell and supportive elected and appointed officials. Powell serves as an Executive Board Member on the Tuscola County Economic Development Board and is committed to community development and economic growth in Cass City and Tuscola County.
Powell became the Village Manager in Fall 2017 and hit the ground running with a new Council President and Cass City officials to address the needs of the community, including deferred maintenance for infrastructure items in the Village. Together, they looked to move the community forward and start fresh on an aligned vision for Cass City.
The village used the RRC toolkit to leverage better planning, zoning and economic development principles to move them forward in a cohesive way. The best practices gave Cass City a framework on moving them forward and providing a full reorientation.
"My prior employment was with the City of Saginaw as the Assistant to the City Manager/Public Information Officer," said Powell. "In that role, I was part of the team assembled to obtain MEDC RRC certification for Saginaw. When I came to Cass City, I was excited that the Village Council wanted to obtain RRC certification. In Saginaw, I was part of a team of 16-20, and in Cass City it was just me. With the Village Council support, we applied for and were awarded a CEDAM Fellowship grant."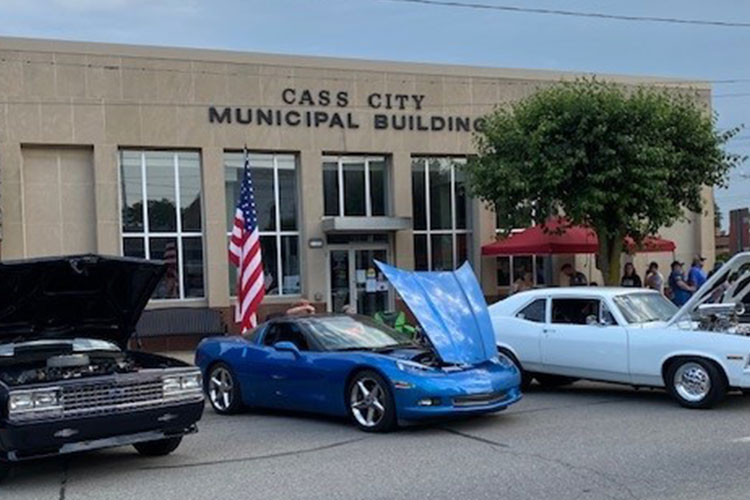 With capacity constraints remaining an issue, the CEDAM Community Development Fellowship placement offered significant support. Josh Prusik, who today works as an Economic Vitality Specialist with Michigan Main Street, partnered with Powell from June 2020 to September 2021 as the CEDAM Fellow to help with their RRC economic development strategy and marketing strategy to complete the certification requirements.
Prusik also assisted with updates to the zoning code and Cass City's parks and rec master plan.
"I was fortunate that their staff and leadership were forward-thinking and willing to be creative," said Prusik. "Rural communities, by their nature of being smaller, typically have capacity issues and aren't as able to tackle as many initiatives as larger municipalities. I think the key with Cass City was that they/we took the time to identify key community assets, such as through their 2019 MSU FIT Assessment, which then allowed them to build cohorts of community champions and workgroups around specific goals."
In addition to addressing capacity issues through the CEDAM fellowship and holding meetings with local realtors and other partners to discuss better marketing commercial properties, Prusik helped Cass City's library develop a unique resource hub.
Prusik partnered with Rawson Memorial Library in Spring 2021 to apply for an American Library Association Libraries Transforming Communities: Focus on Small and Rural Libraries grant. The $3,000 grant awarded to the community helped provide ongoing professional development resources and virtual meeting tools for Cass City's boards and commissions, including HP Chromebooks, an Owl Pro 360 camera and a Zoom Business license for hosting meetings and trainings – providing the community with a critical asset in a rapidly changing professional landscape.
Powell says the support of the MEDC was invaluable.
"It was a great help to have excellent customer service from the MEDC staff," said Powell. "They were responsive, encouraging and informative. Cass City could not have become certified without their regular contacts and assistance. They are great to work with and genuinely shared our excitement at becoming certified."
As an RRC participant, the village of Cass City received a comprehensive assessment that measured current community and economic development practices compared to RRC best practice standards. The RRC program evaluates and certifies communities that integrate transparency, predictability and efficiency into economic development practices. Certification status is a compelling indicator that a community has removed development barriers and streamlined processes to be more competitive and attractive to investors.
Part of Cass City's process for achieving RRC certification included several infrastructure improvements, including a wastewater treatment plant and working with DTE on streetlights, as well as several new businesses opening downtown. Cass City also abolished parking minimums and streamlined downtown building standards, which will increase vibrancy and lower the cost of development in the village, and adopted Accessory Dwelling Units by right, allowing for flexibility in housing types.
"As Village Manager in a small, rural community, I wear many hats," said Powell. "Working with MEDC and going through the RRC certification process allowed Cass City to implement best practices for development in our daily operations. Cass City has a high degree of professionalism through these plans, policies and procedures as we work with our businesses, developers and investors. The MEDC RRC Resource Library is excellent. It saved a lot of time and effort to see the templates and examples of different plans prepared by other communities. It was a great honor to have ours included as part of the library resources too."
A recent expansion by one of Cass City's major employers has also contributed to the success of the community achieving RRC status and momentum. Walbro, a global leader in engine management and fuel systems founded in Michigan in 1950, announced in September 2021 its plans to expand in Cass City with support from the Michigan Strategic Fund. The project was expected to result in a total capital investment of $11.4 million and create up to 40 advanced manufacturing jobs with the support of a $400,000 Michigan Business Development Program performance-based grant.
With its long history and deep roots in the Cass City community, Walbro's workforce is heavily involved in community activities, including the development-related boards and commissions.
For Powell, community engagement is a key contribution to the fabric of Cass City.
"The progressive leadership sets Cass City apart, with their proactive and positive attitude. Local business and industry, and their commitment and passion for our community. And the residents of Cass City; we are a caring community that cares about each other."
The support from the people of Cass City continues to mobilize their community champions when needed – including the Cass City Promise program, providing postsecondary education support for Cass City High School graduates, and the successful crowdfunding effort for the Cass City Bark Park, which will receive a matching grant through MEDC's Public Spaces Community Places initiative.
Learn how the MEDC is helping to support the growth of vibrant, diverse and resilient communities across Michigan like Cass City at https://www.miplace.org/.