Meijer Market Format Stores
Meijer's small-format stores connect with Michigan suppliers with help from MEDC's Pure Michigan Business Connect events and services
In Michigan, Meijer is a household name. Founded as a supermarket chain in 1934 and launching its superstore format in 1962, Meijer has grown to over 250 stores across Michigan and the Midwest. In recent years, Meijer has created a neighborhood market experience with their small-format market stores.
Since 2018, Meijer has opened four market stores across the state: Bridge Street Market in Grand Rapids; Capital City Market in Lansing; Rivertown Market in Detroit; and Woodward Corner in Royal Oak.
While Meijer's typical big-box store footprint covers around 200,000 square feet, the market format stores are about a quarter of the size, attracting urban customers and providing a more personalized experience in an open-air environment. The Meijer market format stores also offer thousands of locally sourced products – from soaps and hummus to baked goods and spices – supporting suppliers throughout the state of Michigan.
"The community has really embraced our small-format stores because they offer a new way to bring an extensive variety of fresh and locally-sourced groceries to our customers," said Justin Stricklen, director of market format stores for Meijer. "Our small format stores have always had the autonomy to stock the local products that fit their communities' needs. This is the first time we've put out a call for those vendors to raise their hands and showcase their offerings. We believe there is a lot of potential out there, and we're excited to begin building those lasting partnerships to benefit our customers."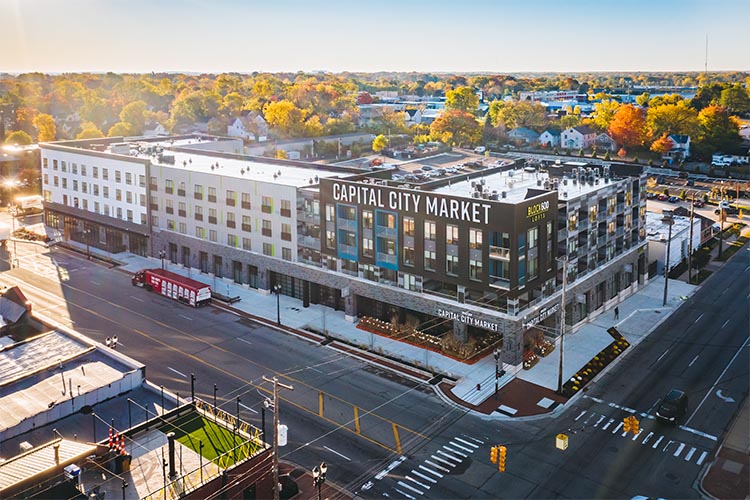 Without a food or beverage business directly approaching Meijer with its products, the stores may not know what types of products exist, where businesses are in the state and what capacity the businesses may have.
To discover and make connections with local suppliers, Meijer has utilized the services of the Michigan Economic Development Corporation's Pure Michigan Business Connect (PMBC) team. In 2020, MEDC hosted the virtual Michigan Food and Agriculture Summit with Capital City Market store director Mitch Cook. Cook had the opportunity to speak to more than 80 local businesses, including High 5 Salts.
As the Meijer market format stores continue to look for local food and beverage vendors with unique products to offer, PMBC's Local Vendor Events have helped introduce nearly 50 Michigan small businesses to store directors, purchasers and inventory leads.
In February 2022, PMBC, along with the Michigan Department of Agriculture & Rural Development (MDARD), and the MSU Product Center, hosted the Local Vendor Event initiative in partnership with Meijer at its Woodward Corner store in Royal Oak. PMBC oversaw the vendor outreach and intake to capture qualification criteria, helping Meijer make informed decisions on which businesses should participate; by managing logistics and scheduling, PMBC provided an organized and interactive experience for the Meijer staff and supplier attendees. This resulted in an efficient way to get Meijer connected to a high volume of suppliers in a short amount of time.
According to Natalie Rubino, store manager at Woodward Corner, partnering with MEDC, MDARD and MSU is a collective effort with one key goal in mind: supporting local businesses.
"We have this ability here not only just to carry local products, but to engage with the community, engage with our vendors and help small businesses grow," Rubino said. "Working with Pure Michigan Business Connect, MEDC, MSU and MDARD, we are focusing on one thing and it's to help local businesses grow. We have had the ability to do that with numerous vendors here at Woodward Corner and some of the other market format stores. We have the ability and autonomy to make these business decisions as opposed to a Meijer supercenter."
The event marked the first time the partner group held an event at a grocery retailer's location, which allowed for vendors to see the store, gain a better understanding of the store concept and what buyers were looking for, interact with buyers from multiple market format stores and learn about resources available through the resource partnership.
PMBC, MDARD and the MSU Product Center each offer unique resources to Michigan food/beverage businesses; the combination of these resources positions businesses to be more successful than if working with only one of the organizations. Through this partnership, the Meijer market format stores have benefited by getting connected to a high volume of qualified businesses with Michigan-made products, which has led to increased sales for both the grocery retailers and the vendors.
Cheeky Spices, a spice blend business founded by Rita Shelley, experienced rapid growth in its first year of business after a PMBC-facilitated introduction to the Meijer family of stores. Shelley created an exclusive blend for the Meijer market format stores – appropriately named the Market Blend – and continues to build her partnership with the local grocery chain.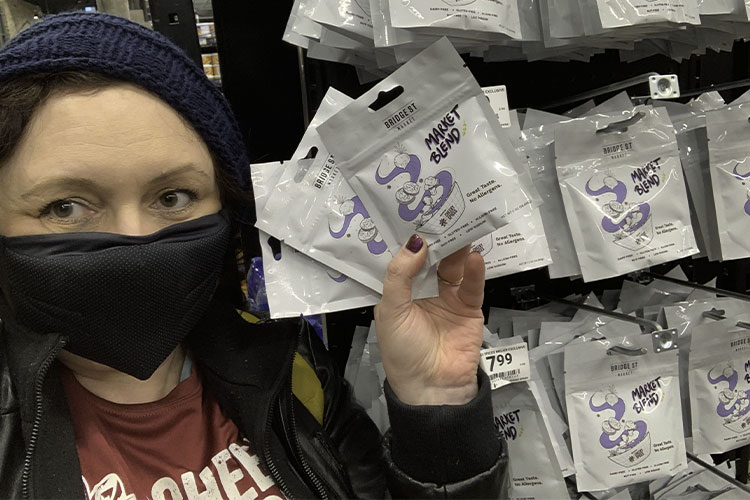 "I am grateful to MEDC for the continued support and recognition of Michigan's growing small businesses," said Shelley. "Through the PMBC program, MEDC not only strives, but actually succeeds in building solid connections between Michigan businesses, creating a mutually beneficial ecosystem for our economy to grow and thrive in."
At Woodward Corner, Rubino says the store's hyper-local products are featured in a large display at the front of the store by the floral department, as well all integrated in sections throughout the market. The market also features its local vendors on its website.
"We like our businesses to be eye level, front and center," Rubino said. "One of the things we do here is for any item that is local, we highlight on our tags that it's local to Michigan, or a minority- or woman-owned business. How we merchandise local is very important to us."
As a result of the February Meijer Market Local Vendor Event, each market format store was able to connect with approximately 50 Michigan companies, with over 20 of the companies getting products on Meijer shelves following the event. With the success of the February event, PMBC and the partner group have plans for additional vendor events.
In the meantime, Meijer continues to use PMBC as a resource to identify Michigan suppliers who may have products and services for their stores, ensuring the continued support and success for Meijer's market format stores and the Michigan suppliers whose products stock the shelves.
From matchmaking events to targeted searches, the MEDC is here to help Michigan businesses. Learn more about the services from Pure Michigan Business Connect at michiganbusiness.org/services/pure-michigan-business-connect/.