Ann Arbor-based spice blend business finds growth and success thanks to MEDC's Pure Michigan Business Connect program
Rita Shelley, founder and CEO of Cheeky Spices, began her spice blend business out of a love for international flavors – and a personal necessity. After learning she had several food sensitivities, Shelley came up with her own spice blends that would allow her to enjoy the flavorful foods she missed. From Mexican and Indian to Arabic and Mediterranean, Shelley's seasoning blends are free of gluten, dairy, nuts and other allergens. When friends and family had an enthusiastic reaction to the products, the experienced digital marketer decided to take the steps needed to create her own business.
Seeking assistance to raise brand awareness and connect to purchasers for her new company, Cheeky Spices, Shelley worked with MEDC's Pure Michigan Business Connect (PMBC) program. PMBC facilitates matchmaking opportunities and connects suppliers with buyers, giving small businesses the opportunity for growth in the state.
"Our rapid growth in the first year, during the COVID pandemic nonetheless, is due in large part to the PMBC-facilitated introduction to the Meijer family of stores," said Shelley. Cheeky Spices created an exclusive blend for the Meijer Small-Format Market Stores – appropriately named the Market Blend – and continues to build the partnership with the local grocery chain.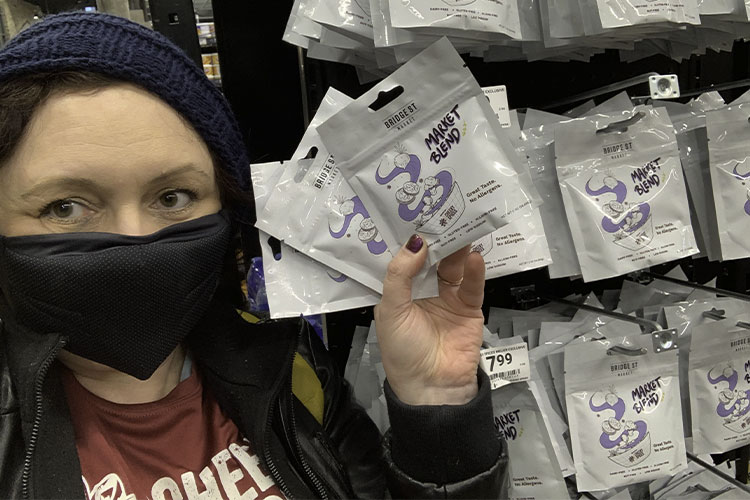 Beyond the Meijer partnership, Shelley's spice blends can also be found at specialty markets across Michigan and the Midwest, including Market Wagon locations in Ohio and Plum Market in Chicago. Today, while Shelley uses spices from around the world, she still works directly with Michigan companies and manufactures her seasoning blends at Total Food Package, an allergen-free facility in Spring Lake, Mich.
Cheeky Spices also has the distinction of being selected as the first food-based participant in the Détroit is the New Black brand accelerator, a program partnership with PMBC to find new local talent and support the development of emerging brands.
"When the product was under the [accelerator] and being showcased, we went through a case of the product each," Shelley said. "The team at DITNB was amazing to work with. They truly care about the entrepreneurs, connect with our brand and go above and beyond to help us be successful in the Detroit market."
The partnership with Meijer has a special meaning for Shelley. When her family was granted refugee status and left Ukraine in 1992, they arrived in Flint, Mich. with two suitcases and $200. Shelley says the first place her family went after their arrival was Meijer, where she was in awe of the store's variety of products. Almost 30 years later, Shelley feels pride in becoming a Meijer vendor. She calls the growth and success of Cheeky Spices the culmination of her American dream.
"I am grateful to MEDC for the continued support and recognition of Michigan's growing small businesses," said Shelley. "Through the PMBC program, MEDC not only strives, but actually succeeds in building solid connections between Michigan businesses, creating a mutually beneficial ecosystem for our economy to grow and thrive in."
To access resources and connections that will help grow your business through the Pure Michigan Business Connect program, visit michiganbusiness.org/pmbc. To learn more about the many programs and resources MEDC offers to help businesses of all sizes thrive in Michigan, go to michiganbusiness.org/partnership.