Expanding mobility opportunities to underserved populations.
Ray Smith has a vision. More than that, he has clear ideas on how to realize it. And in Michigan, thanks in part to the support of the Michigan Economic Development Corporation (MEDC), he has found an environment that welcomes and nurtures both his vision and his entrepreneurialism.
Smith is the CEO of IXR Mobility, Inc. (IXR), a Detroit-based firm he created with his sister about 12 years ago. Initially, they conceived the company as providing limousine and related shuttle services to the entertainment industry.
But the mission of the company began to shift in 2014-15. Working with the Detroit Health and Human Services department, IXR started shifting to offer non-emergency medical transportation services for city residents with unmet or especially challenging transportation needs, such as seniors, people with disabilities, veterans, pregnant women, and low-income families.
In the process, Smith discovered the limitations of public transit for these communities, and decided to pivot the business to establish a ride-sharing service that would serve passengers with special transportation needs.
"A bus system has fixed routes and schedules that might not be convenient to homes or destinations," Smith said. "Loading a wheelchair on a bus might take five minutes. That means six such passengers could put the bus half-an-hour behind schedule."
Similarly, services such as Lyft and Uber lack the resources to accommodate passengers with special needs.
The experience also piqued Smith's interest in ride-sharing, autonomous vehicles, and their potential use for and impact on people with disabilities.
He discovered that there was very little inclusivity and intention around how the autonomous vehicle industry was addressing the needs of people with disabilities.
And in those limitations, Smith sensed an opportunity and a potential alignment of interests.
"I realized that autonomous vehicles could really meet some of the needs of people with disabilities and that plans for building an autonomous vehicle industry should reflect their needs," he said. "I wanted to know how autonomous vehicles would affect people with disabilities and their feelings about the technology."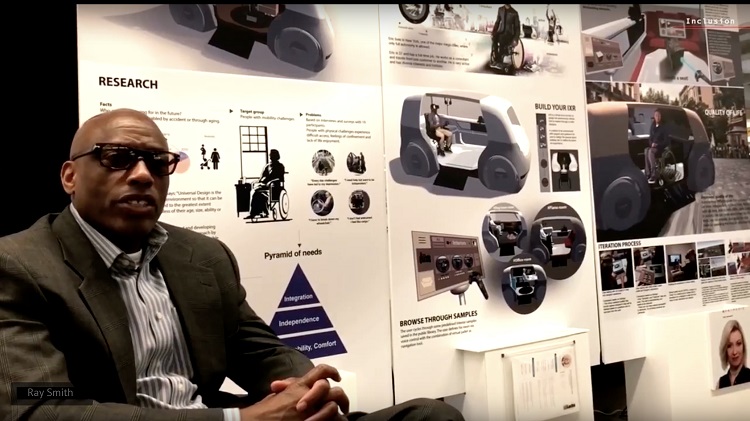 While conducting his research, Smith also discovered the Michigan Economic Development Corporation (MEDC), as the state's leading expert on transportation mobility and electrification. Through funding available from the MEDC to assist mobility startups and corporations in proving out or deploying their technology in Michigan, IXR discovered the perfect opportunity to help it achieve its new mission.
By partnering with Bestmile, the American Association for Retired People (AARP), and the Literacy Center, IXR set out to develop an intelligent mobile phone app that would allow mobility-disadvantaged persons to book on-demand rides to medical appointments and to track rides in real-time. As a result of its successful development, today this service is available Monday through Saturday, 9 am to 5 pm. and allows reservations to be scheduled up to two weeks in advance.
Due to its proven impact in connecting underserved communities with personalized mobility support, the MEDC supported IXR for a second time, this time through IXR's partnership with Navya, NextEnergy, Bestmile, Flagstar Bank, AARP, and DTE, as it set out to provide an accessible, self-driving, nine-passenger shuttle with an ADA-compliant ramp operating in the city of Detroit. The shuttle now successfully provides accessible mobility for residents of two communities - Brush Park Manor Senior Center and Brewster Homes - traveling between their homes and the Detroit Medical Center (DMC).
Smith sees these efforts as part of a work in progress to provide more equitable transportation services that better serve Michigan communities. And he has come to understand the many technical and human challenges of scaling up such services, such as expanding from a single, nine-passenger shuttle to a fleet, managing AV operations in variable conditions on multi-use roads, making service available 24/7, providing fast EV chargers designed for accessibility, and conducting workshops that help customers understand and use the IXR Mobility app in scheduling and tracking rides.
Despite those challenges, however, he credits MEDC and its business-friendly approach for the progress made to date in growing access to mobility for people from vulnerable communities, and as a result, improving their overall quality of life.
"MEDC was a vertical lift in terms of looking at innovative mobility technology and services," he said. "I don't know that we would have been able to create the same level of partnership and resources without them, or in turn, have been able to provide such a better quality of life for Michigan residents throughout the state."
To learn more about Michigan's mobility ecosystem supporting the growth of companies like IXR Mobility, visit michiganbusiness.org/mobility.