In the spring of 2020, Farmish founder Terra Osman had a growing concern about gaps in the food supply distribution system. She decided to expand her garden and prioritize purchasing food directly from local producers. As a result, she found that many families had the same concerns and were expanding their gardens or growing food for the first time, buying livestock for meat, and raising chickens for eggs.
Osman noticed small producers did not have the skill sets to sell their products without investing in a web presence, social media, or paid advertising campaigns. She identified a solution and launched Farmish; a marketplace app for local food and farms, where users can buy and sell backyard chicken eggs, homegrown produce, meat, plants, trees, honey, and more. Using this platform, sellers can buy any product from a farmer's listing. Users can follow various growers and receive notifications for their new posts. Communication can happen all on the app.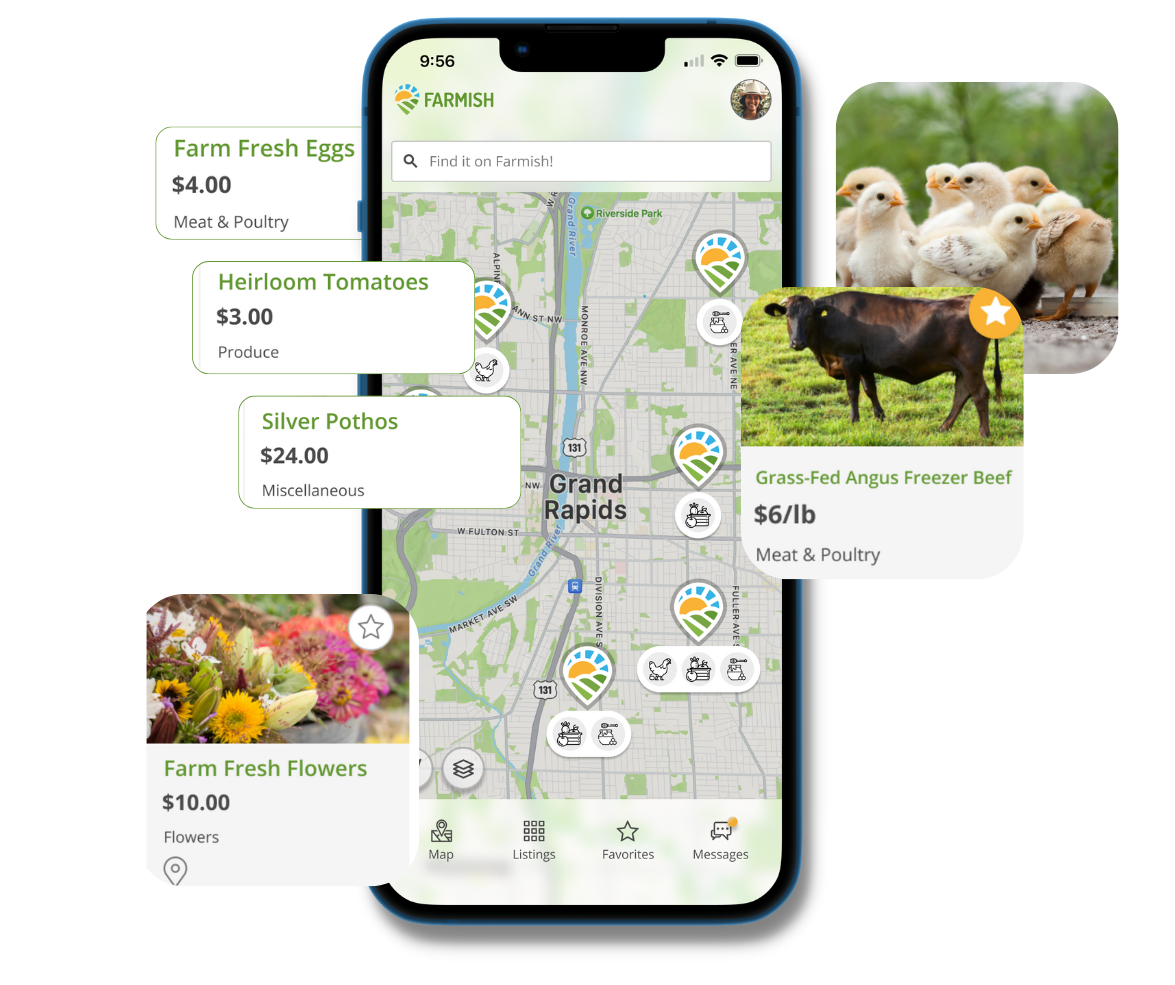 Farmish utilized the Michigan Economic Development Corporation (MEDC) resources by connecting with their tech team to get legal questions regarding requirements of the platform answered. Thanks to MEDC support, Farmish was able to confidently scale and take important steps to have clear and concise terms of use for their users. Osman plans to continue to seek out MEDC resources.
"When I built and launched Farmish, I had been a stay at home mom for eight years and didn't have a professional network to help guide me and connect me with resources to grow the app. I wanted to create an avenue for anyone to access a locally-grown food supply and to remove barriers for local producers looking to monetize the work they were already doing with their families," says Osman, "The MEDC was one of the first connections I made as an early stage entrepreneur and it's played an important role in connecting me with resources that have helped the app to grow."
With Farmish, growers build strong local businesses while providing their communities with fresh, homegrown food. Women make up eighty-five percent (85%) of Farmish users and over 60% of Farmish sellers have not sold on other platforms before. Farmish allows producers to take that initial step so that users can go from interest to side hustle to building a scalable business all on the same platform.
Farmish plans to build out professional tools and resources to help their users grow their businesses, support farmers markets, and to help users connect to retail suppliers if they'd like to expand into wholesale markets. Osman's future goal is to create a storefront to share and market events. She wants to develop a space for people to combine resources and sell as a Community Supported Agriculture (CSA) or a weekly delivery. It is important to Osman to help people build a brand without having a high level of expertise with social media or a current network. The Farmish team is continually working to build strong local food communities all over the country.
To access resources and connections that will help grow your business through the Michigan Economic Development Corporation, visit michiganbusiness.org/services or contact MEDC today for personalized business assistance.