Two Business Expansions Create 140 New Jobs in Genesee, Iosco, Ottawa Counties
Thursday, November 2, 2023
Goyette Mechanical expanding operations, creating 60 new jobs in Flint, Oscoda Township; DeWys Metal Solutions expanding in Marne, adding 80 jobs
LANSING, Mich. — Today, Governor Gretchen Whitmer announced two business expansion projects expected to create a total of 140 new jobs and generate a total capital investment of $12.2 million have received support from the Michigan Strategic Fund. Goyette Mechanical is expanding operations in Flint and Oscoda Township and DeWys Metal Solutions in Marne.

"Today's investments by two longstanding Michigan companies will create 140 good-paying jobs and invest more than $12 million into communities in Northwest and South Michigan, building on our economic momentum," said Governor Whitmer. "Our economic development efforts have helped us bring good-paying, middle class manufacturing jobs home and created in-demand opportunities for Michiganders in every region of our state. I applaud Goyette Mechanical and DeWys Metal Solutions for expanding in Michigan, and I know that we will keep working together to help more families and businesses make it in Michigan."

"The decisions by these companies to expand in Michigan highlight the strength of our advanced manufacturing industry and underscore Team Michigan's commitment to delivering long-term economic growth for all Michiganders," said MEDC Sr. Vice President of Regional Prosperity Matt McCauley. "We remain proud to work with companies that are making a difference by bringing job creation and providing economic support, proving that Making it in Michigan is the right choice."

Goyette Mechanical Adding 60 jobs in Flint and Oscoda Township, Investing $8.8 Million

Goyette Mechanical, founded in Flint in 1928, has been Mid-Michigan's leader in industrial, commercial and residential plumbing, heating, cooling and electrical contractor for 95 years. Since 1993, the company has quadrupled its growth, leading the company into a multi-state full-service mechanical electrical plumbing company now working on some of the most innovative and fast-tracked projects in the country. Projects include electric vehicle manufacturing facilities, food and beverage processing facilities, and logistic carrier warehouse and distribution centers.

The company has experienced significant growth in its out-of-state operations and as a result Goyette has acquired three buildings located in both Flint and Oscoda Township to expand its warehouse, office, and sheet metal fabrication operations. In support for this $8.8 million expansion, along with the creation of 60 new jobs, the company received a $500,000 Michigan Business Development Program performance-based grant. Michigan won this investment over a competing site in Ohio.

This project aligns with the MEDC's strategic and regional focus areas of supporting businesses in the target industries of mobility and automotive manufacturing, agribusiness, and logistics. The proposed project will also impact the local regions with immediate job growth. These 60 new jobs to two geographically disadvantaged areas in the state will solidify the company's presence and future business in the state.

Individuals interested in careers with Goyette should visit GoyetteMechanical.com/careers.

"Goyette is a pillar of Flint's business community and has become a leader in services and construction over the past 95 years," said state Senator John Cherry (D-Flint). "I support state investment for the expansion of Goyette, which will lead to new jobs in the community and the company's continued growth. Their expansion will have a positive impact on Flint and Genesee County as we work to bring more talent to Michigan and show the advantages of investing in Mid-Michigan."

"We are thrilled for this expansion of Goyette in Flint and Oscoda Township," said state Rep. Cynthia Neeley (D-Flint). "This investment will expand their operations and will lead to 60 new jobs in the community. It is through local efforts such as these that we are able to make a difference in the lives and livelihoods of people in our communities. I am hopeful that this investment will lead to more growth in the area and continue to spark innovation in the manufacturing field."

"As a long-time member of the Flint business community, Goyette is a great example of the continued success that can be achieved in Genesee County," said Tyler Rossmaessler, executive director of the Flint & Genesee Economic Alliance. "Their latest expansion is a testament to this region's strong talent pool and competitive advantages. We look forward to working with the company as it seeks to market and fill jobs spurred by this investment."

"Michigan has been home to our company for more than 95 years and we are proud of the contributions our team has made to this area," said Goyette Mechanical Human Resources Director Cherie' Parks. "Support from the MEDC will allow us to expand our capabilities and offer additional training to our employees. "We value the MEDC's recognition of our efforts and look forward to further growth to support the Michigan economy."

Today's investment announcement comes just days after the Michigan Strategic Fund approved funds to support the new MSU College of Human Medicine Department of Public Health Expansion at their Flint Campus, which will contribute to the downtown's Health and Wellness District and drive more pedestrian traffic to downtown businesses. Flint was also the recipient of over $2 million in Revitalization and Placemaking 2.0 grants aimed at helping create vibrant places that attract and retain talent, add new housing options, enable business creation and attraction, and provide resources for Michiganders and the Flint area. The Michigan Strategic Fund board also voted to support Uptown Reinvestment Corporation's plan to construct a new 5-story mixed-use building on a vacant in the heart of downtown Flint. The site will host the Flint YMCA, a medical rehabilitation facility, office space and 50 new apartments helping increase housing options and generating additional revenue in the downtown area.
DeWys Metal Solutions' expansion in West Michigan underscores Michigan's advanced manufacturing leadership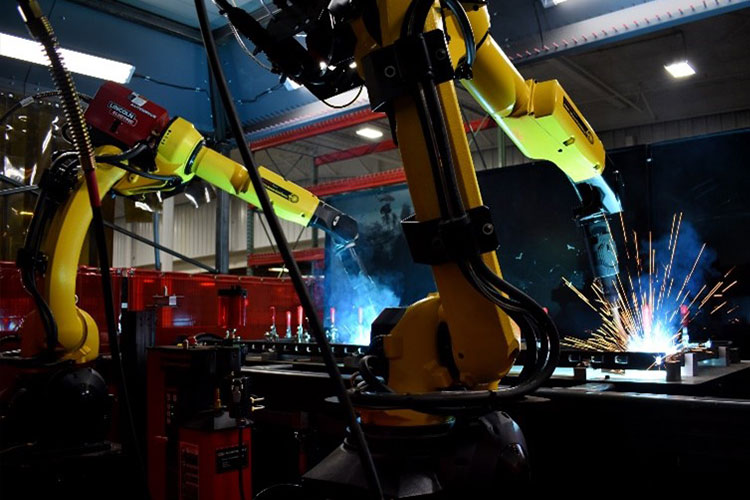 DeWys Metal Solutions, founded in 1977 in Grand Rapids, provides full-service custom metal fabrication, laser cutting, powder coating, product assembly, and engineering and design services to many industries across the U.S. The company is headquartered in Marne and has approximately 280 employees in Marne and Grand Haven.

DeWys is experiencing significant growth and plans to construct a new facility at its existing site in Marne. The project is expected to generate a total capital investment of $3.4 million and create 80 manufacturing, engineering, and administrative jobs, supported by a $560,000 Jobs Ready Michigan Program performance-based grant. Michigan was chosen for the project over a competing site in Indiana.

"DeWys has seen significant growth over the past 45 years," said Mark Schoenborn, president of DeWys Metal Solutions. "As the company continues to grow and expand, we are being strategic and intentional with the solutions offered to keep meeting our customers' increasing needs. Rebranding in 2021 as DeWys Metal Solutions not only strengthened the brand identity, but it also aligned the division of companies to create a structure for expansion and additional acquisitions in the future. Staying committed to the success of all stakeholders is the DeWys way. This means caring about each other's personal, professional, and financial goals. This grant will provide us the tools necessary to do just that."

The project will bring immediate, good-paying jobs with a large and expanding manufacturing company and could lead to future investment in Michigan. Wright Township will support the project in the form of a 12-year tax abatement, contingent on township board approval. Individuals interested in careers with DeWys should visit https://www.dewys.com/careers/.

"DeWys is committed to the local community and to the manufacturing industry, and it shows," said Jennifer Owens, president of Lakeshore Advantage. "They are highly engaged in many community initiatives including Discover Manufacturing which opens the door to meaningful career exploration for local students. This is a company that shows up, gives back and has a deep commitment to developing and growing their team."

"We welcome DeWys Metal Solution's expansion and the opportunities it brings to our community," said Wright Township Supervisor Rick Schoenborn. "DeWys has always been a great neighbor as well as an innovative resource for talented career development for many of our residents. This business approach aligns extremely well with Wright Township and its community."
About Michigan Economic Development Corporation (MEDC)