$99.2 million in statewide placemaking grants support vibrant communities
Thursday, October 5, 2023
Placemaking and development projects across Michigan's 10 prosperity regions will receive support from Revitalization and Placemaking 2.0 funds
LANSING, Mich.
– Governor Gretchen Whitmer joined the Michigan Economic Development Corporation (MEDC) today in announcing approval of $99.2 million in grant funding for projects across Michigan's 10 prosperity regions through the
Revitalization and Placemaking Program
(RAP 2.0).
"Today's grants underscore our commitment to the people, places, and projects that are integral to the growth of Michigan's economy," said Gov. Whitmer. "These investments will help create vibrant places that attract and retain talent, add new housing options, enable business creation and attraction, and provide resources for Michiganders and our communities. I will work with anyone and do anything to continue getting things done for our state."
"When state and local partnerships are strong, we are able to do some incredible things for the people of Michigan," said Senate Majority Leader Winnie Brinks (D-Grand Rapids). "With this infusion of dollars directly into our communities, our neighborhoods will become even more attractive places for folks to move to and put down roots. I'm proud that we were able to deliver these funds that will create meaningful change in our state. There's momentum in Michigan and we're going to keep working hand-in-hand with partners across the state to bring new energy and attention where it's needed."

"Helping build safe and strong communities is a priority for House Democrats," said Speaker Joe Tate (D-Detroit). "These investments represent opportunity and much needed revitalization to help grow our local communities and strengthen our neighborhoods. The state's partnership with local communities to repurpose buildings, improve local infrastructure and breathe new life into downtowns helps build a stronger Michigan."

"I was proud to vote for new laws like the American Rescue Plan that are helping to invest in our communities. This federal grant funding will help make mid-Michigan an even better place to live, work and raise a family," said Congressman Dan Kildee (MI-08). "In Congress, I will continue working with Governor Whitmer to grow our state's economy and support Michigan."
RAP 2.0 is deploying $100 million in state funding to address the COVID-19 impacts and community revitalization needs in Michigan communities to invest in projects that enable population and tax revenue growth through rehabilitation of vacant and blighted buildings and historic structures, rehabilitation and development of vacant properties, and development of permanent place-based infrastructure associated with social zones and traditional downtowns, outdoor dining, and place-based public spaces.
The original RAP program
awarded $83.8 million
in federal American Rescue Plan dollars in September 2022. This second iteration of the impactful program, RAP 2.0, received an appropriation of $100 million in the budget supplemental SB 7 signed by Gov. Whitmer in February 2023.
Administered by MEDC, this program provides access to real estate and place-based infrastructure development gap financing in the form of grants of up to $5 million per project for real estate rehabilitation and development, grants of up to $1 million for public space place-based infrastructure per project, and grants of up to $20 million to local or regional partners who develop a subgrant program.
With the RAP 2.0 Program, the MEDC partners with local communities to support community revitalization needs across Michigan by investing in projects that promote population and tax revenue growth. These investments will help create the environment necessary to attract and retain talent, add new housing options, enable business creation and attraction, and provide resources for Michigan citizens and communities that make the state a better place to live.
The range of projects awarded across the state highlights the importance of placemaking in supporting the growth and vibrancy of Michigan's communities.
Today's grants were allocated in three categories:
Public Space Place-Based Infrastructure RAP Awards – $11,868,415 awarded to 19 communities around Michigan for infrastructure improvements, public facility enhancements, downtown improvements, and more;
Real Estate Development Project RAP Awards – $39,052,745 awarded to 18 development projects across both peninsulas;
Subgrant Program RAP Awards – $48,287,830 awarded to seven local economic development organizations/units of government for different community development projects around the state.
Public Space Place-Based Infrastructure Awards
Among the Public Space Place-Based Infrastructure Project awardees is the City of Escanaba, which will receive $330,000 for the East Ludington Streetscape project.
"Escanaba is making a huge effort to update our infrastructure, to revitalize our Downtown, and to work together between local departments and state agencies. This is a really exciting opportunity to coordinate efforts and springboard further developments throughout Downtown," said Craig Woerpel, Escanaba DDA Director.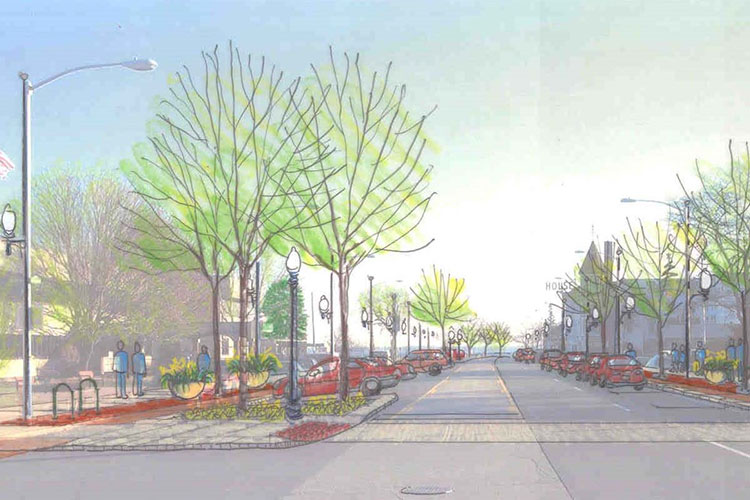 Real Estate Development Project Awards
Among the Real Estate Development Project awardees is the Huron County Community Foundation, which is receiving $500,000 for the Community Hub Project in downtown Bad Axe.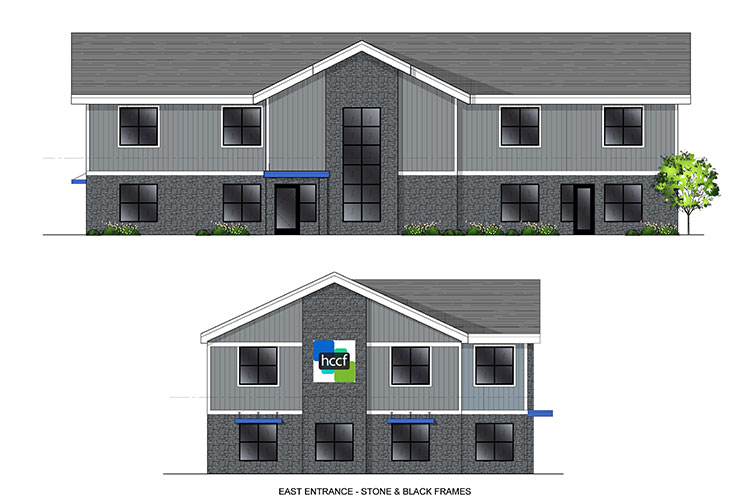 The Hub will bring life back to two vacant blighted buildings in Bad Axe's traditional downtown; the design includes the Community Foundation offices, a community board room, co-working space, second floor residential units, and a "parklet."
"The Huron County Community Foundation is deeply grateful to the Michigan Economic Development Corporation for investing in the Community Hub Project in downtown Bad Axe," said Mackenzie Price, Executive Director of the Huron County Community Foundation.
"The funding provided by RAP 2.0 will fill the remaining gap to fully fund the demolition and construction phases of the project, bringing new resources to Huron County. The Community Hub is a direct response to our community driven Strategic Priority Areas -- creating vibrant and dynamic communities, retaining and attracting talent, cultivating an environment for business development.
This project touches each one of those priority areas. Our aim with this project is to revitalize parcels at a main intersection that have suffered disinvestment and therefore have fallen into disrepair. While doing this, the Community Hub will add new resources to the area that are not currently available. One such resource is our co-working space; our goal is to make the Thumb of Michigan a destination for remote workers through the creation of the only co-working space in a three-county area."
DKD Development LLC in Cadillac will receive $2.7 million in RAP funds for the Cooley School Redevelopment, which will renovate and revitalize a key community asset.
"The development team is very excited to receive a RAP grant award for the redevelopment of the historic Cooley School," said James Lewis, Director of Real Estate Development for Pinnacle Construction Group. "The success of our application is largely due to the community of Cadillac, who created the conditions for a successful application though many years of hard work, visioning, and community engagement. The Alliance for Economic Success, Networks Northwest, Housing North, the Cadillac Community Foundation, the Cadillac Area Chamber of Commerce and, of course, the City of Cadillac all played a significant role in supporting the application and will be thrilled for this investment in their community. This project would not be possible without the significant investment that the RAP grant provides, thank you for your support!"
The Monarch, a mixed-use revitalization project that will create affordable housing options for seniors in Ecorse, will be supported by $5 million in RAP funds. The award will allow for the construction of 64 new units and ground floor commercial space in an area that has been vacant for decades. The Monarch will also provide retail space to the surrounding neighborhood and bring employment opportunities to local residents.
"JS Affordable Development, working in partnership with Shelborne Development and the City of Ecorse, is thrilled to hear the announcement of a RAP 2.0 Award to The Monarch," said Jack Pettinger of JS Affordable Development. "MEDC's funding support will complete the proposed capital stack needed to bring this project to fruition and help revitalize the economic corridor along Jefferson Avenue. The amount of local support received for this project is overwhelming. The City of Ecorse and Mayor Tidwell have supported this project in its multi-year planning phase with the sale of the land for the project, a proposed Payment-In-Lieu-Of-Taxes structure, and the zoning approval processes. The support has not stopped there though -- we also received encouragement and support from Congressman Shri Thanedar, State Senator Erica Geiss, District 4 Commissioner Cara Clement, and the Downriver Community Conference. With all of the support and the commitment for MEDC's RAP 2.0 funding we are excited to move forward with this project and provide 64 beautiful new homes that any tenant, and the entire community, can be proud of. Our sincerest thank you to MEDC and to all of our supporters for helping the development team move this forward."
"The MEDC is proud to celebrate the places that make our state great and looks forward to seeing the impact these RAP 2.0 grants have on our communities as we continue to Make It in Michigan," said MEDC Executive Vice President for Economic Development Incentives Michele Wildman. "Thanks to Governor Whitmer and the Michigan legislature's continued investment in this program, the revitalization and placemaking efforts in communities across our two peninsulas will be felt across our state as we continue to create economic opportunity and grow our population here in Michigan."
About Michigan Economic Development Corporation (MEDC)