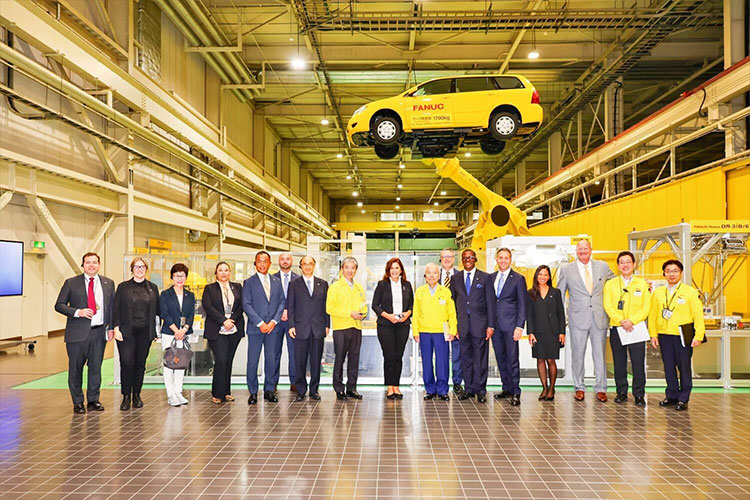 LANSING, MI — On the first day of the economic development investment mission to Japan, Governor Whitmer led the Michigan delegation in speaking with Japanese businesses about Michigan's global mobility and advanced manufacturing strengths. She also spoke with a range of Japanese business leaders about the state's business-friendly environment that ensures Japanese companies across these industries are able to grow and thrive.
"Today, I spoke to high-tech and advanced manufacturing businesses and policy leaders as we continue our mission to bring supply chains, good-paying jobs, and investment home to Michigan," said Governor Whitmer. "As governor, I will work with anyone—across the aisle or around the globe—to help our state lead the future of cars, chips, clean energy, and more. I am grateful for today's opportunity to meet with cutting-edge Japanese businesses and share Michigan's story of innovation and grit and our ongoing efforts to build a state where anyone can 'make it'."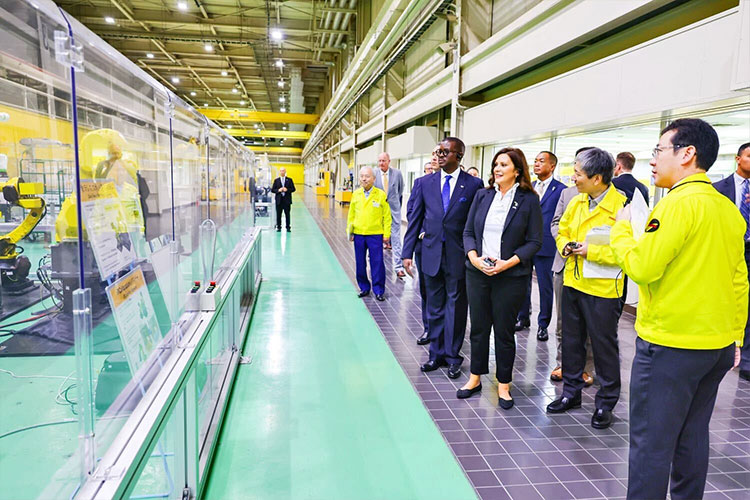 The governor began the day by meeting with company executives at FANUC, the largest maker of industrial robots in the world and the leading supplier of robotics, computer numerical control wireless systems, factory automation and Industrial IoT solutions. Michigan is home to FANUC's American headquarters, with the company employing approximately 1,000 Michiganders throughout the state.

During the meeting, the governor spoke with FANUC Chairman Dr. Yoshiharu Inaba about the strategic importance of advanced manufacturing to the state and how Michigan plans to continue innovating and leading in this sector to support the growth of their company for years to come.

"We're honored to have Governor Whitmer visit our headquarters," said Dr. Yoshiharu Inaba, Chairman, FANUC CORPORATION. "FANUC America was established in Michigan over 40 years ago, and it's encouraging to see the state's continued economic growth and ability to attract manufacturers in a wide variety of industries."

Then, the governor met with Saito Tetsuo, the Minister of Land, Infrastructure, Transport and Tourism (MLIT), and several key members of the MLIT. They discussed ways to deepen cooperation between Michigan and Japan on transportation and infrastructure, including roads, rail, and electric vehicles.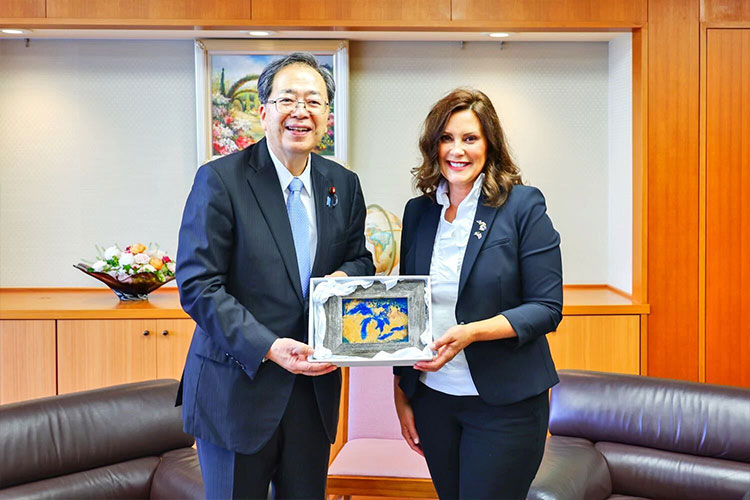 The governor also met with Toyota President and CEO Koji Sato to thank the company for its continued commitment to the state of Michigan and to advocate for why the state should remain home to any future North American investments. Today's meeting comes on the heels of Toyota announcing a $47.7 million investment earlier this summer to add a battery testing facility for battery cell, module and pack testing capability at its R&D headquarters campus in Saline/York Township. Michigan was chosen for the investment due to the company's existing relationships with suppliers and customers, Michigan's leadership in automotive manufacturing and future mobility, and the state's talented workforce.

At the time, Toyota also announced it was choosing Michigan as the first state to launch its new STEM initiative, dubbed "Driving Possibilities," which serves as a community engagement program focused on preparing youth for the careers of tomorrow. As an active member of the state's Talent Action Team, along with the company's close collaboration with the MiSTEM Network to create PK12 opportunities throughout the state, Michigan was grateful to secure this opportunity and vote of confidence from the global auto and mobility leader.

"It was an honor to be with Governor Whitmer today and to reinforce our commitment to the State of Michigan," said Chris Reynolds, Executive Vice President and Chief Administrative Officer at Toyota Motor North America. "It is clear Michigan is investing in the future of the automotive industry and its talented people. We look forward to our continued collaboration on future mobility, electrification, and workforce development initiatives."

The governor and Team Michigan delegation closed out their first day by attending an event with the Japan External Trade Organization (JETRO), where the governor and MEDC CEO Quentin L. Messer, Jr. spoke to Japanese business leaders about the pure opportunity that exists for those looking to invest in Michigan and the mutually beneficial trade relationship that the state and nation have shared over several decades.

"Team Michigan is grateful for the longstanding relationships we've had with Japanese businesses over the years," said Messer. "Today we shared how the 'Make It in Michigan' economic development framework will accelerate the creation of new economic opportunities between us. As a global leader in mobility, advanced manufacturing and cross-cutting research and development, we are using this moment to further strengthen ties with companies that have found opportunity in our state and invite new ones to discover that our welcome mat remains out and open for greater investment."

The state of Michigan has a long and rich history with Japan, with more than 5,300 jobs being created in Michigan by Japanese businesses through more than $1.8 billion in private investment in the past ten years. According to the Japanese Consulate in Detroit, there are currently 456 Japanese facilities in Michigan which support more than 39,890 jobs in the state. A third of those jobs are direct manufacturing positions.
About Michigan Economic Development Corporation (MEDC)