$50,000 goal to win matching grant through MEDC's Public Spaces Community Places initiative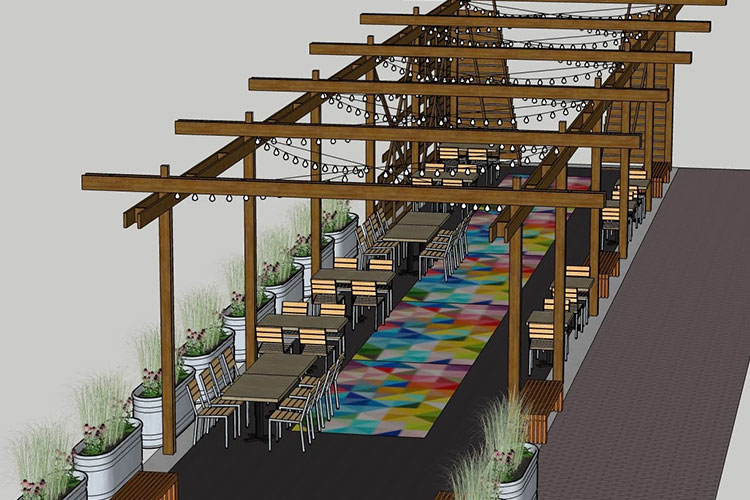 LANSING, Mich. – An underutilized parking lot in downtown Bridgman will soon become a permanent gathering space for live music, events, and community programming through the anticipated success of a crowdfunding campaign, the Michigan Economic Development Corporation (MEDC) and local nonprofit Greater Bridgman Area Chamber of Commerce and Growth Alliance (CGA) announced today. The campaign is being offered through the Michigan-based crowdfunding platform Patronicity.

If the campaign reaches its crowdfunding goal of $50,000 by April 10, the project will win a matching grant with funds made possible by MEDC's Public Spaces Community Places program. For project details and to donate, please visit: patronicity.com/bc.

"This project will transform an underutilized lot into the Bridgman Courtyard, a thriving public space that will bring activity and energy to the heart of downtown Bridgman," said MEDC Executive Vice President of Economic Development Incentives Michele Wildman. "We are pleased to support and provide resources for this project to complete the space through our Public Spaces Community Places program."

This campaign will help complete the courtyard with a pergola, seating, bistro lighting, public art, and programming. Regular entertainment is planned with live music each weekend throughout the summer. When completed, the Bridgman Courtyard can be used for pop-up markets, open-air meetings, holiday celebrations, art shows, food truck rallies, and more. This courtyard will provide a functional, welcoming, and vibrant space with live entertainment and public art for the greater Bridgman community.

"We are excited about the matching grant opportunity for the Bridgman Courtyard project from the MEDC," said Bridgman CGA President John Bonkoske. "Based on the level of enthusiasm in the community, we are confident we will reach the fundraising goal. Our hope for this placemaking project is to create a unique and vibrant outdoor space that will serve Bridgman for many years to come."
Public Spaces Community Places is a collaborative effort of the MEDC, the Michigan Municipal League, and Patronicity, in which local residents can use crowdfunding to be part of the development of strategic projects in their communities and be backed with a matching grant from MEDC. Communities, nonprofits and other business entities can apply at patronicity.com/puremichigan.

"The Michigan Municipal League is a firm believer in the importance of building community wealth," said Dan Gilmartin, CEO and Executive Director of the League. "This community gathering space will create a positive impact on the Bridgman community for generations to come. It speaks directly to the arts and culture and trust and belonging pillars of community wealth building."

The Public Spaces Community Places initiative started in 2014 with MEDC providing matched funding of up to $50,000 for community improvement projects throughout Michigan. As of Feb. 28, 2023, MEDC has provided more than $11.2 million in matching grants. Since the launch of the program, 339 projects have been successful in reaching their goal, with nearly $12.9 million raised from 62,339 individual donors. Communities have a 97 percent success rate in achieving their goals and earning matching funds.
About Michigan Economic Development Corporation (MEDC)