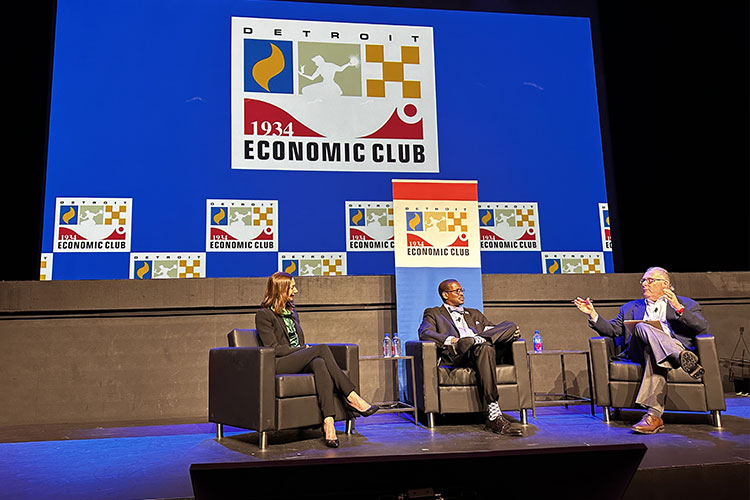 Michigan is entering 2023 with a renewed competitive spirit and a readiness to tackle the big challenges of today's economic climate. According to the 11th annual Michigan Economic Outlook Survey, these challenges include tough competition for talent, recession preparedness, and the need to attract and retain families and young professionals.
The survey collected input from more than 1,000 businesspeople and associations around the state. Respondents had wide-ranging input, with qualitative feedback including everything from greater support for public transit and regional cooperation, to higher wages and increased tourism. This year, two additional measures were added to the survey to gather input related to recession concerns and talent retention.
2023 survey results were shared at the Detroit Economic Club's annual meeting, followed by a discussion between MEDC CEO Quentin L. Messer, Jr. and General Motors Chief Economist Dr. Elaine Buckberg. Optimism about Michigan's economic outlook scored in the range considered "good" despite ratings seeing a slight drop compared to 2022.
Click here to watch the full conversation moderated by the Detroit News' Daniel Howes.
"Whether it's site selectors or companies who are looking at relocation decisions, we are passionate about taking a Team Michigan approach to getting the job done. When it comes to the business environment in Michigan, we're collectively trying to make that better," Messer said. "There is an emerging consensus that economic development must be a bipartisan effort. We are not competing with each other, but instead need to compete as one state on a global playing field."
A downtrend across multiple indicators in the 2023 survey reflects a national sentiment of caution amid fears of a possible recession, but Buckberg articulated how the extreme nature of the last two recessions in the U.S. may skew perceptions.
"200,000 payroll jobs were created last month alone, and households above the 20th percentile have more savings and greater net worth than before the pandemic," said Buckberg. "Companies are still hiring at a rapid pace and consumers are still spending … many economists agree that if a recession were to occur, it would be mild and brief."
The discussion also highlighted several of Michigan's advantages, including location, advancements in renewable energy, higher education, and the state's leadership in the future of mobility.
"We're fortunate that our two publicly traded utilities, Consumers Energy and DTE, announced aggressive plans to become carbon neutral," Messer said. "We should also not undersell the fact that we have access to water. When you look at certain industries like semiconductor fabrication or the mobility sector, water is critical. It is life. It increases our locational advantage to have access to water and is yet another reason why choosing to locate and grow in the Great Lakes State is good for business and better for anyone pursuing a great quality of life."
While Messer acknowledged there is no "home team discount" in the fiercely competitive global business climate, Buckberg reiterated the home-team advantages of Michigan's auto industry: the location of existing plants, an impressive talent pool of engineers and a workforce that is qualified and seeking out manufacturing jobs all play into Michigan's success as a mobility industry leader.
The insights gleaned from the Michigan Economic Outlook Survey will help inform ongoing efforts to make Michigan a great place to grow a business, find talent, and receive concierge-level business support. To learn more about Michigan's latest economic successes, visit michiganbusiness.org/rankings.
To see why companies are choosing Michigan, go to michiganbusiness.org/why-michigan.
About Michigan Economic Development Corporation (MEDC)