Grant to MICHauto will support high-tech career paths and strengthen Michigan global competitiveness in the automotive, mobility, and technology industries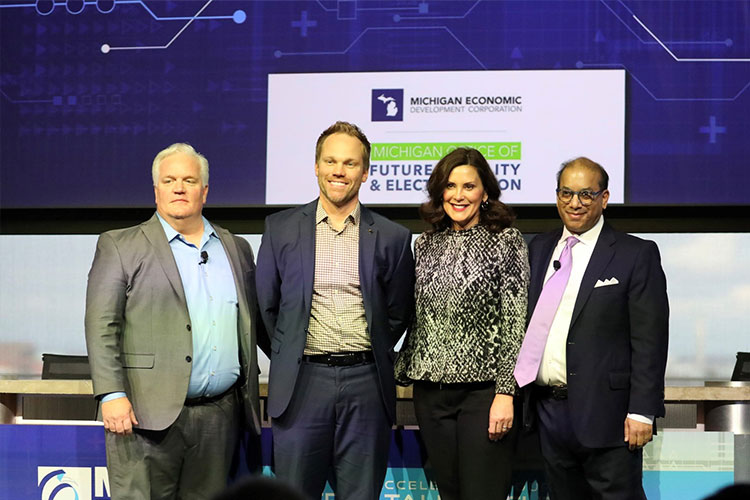 DETROIT, Mich. -- Today, Governor Gretchen Whitmer joined representatives from the Detroit Regional Chamber, Michigan Department of Labor and Economic Opportunity (LEO), and Michigan Office of Future Mobility and Electrification (OFME) to award a $2 million grant to the Detroit Regional Chamber (DRC) Foundation and MICHauto to support the growth and development of high-tech talent in Michigan. The grant will fund projects to grow Michigan's high-tech workforce and build talent pipelines for Michigan's automotive, mobility, and technology sectors.

"Michigan remains committed to investing in our state's talent and implementing the MI Future Mobility Plan to lead future of global mobility," said Governor Whitmer. "Today's grants will help us reinforce our talent pipelines and ensure more students know about exciting opportunities in tech that can help them build a brighter future right here in Michigan. One in five Michigan jobs are tied to mobility, so investing in talent is important for both our state's economic prosperity and quality of life."

The grant to support MICHauto's high-tech talent strategy will:
Strengthen and expand the student-to-graduation-to-employment pipeline: OFME will work with MICHauto on this grant, in partnership with the MEDC's Talent Action Team, to launch a pilot project with Kettering University and Michigan Technological University to engage, track, guide, and retain students in statewide high school FIRST Robotics, Square One Network, and VEX programs in order to develop and retain the state's own high-tech talent pipeline.
Measure perception to compete for employees from all backgrounds: Results from a survey of students, parents, teachers, and counselors about career paths in Michigan's automotive and mobility industry will inform industry attraction and retention strategies to position the state as a destination for talent and compete for high-skilled workers.
Analyze North American high-tech sectors: This project will analyze why high-tech talent concentrates in specific locations and come up with recommendations to make Michigan more competitive.
Grow technology clusters across Michigan: Establish an organization to create more industry connectivity in communities across Michigan to ensure that no matter where you live, you have the same opportunities to build successful and in-demand IT or tech careers.
The grant is being funded through the Mobility Futures Initiative, a partnership between Michigan Legislature, Governor Whitmer, LEO, the Michigan Department of Environment, Great Lakes, and Energy (EGLE), Michigan Economic Development Corporation (MEDC) and the Michigan Department of Transportation (MDOT) to invest $25 million in industry, infrastructure and workforce projects related to the future of transportation.

"MICHauto is grateful for this funding and the opportunities it provides to advance our state's competitiveness by developing, attracting, and retaining talented professionals to support our signature industry's high-tech evolution," said Glenn Stevens Jr., Executive Director of MICHauto and Vice President of Automotive and Mobility Initiatives at the Detroit Regional Chamber. "MICHauto's direct connections to leading automotive, mobility, and technology companies and their needs informs our strategy to ensure Michigan is a destination for the world's most innovative minds. As the voice of the industry, we're better positioned than ever to prepare our workforce from the factory floor to cloud computing for the digital and knowledge-based jobs of the future."

The grant is also part of a collaborative effort to bring to life the state's MI Future Mobility Plan, a comprehensive strategy to address future mobility challenges. In particular, the grant will support the state's efforts to transition and grow its mobility industry and workforce by enabling more credential opportunities, new jobs and diversity in the workforce.

"This industry is on the cusp of massive transformation, but it's not enough to have relevant experience and to recognize the moment," said Trevor Pawl, Chief Mobility Officer with the Office of Future Mobility and Electrification. "We need a diverse and tech-focused workforce and a prepared community. Those factors give Michigan an edge and this effort will deploy programs that create the right conditions for high-tech talent growth across Michigan's mobility industry and communities."

Earlier this year, MEDC launched the Talent Action Team to train thousands of workers within the EV and mobility sector in the first year by delivering professional development programs. The Michigan Electric Vehicle Jobs Academy was announced by Governor Whitmer last fall to meet the advanced automotive mobility and electrification industry's talent needs. Today's grant to MICHauto builds on this momentum and coordination across the state to make Michigan a top choice for employers to grow their businesses and create opportunity for job seekers.

To learn more about the MI Future Mobility Plan visit michiganbusiness.org/OFME.
About MICHauto
A longtime partner of the State of Michigan's Office of Future Mobility and Electrification, MICHauto is Michigan's only automotive, mobility, and technology cluster association, established to represent Michigan's signature industry. The MICHauto High-Tech Talent Strategy announced today is a direct result of the association championing the needs of industry employers to grow Michigan's high-tech workforce and fill the high-skill, high-demand jobs of the future.
About Michigan Economic Development Corporation (MEDC)