State continues driving long-term economic growth through business, placemaking investments
Wednesday, November 9, 2022
• Michigan Automotive Compressor making $82 million investment in Jackson County, retaining 241 jobs • Former Buick City site to be redeveloped for in-demand spec industrial facility • Placemaking projects will bring vibrancy, new economic activity to Lansing, Detroit • Request for Proposals seeking plans for development of build-ready sites in Michigan
LANSING, Mich. – Governor Gretchen Whitmer joined the Michigan Economic Development Corporation today in announcing Michigan Strategic Fund approval of projects, including a business expansion by an auto supplier in Parma, redevelopment of the former Buick City site, a new performing arts center in downtown Lansing, and other actions that will continue to grow Michigan's inventory of investment-ready sites. The projects approved today represent a total capital investment of $116.5 million.

"Today's approvals will help us continue to jumpstart Michigan's economy by bringing good jobs to our residents, expanding on our leadership in the future of mobility, building on our inventory of site-ready facilities, supporting vibrant communities, and investing in initiatives that will ensure long-term economic opportunity for all Michiganders," said Governor Whitmer. "We put Michiganders first when we invest in our talented manufacturing workforce, help our communities build thriving downtowns, and create opportunities to attract and promote investment in the state."

Auto supplier investing $82 million to expand in Jackson County

Michigan Automotive Compressor, Inc. (MACI) is a joint venture between Toyota Industries Corporation and DENSO and has more than 900 employees at its facility in the village of Parma. The company is a high-volume precision aluminum CNC cast/machining and automated assembly manufacturer of air conditioning compressor with clutch for the major automotive vehicle manufacturers. MACI is the largest manufacturing employer in Jackson County.
As the automotive market continues to migrate away from internal combustion engine, MACI will begin production of new technology products developed for electric vehicles. The company plans to install new production processes in Parma, a project that will generate a total capital investment of $82 million and keep 241 jobs in the state. Michigan was chosen for the project over other potential out-of-state sites.
The project contributes to the MEDC's ongoing efforts to strengthen Michigan's leadership in automotive manufacturing and builds on the state's work to position itself as the epicenter of autonomous and electric vehicle manufacturing in the U.S. The project will also ensure the company's long-term viability and future growth while it remains one of the strongest employers in the region.

The Michigan Strategic Fund today approved a five-year, 100 percent State Essential Services Assessment negotiated assessment rate for the company, which is valued at $984,000 for the company's $82 million investment. The company also anticipates receiving a property tax abatement in support of the project.

"The Enterprise Group of Jackson considers this project a transformational and significant opportunity for MACI and our Jackson community. We are excited about MACI's equipment investment to bring localized production of electric compressors to Michigan, specifically Jackson County, Michigan," said Enterprise Group of Jackson Vice President of Economic Development Alex Masten. "This project has a huge impact on our local economy in terms of retained jobs and capital investment, so we are pleased to hear of the MEDC's and MSF boards' support of this very important transition."

Site preparation at Buick City site will allow for construction of in-demand, move-in ready facility, help attract new businesses to Flint

The Flint Commerce Center, LLC, an entity of Ashley Capital, plans to redevelop the former Buick City Site in the city of Flint with preparations for a 275,000-square-foot industrial building that is expected to lead to further speculative development and economic impact in the region.

When fully developed, the project will represent the largest investment on the north side of Flint in decades. It is expected to generate a total capital investment of $300 million and consist of up to 3.5 million square feet of state-of-the-art, light industrial distribution space, and could result in the potential creation of 2,000-3,000 new jobs.

The Buick City site is one of the largest and most significantly blighted and contaminated industrial sites in the state. The property was the home of Buick Motor Company until 2010, when operations there ceased and the site sat vacant. Since then, redevelopment of the property has been a top priority for the state and the city of Flint.

In 2011, the RACER Trust took ownership and sold portions of the site to two companies; however, a large majority of the site remains vacant today. Ashley Capital, one of the largest privately held industrial real estate investment companies in the United States, has secured a purchase agreement with RACER for the remainder of the site. RACER is currently performing environmental clean-up activities at the site and Ashley expects to close on the property in early 2023.

The cost of the site preparation, including removal of underground utilities and concrete slabs and foundations, is estimated to be $17 million. Flint Capital Commons today received Michigan Strategic Fund approval of an $8.5 million MSF performance-based loan with the ability to be forgiven, based on the successful completion of performance requirements.

In addition to MSF support, $3.25 million in ARPA funds from Genesee County and $3.25 million in ARPA funds from the city of Flint will be reimbursed to the project for work as it is completed. The Charles Stewart Mott Foundation has also agreed to grant $2 million to the city to support the project.

The proposed project will act as a catalyst to attract jobs to a blighted area by providing critically needed, new speculative development as well as shovel-ready sites for future potential regional opportunities. In addition to cleaning up the blight and contamination, the activation of the industrial space is critical in addressing the shortage of space in the city of Flint and the state. Market analysis has repeatedly shown that large, move-in-ready sites are in demand. Supporting this type of property remains vital to retaining existing companies in the state as they grow and offers opportunities to attract new companies here to Michigan.

Established in 1984, Ashley Capital has a successful track record of utilizing available sites or remedying blighted properties to breathe life back into these sites, often before tenants are even secured to fill them. Learn more about Ashley Capital here.

Learn more about the Flint Commerce Center project here.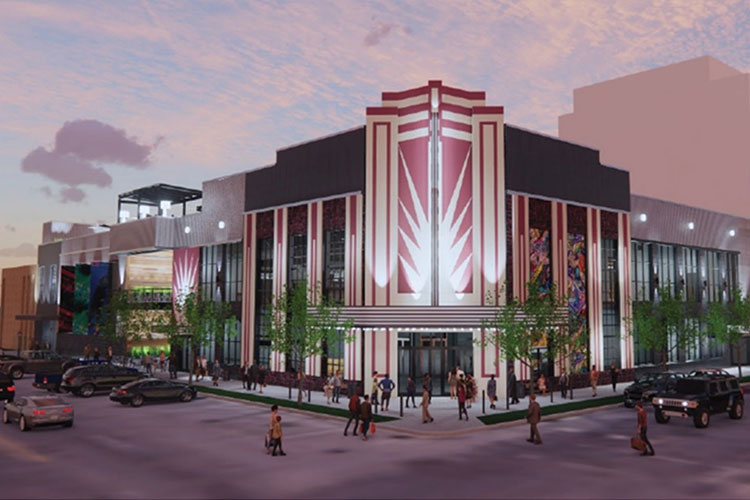 New music and arts center will bring new vibrancy, economic activity to downtown Lansing

The city of Lansing is constructing the Ovation Music and Arts Center on an acre of vacant, underutilized property on the corner of South Washington Ave. and Lenawee Street in the heart of downtown Lansing. When completed, the arts center's main stage will have a capacity of approximately 2,000 patrons. The two-story facility will serve as the home of the Lansing Public Media Center and will also house retail and office space for arts organizations and creative businesses. The venue will also include a rooftop bar and restaurant space.

The project is expected to generate a total capital investment of approximately $17.5 million and create 159 full-time equivalent jobs, supported by a $5 million MSF performance-based grant. The arts center will be adjacent to the site of the former Lake Trust Credit Union, now being transformed into multifamily housing and office space. The project will not only increase the value of other downtown properties and serve as a catalyst for future development, but it will also enhance the desirability of downtown Lansing as a place to live, bringing more residents and 24-hour vibrancy to the community.

The Ovation Music and Arts Center is expected to open by 2025. The project is also being supported by $2.75 million in state and federal allocations, $8.5 million in city bonds issued against local fee revenue, and private donor funding.

"The Ovation will be a monumental game changer for downtown Lansing. This venue will help transform and energize the southern part of our downtown, bringing people from all over the region to live performances, events, and concerts throughout the year," said Lansing Mayor Andy Schor. "I'm thankful for the support we have received from the State of Michigan, our legislators, and other local partners in our community. Lansing residents tell me how excited they are for this to get built and open and I can't wait to join them at a show here in the coming years."

Infrastructure improvements will make downtown Detroit events safer, more accessible

The Downtown Detroit Partnership (DDP) has been awarded a $2 million MSF performance-based grant for pedestrian infrastructure upgrades in downtown Detroit. The upgrades include five pedestrian bridges over high-traffic streets, fence posts to cordon specific areas, and safety barricades to protect pedestrians from traffic and events.

The DDP is a partner on several events in downtown Detroit that bring patrons from around the world and provide significant revenue to local businesses. Events include the Movement Music Festival, the Ford Fireworks and the Detroit Grand Prix. The infrastructure improvements are needed to enhance safety and accessibility for all attendees and will allow eventgoers to easily visit the nearly 260 local businesses in the area.

"The Downtown Detroit Partnership is proud to receive funding from the Michigan Strategic Fund to support pedestrian infrastructure enhancements," said Eric B. Larson, DDP's CEO. "This is an opportunity to improve existing infrastructure and test new interventions as we improve access, connectivity and mobility that can be leveraged for a variety of events including the Detroit Grand Prix's move downtown."

State issues RFP to build plans to prepare large sites for future development, investment opportunities

The Michigan Strategic Fund also approved a Request for Proposals for the Mega-Site Strategic Plan. The RFP is seeking proposals from national entities that are currently engaged in and have prior experience with national site attraction and/or real estate and site development. Preference will be placed on entities that have direct experience in mega-site development for public entities for economic development purposes.

On Oct. 4, 2022, Governor Whitmer signed a supplemental bill into law that appropriated funds from the Strategic Outreach and Attraction Reserve Fund to the Michigan Strategic Site Readiness Program. In doing so, the Governor directed certain funding toward the development of mega-strategic sites for the purpose of creating investment-ready sites to attract and promote investment in this state.

Site availability and readiness is a key deciding factor, along with talent and workforce, for companies when considering Michigan for investment in future growth and expansion opportunities. As the MEDC works to win projects across multiple industries in both rural and urban areas, the strategic site readiness program will ensure an increased inventory of sites, particularly large sites, to support projects today and in the coming years.

Objectives of the plan include:
Making recommendations on the number, size, location and site requirements for mega-sites to position Michigan to be competitive in strategic industries;
Evaluating the readiness and competitiveness of existing mega-sites including an assessment of the improvements and costs required to bring each site to a marketable condition;
Identifying additional recommended regional locations for mega-sites;
Making recommendations on regional locations for strategic sites in competitive strategic industries;
And making recommendations for implementing the strategic plan.
Key dates targeted for the Mega-Site Strategic Fund RFP are:
Issue Mega-Site Strategic Plan RFP to the Public: 11/14/2022
Questions due from the Public: 11/28/2022
Answers posted to the MEDC web page: 12/7/2022
Applications Deadline: 12/20/2022

For full details on the RFP, visit here.

"Today's MSF actions underscore our commitment to positioning Michigan for large-scale investments and to supporting future development in Flint and across the state that will bring long-term economic opportunity to all Michiganders," said Quentin L. Messer, Jr., CEO of MEDC and President and Chair of the MSF Board. "We are grateful to the Governor, legislators and local partners for their continued support of our efforts. These projects reflect our commitment to seizing opportunities that make Michigan an even better place for each of our 10 million-plus friends and neighbors to live, work, visit, play, and create futures."
About Michigan Economic Development Corporation (MEDC)