The Manufacturing Institute Workforce Summit brought together manufacturers, economic development professionals and community partners to forge partnerships and discuss workforce challenges.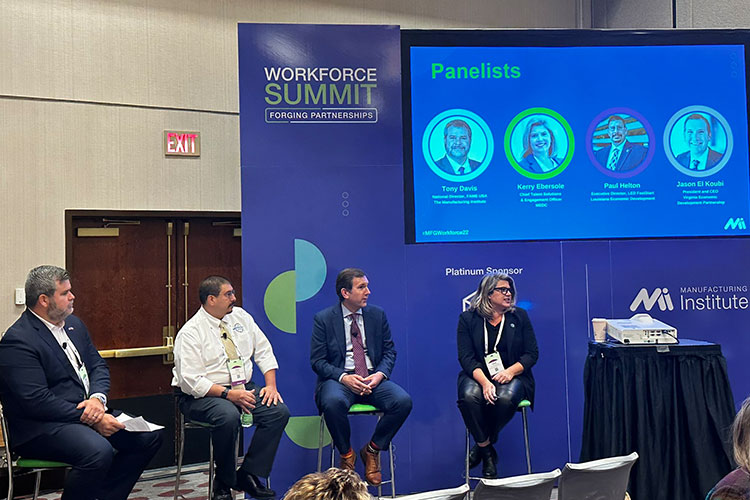 As the Michigan Economic Development Corporation (MEDC) strives to make the state's economy the fastest-growing, most equitable and most resilient in the nation, developing the talent for Michigan's tomorrow is a key piece of the puzzle.
MEDC Executive Vice President and Chief Talent Solutions & Engagement Officer Kerry Ebersole Singh was among the panelists for this week's Manufacturing Institute Workforce Summit held in Cincinnati, Ohio, joining Executive Director of Louisiana Economic Development FastStart Paul Helton and President and CEO of Virginia Economic Development Partnership Jason El Koubi to discuss the intersection of economic development and workforce.
As the workforce and education partner for the National Association of Manufacturers, the Manufacturing Institute brought together manufacturers, thought leaders, educators, economic developers, business association leaders, and human resource and workforce development professionals for sessions on topics such as recruitment and retention, approaches to engaging youth, and skills for the future of manufacturing.
With the auto industry's historic shift to electric mobility, the stakes are especially high for Michigan, where the auto industry is responsible for nearly 20% of the state's total jobs. Talent is the top priority for economic development, and the automotive sector is the top priority for Michigan; as the industry goes through a once-in-a-lifetime transformation, over 420,000 jobs are at stake.
At the MEDC, Ebersole Singh is working to ensure that this inevitable transition creates career opportunities that Michigan residents are ready to compete for. Smart policy, well-placed investments and private-public partnerships can turn this industry upheaval into a new beginning for carmakers and suppliers, laying the foundation for good jobs in the future. To strengthen Michigan's EV competitive advantage, there are four priority occupations with a range in flexibility for educational requirements, from electrical engineers and software developers to first-line supervisors and production workers.
Employers find that Michigan has one of the most skilled, diverse and abundant workforces in the country. The MEDC's range of programs, resources and statewide support continues to develop talent with in-demand skills that help businesses thrive. Building on the commitment to providing concierge-level support to businesses looking to grow and expand, the MEDC has convened a Talent Action Team overseen by Ebersole Singh to coordinate efforts in support of the transition in the EV and mobility sectors.
At the MEDC, we are taking on the responsibility to develop deep, connected ecosystems in our key industry sectors. We are working to be a convening partner between industry and education, while helping to cultivate training programs and recruitment strategies. The Talent Action Team is an innovative approach to taking on workforce challenges and developing a competitive edge for our state.
The Talent Action Team works across the public sector, industry partners and training institutions, with a commitment toward action-oriented solutions; the team's goal is to train thousands of workers in the first year by delivering professional development programs where people improve their skills and competencies in line with in-demand roles.
To move forward, the landscape of resources and programs must be reshaped into a hub of innovation and collaboration, all centered on the people that have made Michigan a powerhouse of the auto industry for over a century. There's no denying that Michigan's highly skilled workforce and collection of world-class educational institutions are some of its greatest assets, driving the success of employers and helping to attract new investment to the state.
By engaging a core set of employers, including automakers, suppliers and battery manufacturers, MEDC has begun to build a deep partnership that outlines shared skills critical to the industry. The Talent Action Team is also working hand-in-hand with education providers to develop unique curriculum and interactive learning experiences. In addition to these partnerships and collaborations, the team has also analyzed and shared data with stakeholders that creates a statewide view of industry talent needs and launched a Request for Information (RFI) to higher education and training partners to identify existing programs we can leverage.
With the policy actions and other common-sense measures taken to boost job quality and strengthen Michigan's industry leadership, in addition to forging partnerships across the state and the country, Michigan is taking the lead on developing the talent solutions of tomorrow.

The MEDC is committed to attracting talent as well as fostering high-wage skills growth by collaborating with partner agencies throughout the state to produce and retain the Michigan workforce needed in today's business climate. Learn more here.
About Michigan Economic Development Corporation (MEDC)