Funding available to support small manufacturers statewide adopt Industry 4.0 technologies
MEDC's Industry 4.0 grant program will provide companies with 50 percent reimbursement for qualifying I4.0 technology implementation costs
LANSING, Mich. – Michigan's small manufacturers looking to adopt Industry 4.0 technologies are now able to apply for grants of up to $25,000 as part of the $3 million Industry 4.0 Technology Implementation Grant program, the Michigan Economic Development Corporation announced today. Grants will be reimbursement-based and will cover up to 50 percent of eligible technologies, including additive manufacturing, artificial intelligence, cybersecurity, robotics and automation, and more.

"In order to remain competitive, Michigan will help prepare manufacturers to adopt new and innovative technologies for the future through programs like the Industry 4.0 initiative," said Quentin L. Messer, Jr., CEO of MEDC and President and Chair of the MSF Board. "By supporting local partners and communities through these regional grants, we are strengthening our state's leadership in advanced manufacturing and the entrepreneurship and jobs this innovative sector supports for years to come."

In April, the Michigan Strategic Fund approved $3 million in awards for six nonprofit organizations to administer the implementation grants statewide. These organizations will also be tasked with promoting existing statewide resources to support Michigan small manufacturers with Industry 4.0 awareness and preparedness. The funding is part of an MEDC-led effort to ensure that 50 percent of Michigan manufacturers – or 6,200 businesses – are prepared to adopt Industry 4.0 technologies by 2025.

Grants were awarded to the following six organizations: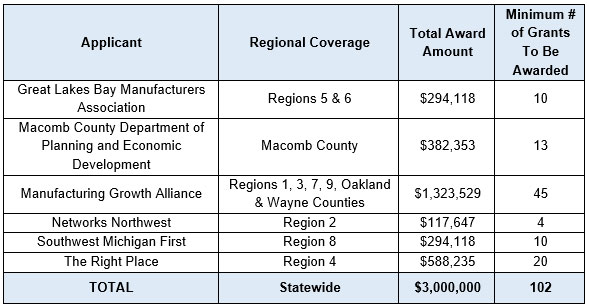 The grant administrators were chosen through a Request for Proposals process earlier in the year. To learn more, visit here.

These grants build on the overall Industry 4.0 initiative that MEDC launched in 2020 in partnership with Automation Alley and Michigan Manufacturing Technology Center to help small and mid-sized manufacturers prepare for the future of manufacturing. The initiative includes efforts to drive awareness statewide on the importance of Industry 4.0 readiness and technical support to help small- to medium-sized manufacturers. Industry 4.0 is defined as the convergence of digital and physical technologies, including artificial intelligence, 3D printing, robotics, augmented and virtual reality, the Cloud and cybersecurity.

In the first year of the state's Industry 4.0 initiative, the program exceeded initial goals by reaching more than 1,400 businesses through programming, events, training, and technology assessments.

"Based on first-year feedback we received from our statewide and regional services providers, cost remained the biggest barrier for small manufacturers to adopt new technologies," said MEDC Vice President of Small Business Solutions Natalie Chmiko. "Through these grants, we can provide the much-needed financial assistance to support small manufacturers in every corner of the state. We're confident that by implementing these solutions manufacturers can transform their culture for the future of manufacturing while also making positive impacts to operational processes, labor utilization or energy consumption."

The Industry 4.0 initiative aligns with MEDC's strategic focus area of advanced manufacturing and extends Michigan's rich manufacturing heritage and technological know-how to develop the innovative, high-tech products of the future. With the fifth-largest advanced manufacturing workforce in the country and more than 13,000 workers employed in industries related to Industry 4.0 and automation – the most in the nation – this effort also secures continued opportunity and stability for Michigan's manufacturing workforce for years to come.

Grant applications will be accepted on a rolling basis until all funds are allocated. To learn more about the requirements of the program and to view the grant application, visit: michiganbusiness.org/industry4-0/grant.
About Michigan Economic Development Corporation (MEDC)