Twenty-Seven Distinctive Places in Michigan listed in the National Register of Historic Places in 2021
Monday, February 14, 2022
LANSING, Mich. – Twenty-seven historic Michigan properties were given special recognition in 2021 through their listing in the National Register of Historic Places, the Michigan Economic Development Corporation has announced. Administered in Michigan by the State Historic Preservation Office (SHPO), the National Register of Historic Places is the United States federal government's official list of districts, sites, buildings, structures, and objects deemed worthy of preservation for their historical significance.
"This year's nominated historic properties span the history and geography of both of Michigan's peninsulas, recognizing places and people who are significant in our communities, our state, and our nation. National Register listing promotes our shared history, fosters a sense of pride in our communities, provides public recognition of our historic places, and generates economic investment and activity," said State Historic Preservation Officer Mark A. Rodman. "SHPO is honored to join with so many people and communities across the state in celebrating this diverse group of properties which have been listed in the National Register of Historic Places in 2021."
More than 96,000 properties across the country, including nearly 2,000 in Michigan, have been listed in the National Register since the program began in the 1960s. The National Register is a program of the National Park Service and is administered by the states.
Each place listed in the National Register is referred to as a "property," whether it is a single building, site, or structure or a historic district composed of hundreds of individual buildings. In 2021, twenty-three individual properties and four historic districts totaling more than 179 contributing historic resources in Michigan were listed in the National Register.
To be considered for listing in the National Register, a property must generally be at least 50 years old, and must also be significant when evaluated in relationship to major historical events or trends in the history of their community, the state, or the nation. A property must also possess historic integrity – the ability to convey its significance.
The following Michigan properties were listed in the National Register in 2021:
| | | |
| --- | --- | --- |
| Benzonia Township | | Benzie |
| Constantine | Nettleton-Cond House | Saint Joseph |
| Detroit | Alpha House | Wayne |
| Detroit | | Wayne |
| Detroit | Detroit Savings Bank Southwest Branch | Wayne |
| Detroit | | Wayne |
| Detroit | | Wayne |
| Detroit | Shrine of the Black Madonna of the Pan African Orthodox Christian Church | Wayne |
| Detroit | U.S. Postal Service Roosevelt Park Station | Wayne |
| Detroit | | Wayne |
| Grand Rapids | Fulton Manor | Kent |
| Grosse Pointe Farms | Grosse Pointe Central Library | Wayne |
| Hickory Corners | Hickory Lodge No. 345 | Barry |
| Inkster | Malcolm X House | Wayne |
| Ishpeming | | Marquette |
| Isle Royale NP | Ishpeming Fire Tower | Keweenaw |
| Isle Royale NP | Minong Copper Mining Historic District | Keweenaw |
| Isle Royale NP | New Feldtmann Fire Tower | Keweenaw |
| Isle Royale NP | Ojibway Fire Tower | Keweenaw |
| Kalamazoo | | Kalamazoo |
| Lansing | Bailey Buildings | Ingham |
| Lansing | North Lansing Historic Commercial District (Boundary Increase) | Ingham |
| Leelanau Township | South Fox Island Light Station | Leelanau |
| Mount Clemens | Mount Clemens Public Library | Macomb |
| Negaunee | | Marquette |
| Ocqueoc Township | Camp Black Lake | Presque Isle |
| Saint Joseph | Whitcomb Hotel | Berrien |
| Wayland | | Allegan |
Alpha House, Detroit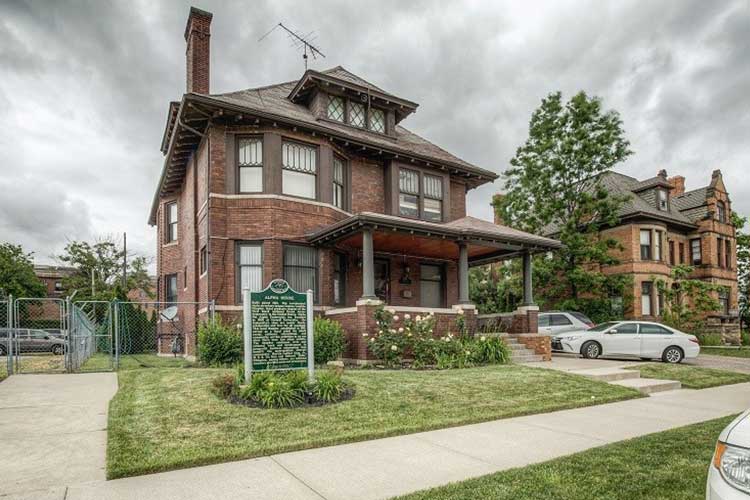 An important focus of recent National Register listings are sites that played a role in the Civil Rights movement and African American experience in the 20th Century. Starting in 2016, a series of federal grants from the National Park Service have enabled the survey and documentation of several sites in Detroit, with an outward expansion to other areas of Michigan. The initial grant funded the nomination of five initial sites, among them the Birwood Wall and the Rosa and Raymond Parks Flat. Learn more about each of these specific sites in this earlier press release.
This initial effort laid the groundwork for additional Civil Rights sites to be added to the Register. The Alpha House, located in the Brush Park neighborhood, was the next to be listed. Alpha Phi Alpha is the oldest African American fraternity in the United States. Among its more than eight hundred chapters, the oldest continually owned chapter house is the Alpha House of the Gamma Lambda Chapter.
Acquired in 1939, Alpha House has been the launching pad for outreach programs to support higher-level learning, voter and candidate forums, and as a safe space for community discussion. In times of racial tension in 1943 and the 1960s, the house was a beacon for the African American community. It continues to serve the Gamma Lambda Chapter and its outreach initiatives today.

"Brothers of Alpha Phi Alpha Fraternity, Inc. all over the country understand the significance of the Alpha House in Detroit; however, it was important to make sure the story of the house is understood by a much broader audience. We have a well-established, historic legacy of our impact on the Detroit community. It's necessary to share that history with everyone in a way that honors the brothers who came before us, while inspiring present and future generations of Alphas and those with whom we partner and serve," said Alburn H. Elvin, Jr., president of the Gamma Lambda Chapter of Alpha Phi Alpha Fraternity Inc.

"By pursuing the National Register of Historic Places designation, we wanted to ensure our history is preserved and shared. Being honored with this designation means the legacy of the Alpha House and those who shaped our history will be remembered forever. The Alpha House is more than just a house – it's a beacon of brotherhood and service. It's the epicenter and springboard for our servant leadership throughout the city of Detroit."

Mount Clemens Public Library, Mount Clemens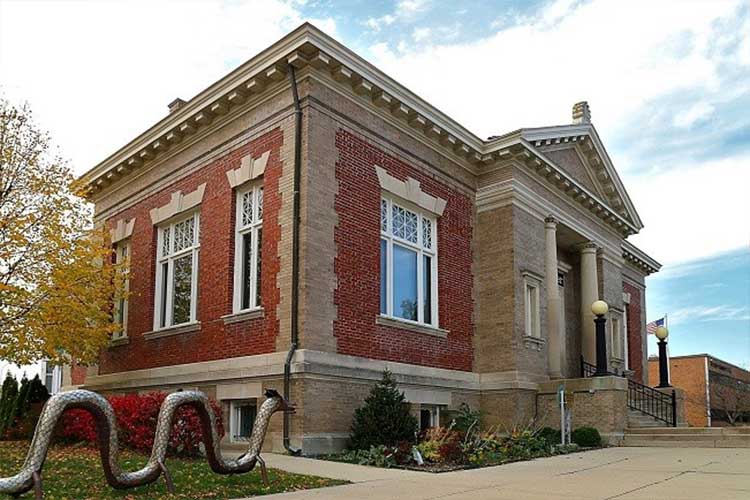 Completed in 1904 as part of philanthropist Andrew Carnegie's nationwide free public library building program, the Mount Clemens Library was the first permanent home in the city for the library and its growing collection of books and materials. It was designed by local architect Theophilus Van Damme, who designed many other buildings in and around Mount Clemens, although most have been lost to time.
Due to needed expansion, the library moved out of the building in 1969, but a new use was found as the building was transformed into a community art center, continuing its civic purpose. An addition was added to the rear of the building in 2006, providing needed administrative space and enabling complete ADA access throughout, yet it was designed to be respectful of the original library building and its design.
Today, the Anton Art Center continues to draw visitors from across Macomb County and beyond, who can enjoy and explore various art forms within the historic library building. Although the addition updated and made changes to the property, the intentional retention of the historic fabric of the original library still allowed for its listing in the National Register.
"Obtaining a National Register listing is an exciting opportunity for the Anton Art Center to acknowledge the history of the facility we currently occupy, and the application process began in 2018 as the Anton was preparing to celebrate its 50th anniversary in 2019," said Anton Art Center Executive Director Phil Gilchrist. "As one of only two Carnegie Library buildings in Macomb County and a public facility for more than 115 years, the architectural gem has been continuously been a cornerstone of our community deserving of this recognition."
This particular National Register nomination was completed at no cost through Mount Clemens' participation in the Certified Local Government (CLG) program, in partnership with SHPO and the National Park Service. The CLG program provides a structured framework for promoting, supporting, and enhancing historic preservation activities at the local level. For more information about the CLG program in Michigan and the benefits of participation, visit www.michigan.gov/clggrants.
South Fox Island Light Station, South Fox Island, Leelanau County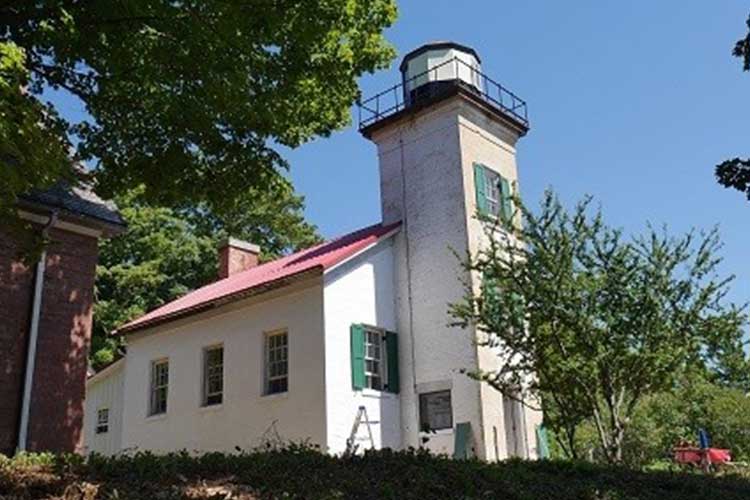 Dozens of Michigan's historic lighthouses have been listed in the National Register, but not all of them. Joining the Register in 2021 was the South Fox Island Light Station, in upper Lake Michigan. The site includes the original lighthouse built in 1867 and a keeper's dwelling and other buildings constructed in the late 1800s and early 1900s to help facilitate safer navigation through the region. Also included is a unique steel skeletal lighthouse built in 1934 to replace the original light facilities.
Although neither lighthouse functions today, the combination of existing facilities showcases the advancement of lighthouse development and the necessary support elements needed when real people tended these beacons all year round. The South Fox Island Light is now managed and is being restored by the South Fox Island Lighthouse Association, on land owned by the state.
To learn more about Michigan's historic lighthouses such as South Fox Island, and how to help preserve them for the future, participate in the Save Our Lights license plate program: www.michigan.gov/saveourlights.

To obtain copies of any of these National Register nominations, or high-resolution photos, contact preservation@michigan.gov.

Listing of a property in the National Register is honorary and places no restrictions on what a property owner may do. They are not required to open the site to the public nor to display a plaque acknowledging the listing, although many companies offer plaques to recognize the hard work and effort to get a property officially listed. In addition, listing in the National Register provides opportunities for promotion, makes available certain incentives like grants and tax credits that foster investment in our cities, towns, and villages, and allows for the consideration of historic resources when federal funding or permits are involved.
Focused on the historic preservation of culturally or archaeologically significant sites throughout the state, Michigan's State Historic Preservation Office's main function is to provide technical assistance to local communities and property owners in their efforts to identify, evaluate, designate, interpret and protect Michigan's historic above- and below-ground resources. SHPO also administers an incentives program that includes federal tax credits and pass-through grants available to certified local governments.
For more information about the National Register of Historic Places program in Michigan, and on how to nominate a property, visit https://www.michigan.gov/nrhp
About Michigan Economic Development Corporation (MEDC)