• $23.6 million investment to expand operations to allow the company to grow its global automotive business
LANSING, Mich. – Gov. Gretchen Whitmer joined the Michigan Economic Development Corporation (MEDC) today to announce that Cosma Body Assembly Michigan, a division of Magna International, is expanding its operations in Lyon Township where it will create up to 68 jobs for Michigan workers.  

"Michigan's business climate and highly skilled manufacturing workforce provide an environment where businesses like Magna can grow and thrive, creating good-paying jobs for Michiganders," said Governor Gretchen Whitmer. "This announcement reaffirms Michigan is transforming along with the automotive industry to ensure the next generation of mobility is designed, developed, tested, and built right here in our state." 

The project is expected to generate a total capital investment of $23.6 million, supported by a $340,000 Michigan Business Development Program performance-based grant. Michigan was chosen over a competing site in Kentucky.

Cosma Body Assembly Michigan (CBAM) is an entity of Magna International, Inc, a global automotive supplier whose roots in the auto industry go back to 1957. Today, Magna makes everything from seats to powertrains and is the only auto supplier to build complete vehicles. Magna currently has 35 facilities and more than 10,000 employees in Michigan. 
  
Magna plans to extend its CBAM facility in Lyon Township by 90,000 square feet, where it will house additional assembly lines to support new business from an existing customer. The current site occupies around 193,000 square feet and manufactures components including stampings, body-in-white modules, closure systems, innovative die, automated systems, and assembly systems. The expansion will allow the company to manufacture front and rear underbody structural rails, assemblies and welding and will be operational by 2022.
  
"The expansion of our plant in Lyon Township demonstrates the collaboration with our customer and strengthens our manufacturing presence in Michigan," said Don Maahs, Global Vice President, Sales & Marketing of Magna's Body and Chassis division. "We'd like to thank the representatives of the Michigan Economic Development Corporation, Oakland County, and Lyon Township for their continued support."    
  
The project contributes to the MEDC's ongoing efforts to strengthen Michigan's leadership in automotive manufacturing and builds on the state's work to position itself as the epicenter of autonomous and electric vehicle manufacturing in the U.S. Magna has developed training and mentorship programs that provide for advancement within the organization and offers an executive leadership program, which works directly with local school districts and colleges to help build out an employment pipeline. The project will bring immediate job growth with a global auto supplier and further cements the company's manufacturing presence and future growth in Michigan. 

Quentin Messer, Jr., CEO of the MEDC and President and Chair of the Michigan Strategic Fund, joined company and local officials today at a groundbreaking ceremony at the CBAM facility in Lyon Township, where he thanked the company for its continued commitment to growing in Michigan.

"Congratulations to the entire Magna team on your tremendous growth and success! We appreciate your continued vote of confidence in our state and in our workforce," said Quentin Messer, Jr., CEO of the MEDC and President and Chair of the Michigan Strategic Fund. "This project is a win for Southeast Michigan and for the entire state. We're proud to join our local partners as we celebrate Magna's expansion in Michigan and look forward to working together with Magna as we lead the way into the future of transportation."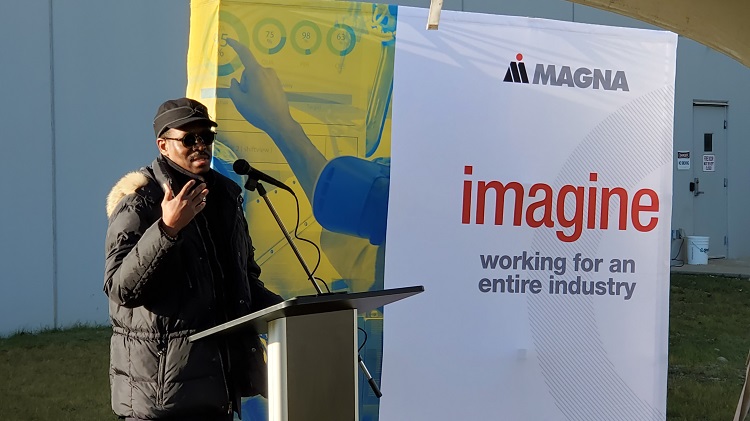 Magna has had a longstanding commitment to Michigan, with a recent announcement that it was constructing a new manufacturing facility in St. Clair to build complex battery enclosures, a project that will generate $70.1 million in private investment and create 304 jobs for Michigan workers.

"For more than 60 years, Magna International has been growing and innovating, right here in Michigan and Oakland County. I'm thrilled that the company continues to lead the industry in advanced mobility technology and will bring even more of that expertise into its expansion in Lyon Township," said Oakland County Executive David Coulter. "Their critical investment is great news for our workers, our economy and our spot as an attractive destination for advanced technology."

Lyon Township has offered to support the project by providing space to hold job fairs and assist the company in finding candidates for the newly created positions. For information on careers with Magna, visit https://www.magna.com/company/careers. 
About Michigan Economic Development Corporation (MEDC)